It's Our Turn
Look around the calendar and you will find the months littered with colors, all intended to raise awareness for a specific cause. You would have to live under a rock to not know THE color for the month of October is pink, for breast cancer. Pink clothing and extensive pink marketing programs are everywhere. Experts say the odds are one in eight for women to be diagnosed with breast cancer. The odds of holding a food item or store purchase in the month of October that has a pink ribbon on it must be one in two. The pink ribbon folks lead the way with getting the word out.
We have just turned the page on February, known as the Red month for heart health awareness. As a heart attack survivor, I am particularly fond of the Go Red for Women movement that is celebrated in February. One in two odds for women to have heart disease is staggering and hard to ignore. February is the shortest month of the year and we push hard to use each one of those 28 days to bring out the Red and encourage women to know their numbers and signs of heart disease.
It's difficult in either October or February to NOT see Pink ribbons or Red dress pins on a daily basis - and that's a good thing. We've made great progress in the fight against breast cancer and strides for heart disease. Making the public aware of the signs of these deadly diseases is critical in the fight. Other months have their own special "colors", too.
Now think about March. What combination of orange and advertisers have you seen for Multiple Sclerosis Awareness? Go ahead and name three … or two or even one. If you are like me you don't see much orange out there to grab the attention of the public.
MS is a quiet disease that lurks in the background for so many people, and the challenge is to raise awareness rather than let the month of March quietly slip by. MS Awareness was given a 31 day month – three more days than the Red Month and we should take advantage of all of them. Not everyone can wear orange and wear it well, but no one wears MS well, either.
The challenge: besides wearing orange, how can we increase awareness of MS? The short list might include put an MS Awareness note on your Facebook page, form an MS Walk team or speaking up to let people know you have MS and are available to answer any questions they might have.
What better way to share the message of Multiple Sclerosis than a thank-you note to someone who helps to make your life better, in spite of having MS? This could be a friend or neighbor who has done a kind act for you like baking cookies as a treat or stopping at the grocery for you when you have used your last egg. Or share a bowl of oranges at work, or church or anywhere you gather with other people and explain the meaning of the color.
Resolve to join the movement to raise awareness of Multiple Sclerosis this month and bring out the orange clothing to wear. Help tell the world that MS is out there and we could use some attention. While it's impossible to find a word that rhymes with orange, it's not that hard to work orange it into our conversations.
What will you do to bring awareness to our cause?

Wishing you well,
Laura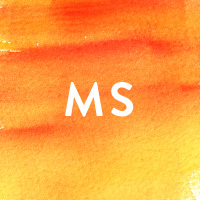 March is MS Awareness Month
Please consider changing your Facebook or Twitter avatar to show support and spread awareness of MS Awareness Month.
This article represents the opinions, thoughts, and experiences of the author; none of this content has been paid for by any advertiser. The MultipleSclerosis.net team does not recommend or endorse any products or treatments discussed herein. Learn more about how we maintain editorial integrity
here
.

Community Poll
Do you live with any comorbidities aside from MS?