Knock Out MS
A variation of an old children's knock-knock joke keeps running through my head:
Knock-knock. Who's there? MS. MS Who?
Knock-knock. Who's there? MS. MS Who?
Knock-knock. Who's there? MS. MS Who?
Knock-knock. Who's there? Orange. Orange Who?...
Yes, it can be annoying when a child around the age of 5 discovers the joy of repeating a knock-knock joke over and over - we continue to smile each time it is repeated and we laugh to encourage their engagement with learning this social skill. Repetition can be a key method of learning for most of us, especially as a young child with these oft-repeated jokes.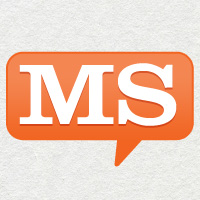 Although Multiple Sclerosis is not a joke, it's annoying that we live day in and day out, repeating the same idea over and over and missing the punch line because there is no answer yet to who's there.
March is MS Awareness month in the US and much like this knock-knock joke, it can be a time we should be saying Multiple Sclerosis over and over, each time there is the proverbial knock at the door that allows us to bring up the subject.
A friend 'knocks' – how are you today? And you can reply about your MS and how well you are or aren't doing on therapy. You might even acknowledge how much you appreciate them asking and what a help they have been to you in the past.
A stranger 'knocks' – why are you using a cane when you look ok? Or even more rudely, challenges why you are using that handicapped parking space when you don't look at all needy. You can explain a bit about Multiple Sclerosis and how it is often an invisible disease, but perhaps in this case you might not want to even open the door to respond because some people really don't want an explanation.
The store clerk looks at you funny and 'knocks' – would you like to see that shirt in a color other than orange because not everyone can wear that color? And that's your chance to explain MS and the Orange Awareness campaign in March. And then you might tell the clerk you will take two – one for you and one for a friend who also favors MS orange.
So much has changed in the world of MS, from services to treatments, and the future looks brighter for all of us thanks to previous orange awareness campaigns that last not just in March, but year-round. The future for those of us living with MS is promising - researchers are working hard to find causes, cures and treatments to stop Multiple Sclerosis from its devastating path, but we are not there, yet.
We have to keep the orange visible. With work on everyone's part, including the patient community keeping MS Awareness alive, someday we may be rewriting the script and it will read:
Knock-knock. Who's there? Orange. Orange who?
Knock-knock. Who's there? Orange. Orange who?
Knock-knock. Who's there? Orange. Orange who?
Orange you glad I didn't say MS?
Wishing you well,
Laura
This article represents the opinions, thoughts, and experiences of the author; none of this content has been paid for by any advertiser. The MultipleSclerosis.net team does not recommend or endorse any products or treatments discussed herein. Learn more about how we maintain editorial integrity
here
.

Community Poll
Have you experienced any of these vision symptoms? (select all that apply)