ADA: Near Misses
The Americans with Disability Act (ADA), passed in 1990, was meant to guarantee reasonable accommodations for people with disabilities so they can get equal access to services (in theory and on paper at least).  The ADA is a part of the Office of Civil Rights, US Department of Justice, and the guidelines for businesses and governments to comply with are clearly laid out in lengthy government documents covering things such as sidewalks, width of doorways and required handicapped parking spaces. You can find all these details in the 2010 ADA Standards for Accessible Design.
There is an entire section devoted to the hospitality industry and transient housing, otherwise known as hotels. There are two types of ADA hotel rooms – one offers communication modifications for the hearing impaired and the second is for mobility needs. When I travel and stay in hotels, I note on my reservation that I would like a room close to the elevator and accessible if it is available. I always thought this meant a shower stall and not a tub, because that step over the edge of the bathtub can be quite the feat and the walk-in showers, like I have at home, better meet my safety needs.
A Sample of What I've Found
So it is with a touch of amusement as well as dismay that over and over I see the same 'accessible' bathtub in Marriott's and Hilton's, two of the largest hotel chains in the country. Take a look at my photos and you will see that their interpretation of accessible means they install as many grab bars as possible.  The tub is still there but to enter for a shower I have to step up and over the edge while maintaining a death grip on one of the grab bars which I have to bend forward to reach.  I often have visions of my access to getting clean includes tumbling head-first into the tub.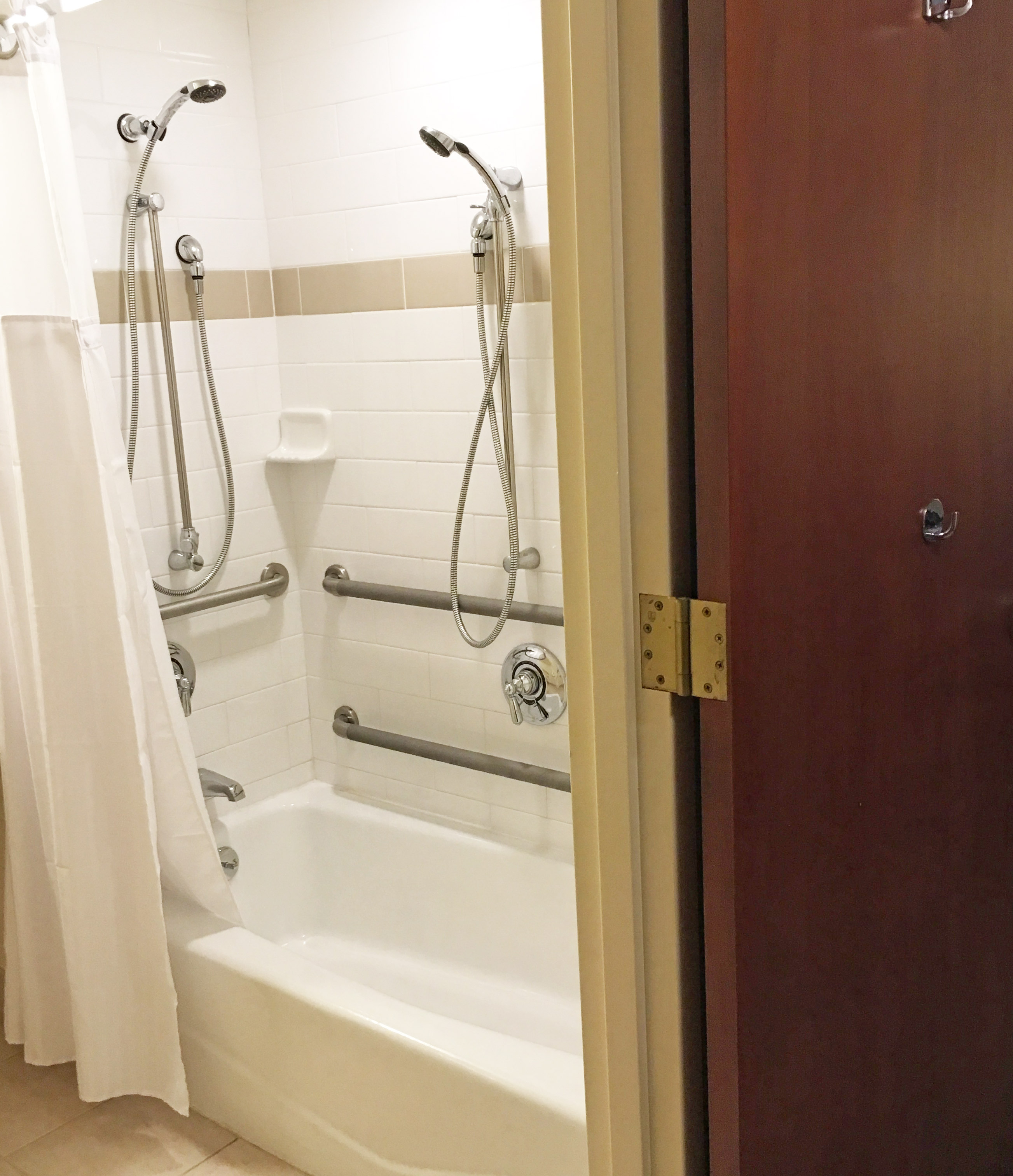 At one conference hosted at another Marriott, a friend had an accessible room, and for him it meant they provided a shower seat so he could slide himself out of his wheelchair and into the tub area.  Never-mind he also had to get his legs out of his wheelchair and over the bathtub side.  Whoever is selling the idea that grab-bars = safe and accessible is obviously having an influence in the hotel industry.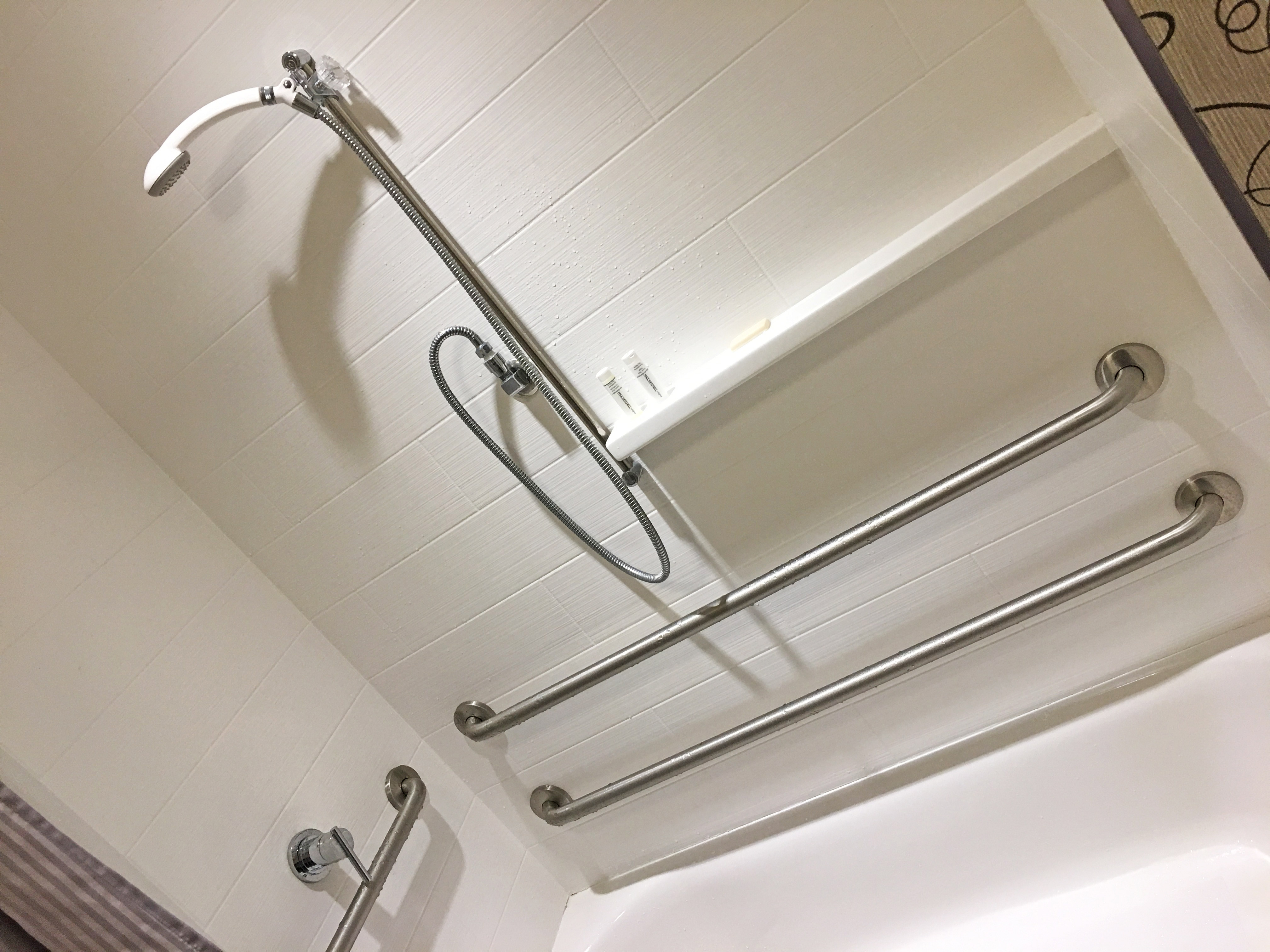 Every once in a while I stay at a hotel that gets it right – and I would say from my recent visit, the Swissotel in Chicago gets high marks for accessibility.  The tub was a roll in version with a flip down shower seat. Even then, their near perfect planning overlooked a small detail and there was no place to put the shampoo or soap.   But they almost got it right.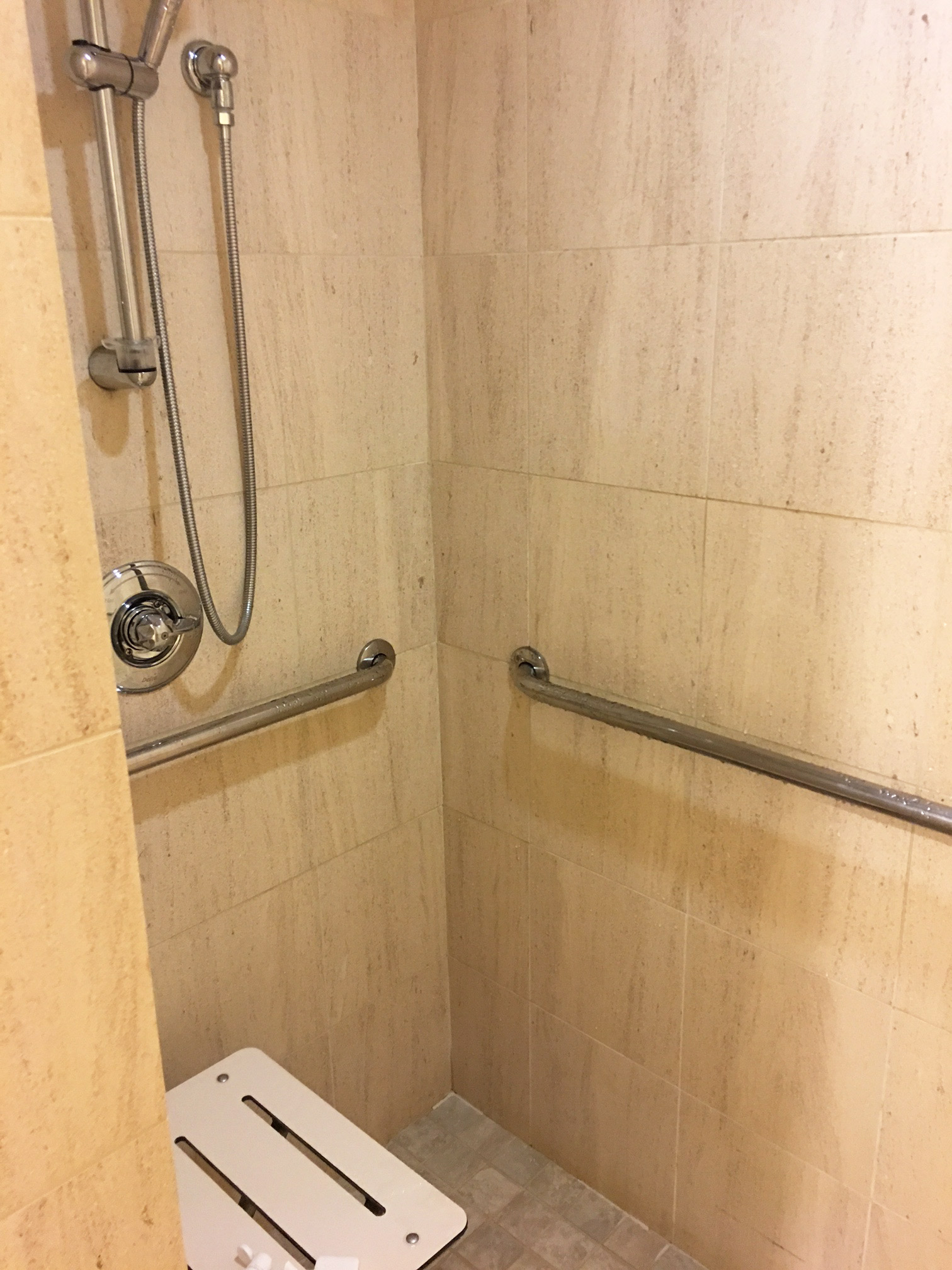 When reviewing the ADA standards (2010), I find having a seat in a bathtub does meet the requirements, whether the person can actually use it or not, and roll-in showers are not as widely mandated as I thought.
What is required for ADA and what is just a hotel group trying their best are often two different things, and the rules for accessible rooms are complex and quite often open for interpretation, depending on the site.   Not all properties are even required to meet the 2010 standards - these only apply to new hotels built after 1993, but there are a separate set of ADA requirements for pre-1993 hotels that undergo renovations.
What is Required by ADA Regulations
If you wonder what makes a hotel ADA compliant, you will find this ADA Checklist for New Lodging Facilities informative. It spells out all the details we often question, including those roll-in vs tub showers.  It turns out that despite what I thought, the accessible room requirements are quite small, and even in a large hotel of 500 guest rooms, only 9 must be accessible and just 5 must have roll-in showers, hence all those grab bars on bathtubs. Following is the chart of ADA accessible room requirements:
Column "A"
Column "B"
Total Rooms in Facility
Accessible Rooms
Rooms with Roll-in Showers
1 to 25
1
0
26 to 50
2
0
51 to 75
3
1
76 to 100
4
1
101 to 150
5
2
151 to 200
6
2
201 to 300
7
3
301 to 400
8
4
401 to 500
9
See below*
501 to 1000
2% of total rooms
See below*
1001+
20 + (1 per 100 over 1000)
See below*
Note: The number of accessible guest rooms for a given number of rooms in a hotel (left column) is derived by adding together column "A" and column "B".
* the number of roll-in shower rooms in hotels with more than 400 guestrooms total equals 4 + (1 per 100 rooms over 400).
Lessons Learned
There are several take-aways from my research on ADA and hotel showers, the first of which is the requirements are incredibly diverse and complex; if you read the ADA Checklist for New Lodging Facilities you will see what I mean.  Even more important, this reaffirms we can't just assume a hotel's accessible room has what we need – if you want a roll-in shower, be sure to call ahead and ask a manager for a full room description. We need to make sure travel plans meet our expectations and needs by talking to the service providers in advance.  Don't assume what they call accessible will meet all of our needs.
wishing you well,
Laura
This article represents the opinions, thoughts, and experiences of the author; none of this content has been paid for by any advertiser. The MultipleSclerosis.net team does not recommend or endorse any products or treatments discussed herein. Learn more about how we maintain editorial integrity
here
.

Community Poll
Have you experienced any of these vision symptoms? (select all that apply)