MS Advocacy & David Osmond
Every chronic disease seems to have a celebrity spokesperson these days and MS is certainly no exception. There are a number of people with connections to the entertainment world who have multiple sclerosis and are also actively trying to bring attention to this disease; quite often a pharmaceutical company is the sponsor of that work. Recently I spoke with David Osmond about his role as a spokesperson for Novartis. We talked a bit about Our Voice in Song, and his song I Can Do This, which is the cornerstone to this campaign, but the majority of the interview was spent talking about his view of MS, advocacy and what we can do for ourselves and each other.
His name is familiar because David is a member of one of the younger generations of The Osmonds, the family best known for Donny and Marie and The Osmond Brothers. David grew up with MS as part of his daily life because his father Alan has been affected by primary progressive MS for over 30 years. David says despite knowing some about MS, when he was diagnosed with relapsing remitting MS in 2006, he chose to ignore it and pretend it wasn't happening to him. Then the symptoms came on that flipped his world upside down and at times even landed him in a wheelchair, unable to walk. It would be almost five years later that David faced up to his diagnosis, and with the support of his wife he decided to take a disease modifying treatment drug, hoping to slow or stop the disease that was keeping him from participating fully in life, especially with his young children.
Rather than talk about his MS and his own treatment, though, I wanted to know more about how being a spokesperson for a disease like MS affects him and what he hopes to accomplish in his role.
It's more than about one drug
"My biggest responsibility is more than a spokesperson for a drug company, it is more about what I have gone through and continue to go through. I look at my own story and the similarities of the stories of others and it reminds me I am not alone," said David.
"When I was diagnosed it came on so fast and my world flipped upside down. I was in complete denial, anger and frustration, even though I grew up with the term MS. To me this campaign is about education and also motivation that others (with MS) will feel they are not alone in this fight, and not making the same mistakes I made in the beginning. I was in denial and was just coasting. I changed my life and diet and supplementation and I thought I was doing enough. But as I started to have the relapses, I realized I can do more. I had to ask the hard questions and go to my neurologist (and request treatment). This (being a spokesperson) isn't about one drug – but about asking what can I do now?
"I'm encouraging people to do something, getting involved and early treatment is a key. If we keep pushing the MS community to further itself - it's a way to help the advocacy groups like the MS Society and MS Foundation to make a difference in their efforts."
Spreading hope
"We're all trying from our different points of view. I didn't intend to be a motivational speaker. I'm a music guy and music motivates me. If I can help spread hope, it's not the disease that gets you down but the lack of hope, and more than ever we have hope because of advances being made. I think that's inspiring."
Choose to be happy
"I sound like an uber optimistic, over the top happy guy. And I admit I am. But at times I have to force myself and I have to try to be (happy) because I've learned it's better to be happy than sad. Neurologists everywhere say every patient with a positive outlook versus a patient with a negative one does better overall, so why wouldn't I try that? I have nothing to lose by choosing to be happy.
"Our Voice in Song, is like singing in a choir and music is powerful. Writing I Can Do this came from my heart and soul. It's not a sappy song - this ain't no Puppy Love ( a reference to a top Donny and Marie hit). If you listen to I Can Do This there is no mention of MS in there. I wanted this to be a song you could listen to and enjoy and not be preached at, and not just have it say 'hey feel better.' I wanted it to say you're not alone."
David spends a lot of time away from home as part of his spokesperson roll and I asked "at the end of the day when you go home – or your hotel room, do you find a way to disconnect from the MS world that doesn't become the 24/7 persona of David Osmond?"
"Having children (two daughters and one son) forces me to put my focus on other things. The needs of my kids, wanting to play all the time, they want to wrestle, and sometimes that reminds me of my MS and what I can't do but it also gives me motivation to want to try harder. I sing and write music, and it helps to get my emotions out. I read books and I am a fan of movies, especially comedies. I love to laugh because it helps me to forget the pain and disability in my body.
"I try to meditate and pray, faith is a big factor in my life and holding onto that foundation I have had since I was a kid helps me to find purpose.
"I love spending time with my wife, but with having little kids it's hard to find date nights. I become Mr Mom when I come home and take over for my wife, so she can have a break. I run the carpool and pack the lunches and I love that. I just want to be dad. So that's my escape when I'm home."
Find your own passion, find your own village
"For Our Voice in Song, I wanted to put resources and tools that I use that I find help me, and not just the music video. (Those tips include) Find your own passion - I don't know what that is. You have to find out what that is - It could be crocheting. But whatever is your passion, use it so you can disconnect from the pain or the disability. Find the things you can do. I know what it is I can't do (because of my MS), so my abilities mean more than they ever did before and I try to focus on those.
"Find your village – surround yourself with people that lift you up and don't bring you down. When you look for the right people there is a plethora of people out there who don't have MS but are fighting for me. With all these people fighting for me how could I not fight for them but I want to do that in a fun way. The fun with creating the orangemoji is an example. I hope this (creating the Orangemoji) is a fun way to share the message that we're all in this together"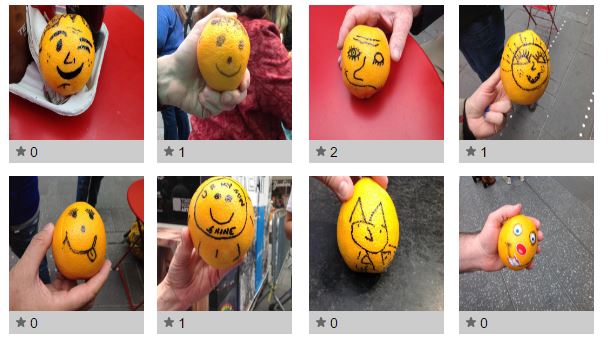 Just a few Orangemoji's to make you smile
To kick off World MS Day 2016, the Multiple Sclerosis Foundation and Novartis partnered to create the #Orangemoji campaign. Everyone is encouraged to grab an orange and some markers or other materials and create their own expression of MS. When done, you can upload it to the Our Voice in Song website or use it on your own social media posts to create MS awareness.
I wasn't sure what to expect from David in advance of our talk. I had heard that he is friendly and approachable from others who have met him recently, including my own neurologist at the Ohio Health MS Center where he spent a day with patients and staff. I found him to be that and even more – David was genuine in his conversation with me and has an earnest commitment to advancing MS advocacy that goes beyond his spokesperson role. Even though I hate that he has MS, I'm happy to know that David Osmond is a part of our community.
Wishing you well,
Laura
This article represents the opinions, thoughts, and experiences of the author; none of this content has been paid for by any advertiser. The MultipleSclerosis.net team does not recommend or endorse any products or treatments discussed herein. Learn more about how we maintain editorial integrity
here
.

Community Poll
Who can relate? "Just because I could do something last year, last month, last week or yesterday doesn't mean I can do it today. Also, it doesn't mean I can't."