MS and the Arts
Music, visual arts and creative writing have always been a part of my life; I embrace the idea that expression through the arts makes us more human and connected to each other. So it was no wonder that the session Utilizing the Power of the Arts in MS Care: Everyone Benefits at the 2019 Consortium for MS Centers meeting in Seattle, caught my attention. There were three presenters to this session and each reinforced my view that creating can be a positive way to cope with a chronic disease.
Research is thin
Francois Bethoux, MD, Cleveland Clinic Foundation, chaired the session and presented Evidence Supporting the Use of the Arts in the Management of MS. Bethoux shared the big challenge for the arts and medicine is the lack of evidence. "The arts are versatile and you will find very few people who say we shouldn't have the arts. Of course, like everything in treatment that isn't a drug, the question arises, 'Who will pay for it?' There is evidence (supporting the value of arts) in various populations, but in MS it is very thin."
The effects of the arts should be pursued
He went on to challenge the attendees to share their own work with the arts and said, "Researching the effects of the arts and interventions should be pursued. We all have demonstrated our success in small programs but it doesn't reach the level of large populations."
Music therapy & MS
Lisa Gallagher, MS, certified Music Therapist, reviewed the ways music therapy can be used not only in group sessions but as a tool for relaxation during stressful treatments such as infusions. "Any participation with the arts, even just as a viewer, can have beneficial effects. There are neurological benefits to music," said Gallagher. Those benefits she listed include improvement in gait, brain activity as shown on functional MRIs, speech problems, as well as emotional assistance to coping skills.
The power of rhythm
"Music is a form of performing arts that has been most studied," noted Gallagher. "Rhythmic auditory stimulation is a neuro music therapy technique and there is lots of research in Parkinson's and maybe we can use that in MS. In Parkinson's, it is used to train walking rhythm. In MS we don't have freezing of gait like in Parkinson's but it could be used for rhythm as a training tool for the gait." Gallagher went on to say they have a home walking program that is done to music and said, "When training with music we see differences in the right direction." The brain is attuned to the rhythm of music and that can drive the steps we take.
Interacting with art
Gallagher works at the Arts and Medicine Institute of Cleveland Clinic, which you wouldn't think of as a museum, but she and Bethoux explained they have a world-class collection of 6,500 pieces of fine art and over 15,000 prints and posters. This art is shared with hospital patients and guests through being a part of the décor and in special exhibits. Cleveland Clinic has even developed a guide program for people who want to learn more about the art in their clinic spaces, and an app for the smartphone to use when viewing their art.
The app, CCF AR+, allows you to view the art in nine different Cleveland Clinic facilities online.  If you are there in person, the app has augmented reality (AR) that allows you to interact with the art. The app almost makes me want to make a visit to Cleveland Clinic outside of medical needs just to check out their collection.
Art as medicine
Ahmed Obeidat, MD, PhD, at Medical College of Wisconsin, shared Medical Humanities Through Arts in MS – Reflective Writing and Visual Arts, and focused on how art and writing that reflect our own experiences with chronic disease is a tool that should be used more often. "Arts as a medicine is a very old concept but not well studied, and the visual and reflective arts such as writing allow us a way to express what otherwise might remain invisible. Artists change our perspective," said Obeidat.
The art of writing
He shared images created from MRIs by artist Elizabeth Jameson and prints by other artists that show how artists interpret their own situation with chronic disease into a visual display. He then moved on to talk about the value of writing in medical arts and shared several examples. As a writer myself, I know how it feels to express my situation with MS through words. I was surprised and excited when Obeidat shared a writing sample about MS by MultipleSclerois.net's very own Devin Garlit. Devin's words projected on the screen for the medical folks to read was a convincing display of the impact the writers here make on others.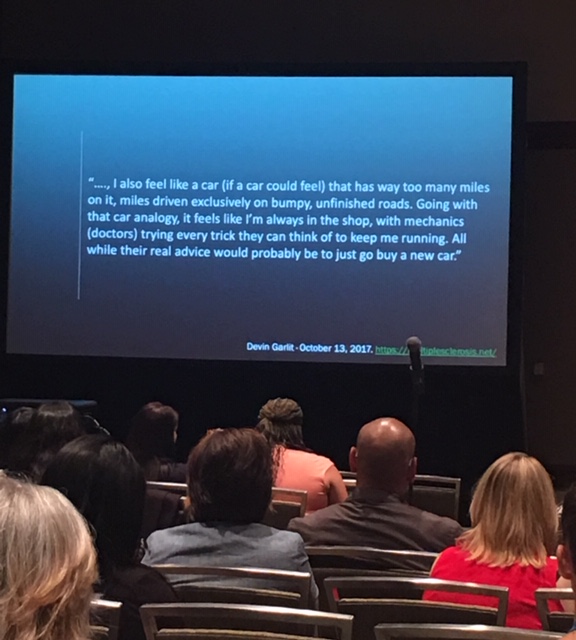 My takeaway
My takeaway from this session is we should crank up our favorite tunes to exercise with, take a blank piece of paper and sketch away, or grab that paper and pen (or computer) and start writing. The arts have a beneficial effect and according to these experts, they are another tool we should use to live with MS.
Wishing you well,
Laura
This article represents the opinions, thoughts, and experiences of the author; none of this content has been paid for by any advertiser. The MultipleSclerosis.net team does not recommend or endorse any products or treatments discussed herein. Learn more about how we maintain editorial integrity
here
.

Community Poll
Who can relate? "Just because I could do something last year, last month, last week or yesterday doesn't mean I can do it today. Also, it doesn't mean I can't."