HU Connexion 2018 – Connecting With Your Tribe
What another amazing event hosted by our friends at Health Union in Philadelphia, PA – HUConnexion18. This is the time of year when HU writers from all over the country and globe come from in to out of the screen to gather in person, to connect, learn, laugh, cry, reflect, grow, share, create, brainstorm, and, best of all, honor our authentic selves.
Connecting across communities
This year's conference focused on the them, "Connecting Across Communities" and the main thing I took away from HUConnexion18 was how important it is to stay connected with your tribe. A tribe is a group of distinct folks, a band of people. It's a feeling, a sense. We have things in common, shared experiences and goals. We are unique. We connect when we are feeling most vulnerable. Our tribe gets it, right?
My tribe consists of the writers from MultipleSclerosis.net, each of them supporting me in different ways through my journey of living with an incurable disease, who have lent emotional support, guided me through tough decisions, and, despite the geographical distances, they have made me feel less isolated and more connected.
Favorite moments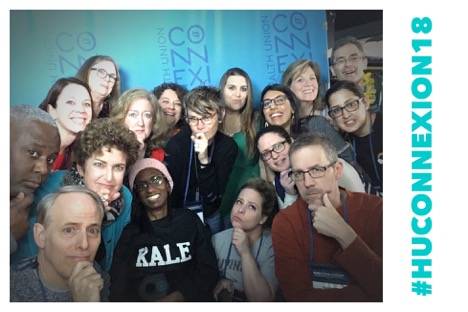 I recently asked my tribe to share their favorite moments from this year's Connexion event. As you read through their memories, I know you will see the same theme I see – a tribe is family.
From Steve W
I can't think of a more perfect name for the conference than Connexions - I've finally met people who I've only ever communicated with through email in the five years since I started writing on MultipleSclerosis.net. And I also linked up with amazing health advocates from this site and other strands. I know that some of the things people talked about will stay with me for a long time. It was really inspiring to hear everyone's stories and to realise the real value of our online communities to each of our personal health journeys. We really are so much stronger together!
-Steve
From Ashley R
I keep going despite my MS, and a major reason why I continue on the way I do is because of Health Union. So thank you to everyone at Health Union for being amazingly supportive and letting our MS brains run free with writing creativity. I look forward to the conference every year and spending time with my HU Family. It's so comforting to know that you have all of these people that you can count on, no matter what. Every year at the end of the conference we always triple check that there will be another HUConnexion the following year, because it's something that we all can't wait to experience again and again.
-Ashley
From Laura K
Well color me blue! No, I'm not sad- being blue is a good thing I learned about myself at Connexion18 when we did the Pace Color Palette personality test as a group activity. Blue is the color representing people who seek harmony. The other MS writers present were largely RED, the adventurers who want to explore new areas. But there were also Yellows, the people who like order, rules and honor deadlines in their lives; and a few Greens who see life through data and science. This mix of personalities is one thing that makes us great collaborators – we all bring something different to the table.
-Laura
From Nicole L
My time at the conference didn't go as I had planned. But I did have two favorite moments.
During the opening session, I was feeling a little light-headed. By lunch, the "fuzziness" in my head got worse and I passed out. When I gained consciousness, Sara Hayes (Senior Director, Community Development) was asking me if I was ok. She then quickly located Kristine Zerkowski (Executive Director, Community Development) and they both escorted me to the local hospital emergency room. I was evaluated for 5 hours then released after receiving fluid. Kristine stayed the whole time.
So by far, my favorite moments were Sara's quick response to my need for help and Kristine's compassion and kindness to stay with me while I was in the ER.
-Nicole
From Cathy
When I was diagnosed with Multiple Sclerosis in 1986 it was a lonely, scary world to enter where information about MS could only be found through snail mail, library catalog cards and landline telephones. Today the internet has changed all that. For me the safest place to fall has been as contributor and moderator for the incredible Health Union via MultipleSclerosis.net. At the recent HUConnexion18 I learned a few important lessons:
I adore and am extremely blessed to be counted among and inspired by other devoted and amazing health advocates.
The team at Health Union are completely committed to giving the patient voice the gold standard of platforms.
Rule #1 to live by in our advocacy work is, and always will be (according to our funny, intelligent, respectful and charming CEO Olivier Chateau) "Don't be an a$$hole.". Yup. Wise words to live by.
Being a freelance writer and certified health advocate while living and managing a chronic illness can be a difficult and lonely profession. HUConnexon18 provides a sense of community, connection, caring and commitment. I am deeply grateful. How lucky can I get?
-Cathy
From Kathy Y
My favorite part of HUConnexion18 was meeting the other MS bloggers and advocates. I was nervous going in - I've been following a lot of them for years. They couldn't have been nicer, and I walked away having made many new friends. Additionally, the commitment of this fabulous company, Health Union, to helping people with various diseases feel supported, made me proud to be a part of their stable of contributors.
-Kathy
From Dave B
I tried to be serious at Health Union's Connexion 2018, a gathering of some of the world's best health writers, including many from MultipleSclerosis.net. But then I joked with employees about how disappointed I was that the conference complimentary water bottle wasn't a bong. And then I joked with the COO about fart jokes— on video that may one day be visible to anyone on the internet. And then I joked with the CEO, with everyone in attendance listening, about what he would do as boss of Health Union if his writers decided, ironically, to unionize. Really, I attempted to put on my serious game face. But when you get a group of MS misfits into one room with other health advocates, well, you can imagine what breaks loose. A whole lotta fun! And a blog sorta like this one…
-Dave
From Lisa E
I love spending time with this merry band of MiSfits — MS bloggers, writers, friends from near and far. Literally far, as Stephen jumped the big pond to join us from the UK. Although our lives may be very different — Ashley and Emilyhave young boys, Laura is our research maven, Nicole is the coolest chick from N'awlins, Tamara and Cathy are inspiring their young adults to soar, and Dave, Christie, and I are racing each other up that proverbial hill to reach the magical age of 50 with the love and support of our spouses and partners — we share a special bond. But our connection stems from more than missing myelin. We share a love of laughter and goofiness that is contagious. Our passion for helping others is immeasurable and the magnitude of resilience behind the smiles in this photo could break the Richter scale 10 times over. I am proud to call these humans my friends and feel blessed to have shared side-splitting laughter, smooth libations, and sincere fellowship with them at #HUConnexion18.
-Lisa
From Emily R
I almost didn't make it to HUConnexion this year for a variety of reasons, but lovely Alina (Manager, Community Development) welcomed my (extremely) procrastinated RSVP with warm enthusiasm. And that was just the first reminder of why this is truly a must-attend event for me: whether an MS-diagnosed writers or the employed staffers who support us, everyone involved with HU just seems to get it.
My fellow writers get it that at best I'm full of ideas, but at my worst I don't remember what the heck those ideas were. The people who plan this event get it that there's a limit to how much stimulation or information we cognitively challenged folks can take in, so they carefully plan the sessions to provide maximum impact with minimal energy loss. And there was even a coloring book this year, which made the ADD girl with pigtails who still inhibits considerable space within my psyche squeal with creative joy!
It's very easy to feel sorry for myself in my day-to-day life, when I'm the odd girl out for the sheer quantity of needles I own or the number of MRI's I routinely enjoy napping through. So the opportunity to spend time chatting & laughing with my fellow gifted, funny, intelligent, and compassionate MultipleSclerosis.net writers is a necessary yearly reminder for me that, while I'd rather not get it what "living with MS" means, that fact that I do allows me to rub elbows with some pretty incredible people. Being at HU, surrounded by folks who share a calling to make something pretty special out of lives unexpectedly trolled by illness, is an interesting blessing--because I personally believe the most effective, amazeballs patient advocacy work for people who got it can only be done by those who get it.
-Emily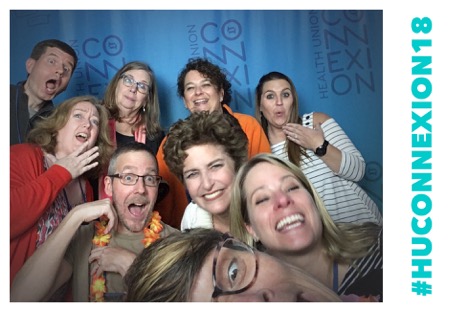 This article represents the opinions, thoughts, and experiences of the author; none of this content has been paid for by any advertiser. The MultipleSclerosis.net team does not recommend or endorse any products or treatments discussed herein. Learn more about how we maintain editorial integrity
here
.

Community Poll
Does anyone else in your family have MS?