A Website to Help You Be Your Own Best Advocate
If I'm repeating myself about the Consortium of Multiple Sclerosis Centers it's for at least three reasons:
(1) CMSC provides important information for our community that you should become acquainted with;
(2) I'm proud to be their official blogger;
(3) I'm wild about the work they do and I admire the dedication and compassion of its members.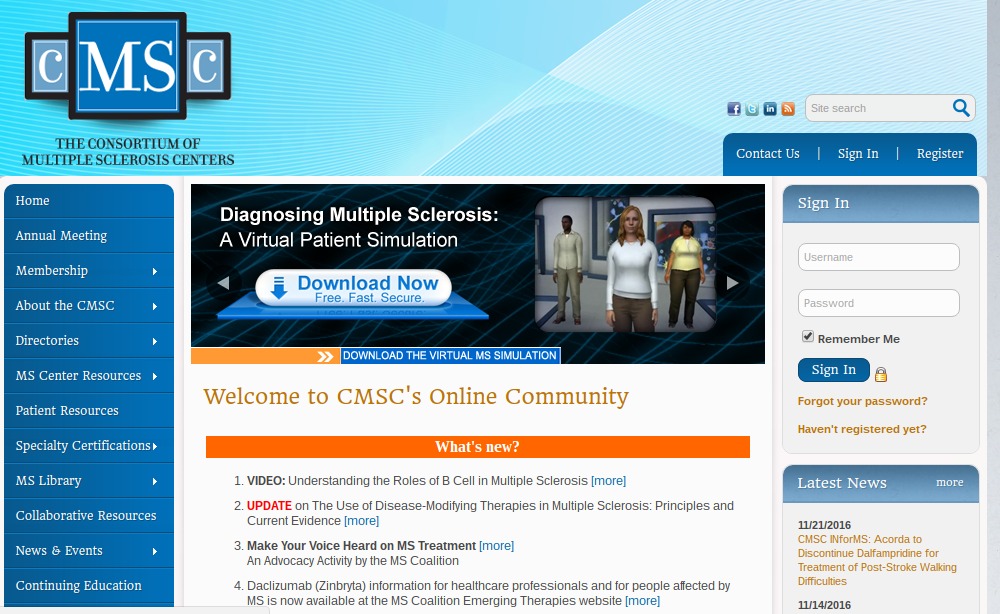 If you want to be your own best advocate take some time to familiarize yourself with CMSC's website. The wealth of information provided is an education on all things MS. It's a must-see that lists current research, upcoming or reports on clinical trials, important MS organizations, endless resources for patients, caregivers and the medical community, an MS library of subjects, news and events and so much more.
Here's a sample of what's listed on the site:
LATEST NEWS:
WHAT'S NEW:
Video: Understanding the Roles of B Cell in Multiple Sclerosis (more)
UPDATE on the use of disease-modifying therapies in Multiple Sclerosis: Principles and Current Evidence (more)
Daclizumab (Zinbryta) information for healthcare professionals and for people affected by MS is now available at the MS Coalition Emerging Therapies website (more)
PUBLICATIONS that include:
NARCOMS Now, a publication of the NARCOMS registry as a service to NARCOMS participants, providing the latest MS news, feature stories, and registry updates. The magazine is distributed in print and posted online quarterly at www.narcoms.org/narcomsnow. (NARCOMS is a global registry for Multiple Sclerosis research, treatment, and patient education. The Registry is an active database of over 38,000 persons with Multiple Sclerosis.) Subscribe today!
You can find an MS Center in your area by clicking ADVOCACY located on the left hand side of the screen. This will bring you to a second screen that will ask what country and location you live in.
Taking advantage of this remarkable website will add to your toolkit of knowledge, helping you to better manage your MS care. You deserve the best and that's exactly what the Consortium of Multiple Sclerosis Centers has been offering for 30 years!
This article represents the opinions, thoughts, and experiences of the author; none of this content has been paid for by any advertiser. The MultipleSclerosis.net team does not recommend or endorse any products or treatments discussed herein. Learn more about how we maintain editorial integrity
here
.

Community Poll
Have you experienced any of these vision symptoms? (select all that apply)