ECTRIMS 2016: Learn More about Current MS Research
It's that time again when many of our MS doctors, nurses and other clinicians will be out of their office due to a special meeting being held in Europe, September 14-17.  Earlier this year we covered the news from the Consortium of MS Centers Annual meeting, where healthcare specialists in MS from around the US gathered to talk about patient care.  This week, many of those same specialists are traveling to London for the European Committee for Treatment and Research in MS annual meeting (ECTRIMS 2016) where the primary focus will be on MS research. While these two meetings are very different in their approach, they attract many of the same attendees from the US.  We're fortunate that many of our MS neurologists and their teams travel to Europe for ECTRIMS and will hear and maybe even present their own work in the latest in MS research.
There are many meetings for MS specialists throughout the year, including CMSC and the American Academy of Neurology (AAN) and the American Committee for the Treatment Research in MS (ACTRIMS) , but ECTRIMS is viewed as the premiere event and people come from all over the world to participate.  A select delegation from the Accelerated Cure Project, representing iConquerMS™, will also be attending to learn more and take advantage of this great opportunity to network and share the news of our patient led research initiative.
Lay people like you and me who are not in London, can still find ways to follow along with the ECTRIMS 2016 proceedings.  You can follow #ECTRIMS2016 on Twitter and catch the brief 140 character messages that come out of these talks and from the industry representatives.  This is great interactive way to ask some questions, but it's hard to get much in detail.
If you want to know more detailed information you can look over the conference program, view the many abstracts on poster presentations, and much more via the ECTRIMS website. This may require you to establish a username and password, but there is nothing that keeps people like you and me from viewing this program.  The ECTRIMS 2016 conference e-book is now available via the internet as well. This e-book is interactive and I encourage you to explore the many different areas of research interests that will be discussed at ECTRIMS 2016.
If you want an easier to view grid of available talks and special presentations, you can access them on the ECTRIMS 2016 Planning Grid. If you click on each grid title, it will expand and display the full topic and the presenter.  In many, but not all of the grid topics you can also access the abstract by clicking on the icon that looks like a sheet of paper, which gives move information on the talk.  Here's a screen shot of what one of these program sessions will look like –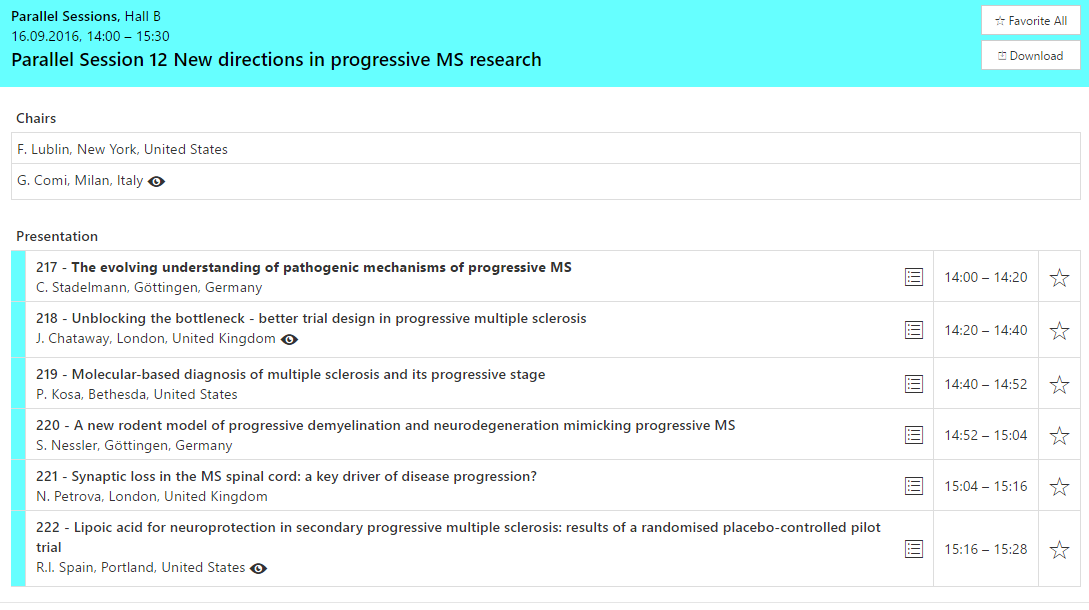 By looking over the program you will see this is an intense three days of presentations and discussions.  Often times the researchers withhold their final presentation until AFTER they are finished with their talk at ECTRIMS – or even in some cases they are recorded for viewing later. All of this information is available freely on the ECTRIMS website.
After the conference is done, most of the full presentations (often recordings) are also made available via this same website so just because the conference has concluded doesn't mean this sharing of information stops.
If all of this sounds a bit too complicated or time consuming, you can also always watch here at MultipleSclerosis.net, where in the coming weeks our great group of MS writers  will be covering the hot topics of ECTRIMS. Without a doubt there will be research headlines that generate lots of buzz in the MS community and we look forward to sharing the news from ECTRIMS 2016 with you.
Wishing you well,
Laura
This article represents the opinions, thoughts, and experiences of the author; none of this content has been paid for by any advertiser. The MultipleSclerosis.net team does not recommend or endorse any products or treatments discussed herein. Learn more about how we maintain editorial integrity
here
.

Community Poll
Have you ever heard someone say the following: