Your Most Frustrating Symptom? Fatigue
Last updated: August 2018
As part of our "In A Word" series, we recently asked the MultipleSclerosis.net Facebook community to complete the following statement: "In a word, my most frustrating MS symptom is______". If you haven't had a chance to share your thoughts yet, it is never too late! Let us know by leaving a comment at the end of this post.
Learning about your MS
Our objective at MultipleSclerosis.net is to empower patients and caregivers to take control of MS by providing a platform to learn, educate, and connect with peers. Thanks to everyone who participates in our prompts; your feedback helps us learn more about your MS...and also generates ideas for new articles!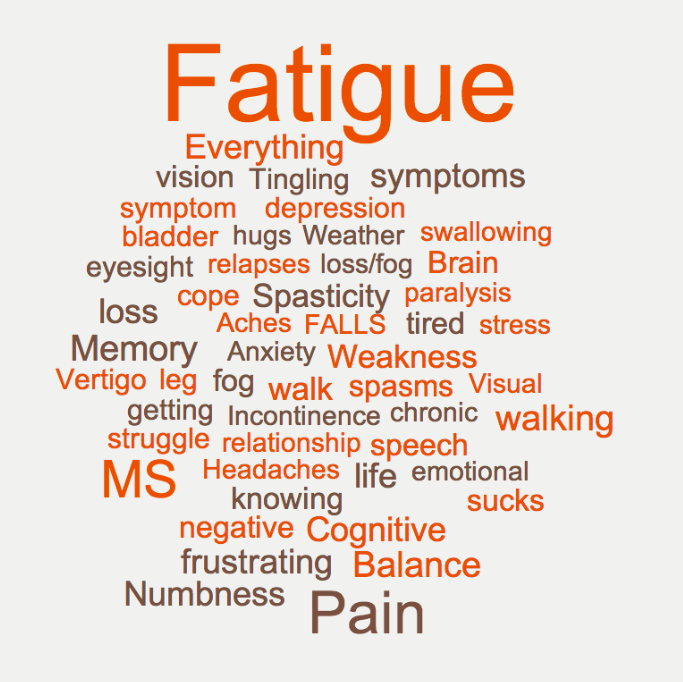 "No one understands"
MS is challenging and life changing in many ways. From the 650+ responses we received from our community members, fatigue comes across as the clear "most frustrating MS symptom." Adding to the frustration, many community members felt that friends, family, and colleagues often did not understand the severity of this symptom. As Connie stated in her comment, "no one understands and [they] label you as lazy."
For those of you looking for ways to better manage and cope with fatigue, please take a look at Lisa's blog post for helpful tips. Stay tuned for more tips on managing fatigue from our team of patient advocates.
Mobility and numbness
The world cloud also highlights Pain, Numbness, Balance, and Cognitive Issues as some of the most frustrating MS symptoms for our community. The MS in America 2013 Study reinforces this after it found that the walking difficulties (49%) and numbness/tingling (64%) were frequently the earliest MS symptoms experienced, and it appears that they continue to be frustrating with time.
Cognitive issues
Cognitive issues, such as brain fog and memory loss, can present many challenges individuals with MS. Recent research presented at the American Academy of Neurology suggests that you may want to consider exercise as a way to improve some aspects of cognitive function.
You can learn more about MS symptoms by checking out our Symptom overview, which reviews common MS symptoms, recent research, and management techniques.
Thanks again for being part of the MultipleSclerosis.net community, and for allowing us to learn from your experiences!

Community Poll
Do you participate in any MS awareness month events?