My 2020 Garden, Plus Tips for Gardening with a Disability
There comes a time in every disabled gardener's life when she must face facts: growing stuff ain't for sissies.
Committing to gardening despite the heat
Either you surrender yourself to it like a nun taking the veil or else pursue another interest that needs a lot less TLC, such as hoarding newspapers. This summer, I committed myself to the garden with a mixture of dedication and dread, feeling both the depth of my love of nature and the fear of failing to be up to the task. Would multiple sclerosis jealously divert my attention and hold me hostage indoors, well away from the crippling heat — just like it did in previous summers?
My MS symptoms have been cooperating
I am thrilled to report that it did not. My MS symptoms are behaving so well that I accumulate fifteen minutes of outside time most days, and I have the tan to prove it. I'm not sure why things are going better this summer; it's a chicken and egg paradox I no longer feel the need to examine.
Spending time outdoors each day
Some friends insist that it's because I grew stronger from being more active and therefore better able to sustain activity throughout the summer. But I grew stronger in summers past, too, only to backslide in mid-July when temperatures reached the 90s every day. I watched helplessly as the lawn turned brown and crispy and my dainty blooms wilted under the Michigan sun. All I could manage was watering in the early morning and again near dusk. Now, at the end of July, I'm still out there puttering several times a day, deadheading, weeding, tying vines to trellises, moving pots to a shadier space. The lawn is burnt to a crisp, but I am not. I don't care why. I'm just rolling with it.
Photographs of my garden
The happy outcome is that it's really come together this year, particularly the perennial beds. These photographs give you an idea of the Shangri-La I created and developed over the past five years.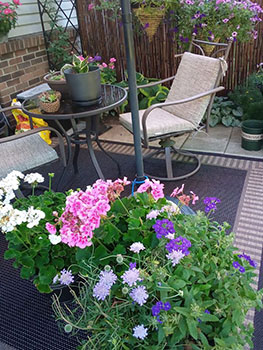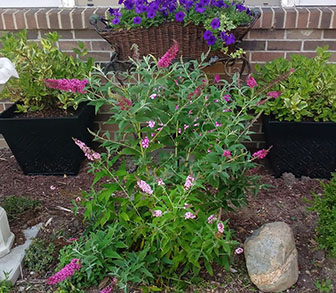 Tips for maintaining a garden despite disability
Wait, this isn't just a garden brag! I want to share some ideas to create and care for a lovely garden no matter how disabled you are.
The right tools are very helpful. Here are three I can't do without: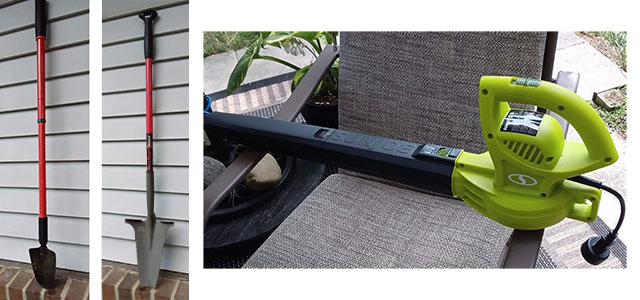 Long-handled spade
I use the long-handled spade to weed the perennial beds. Since I can't crouch down without falling over and can't kneel without spending the next half hour struggling to stand up again, this handy devil allows me to weed in a standing position. When I get wobbly and need support, it doubles as a cane to steady me as I walk over uneven ground.
Serrated-edge shovel
The serrated-edge shovel makes it possible for me to more easily dig up hostas and separate them using the sharp teeth to saw through those woody roots. It's also a nice alternative to using a regular shovel to dig holes, cutting through dirt more easily.
Leaf blower
The leaf blower is for days when I'm too pooped to broom the patio. This little sucker is deceptively powerful and cost under $18.
Container gardens
Container gardens are easy to plant and take care of. You can assemble and maintain one while sitting comfortably in a chair. Here is a picture of succulents planted in different kinds of pots. They need very little water and are easy to maintain. Unless you live in the desert, though, you'll need to bring them in during the winter.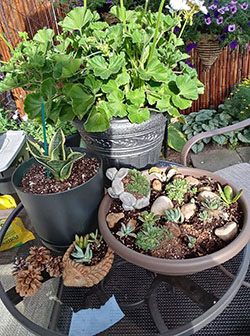 You can get creative with containers, too. For example, you might repurpose your grandma's beat-up crockery as a one-of-a-kind planter. Or superglue stones together for a natural look. Birdbath bowls can become instant planters.
I love planting perennials in pots! Put a hosta in a pot and it becomes a portable accent plant you can move around. Hardy perennials like hostas will winter over and come back in the spring. This year I planted weigelas in big pots right in the perennial bed. Ornamental and flowering shrubs can sit on your patio, too.
Do you have any gardening tips?
I'll be publishing an article next spring that covers these planting tips. If you have some gardening tips of your own, please share them!
This article represents the opinions, thoughts, and experiences of the author; none of this content has been paid for by any advertiser. The MultipleSclerosis.net team does not recommend or endorse any products or treatments discussed herein. Learn more about how we maintain editorial integrity
here
.

Community Poll
Have you ever heard someone say the following: