Get a 2016 Calendar Featuring Artists Living with Multiple Sclerosis
From all of us at the Multiple Sclerosis Association of America, and from the thousands of individuals we help every year, we just want to say thank you.
It is the ongoing support of friends like our followers and readers on MultipleSclerosis.net that allows MSAA to continue to be there for people living with MS, as well as their families and care partners, in the ways they need us most.
As we finish this first month of 2016 and look ahead to the rest of the year (and beyond), we hope you will help MSAA make a difference in even more lives by continuing to support vital services and programs that ...
Provide access to helpful resources and the latest MS treatment information
Distribute assistive equipment like wheelchairs and shower chairs to those who need it most
Help cover the cost of expensive MRI's for people who can't afford it
And more!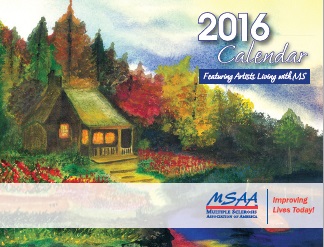 2016 MSAA Art Showcase Calendar
As some of you may know, MSAA's Art Showcase features artwork by talented artists with MS. Recently, we gathered some of the Showcase's best talent into a visually stunning 2016 calendar.
And right now, when you give a gift of $25 or more, we'll send you our 2016 MSAA Art Showcase calendar in the mail. This calendar showcases beautiful pieces of art created by people living with MS. But you need to hurry — these calendars won't last long!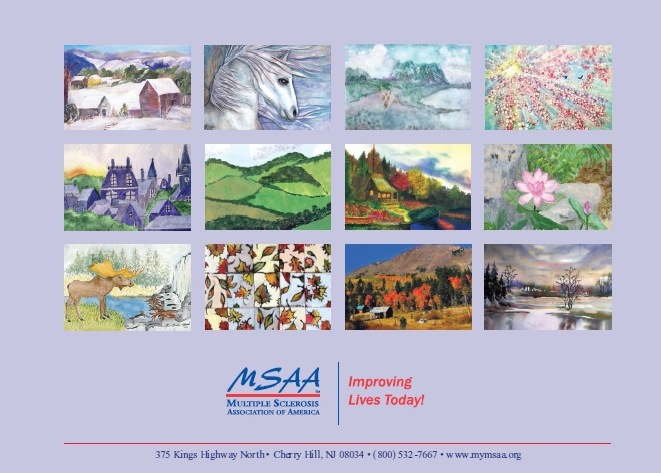 Back of 2016 MSAA Calendar
Once again, thank you for your continued support - even if it is through commenting and sharing our articles here on MultipleSclerosis.net. Together, we can continue to improve lives today and every day through the vital services and support your gifts make possible for everyone in the MS community - clients, care partners, and clinicians alike.
This article represents the opinions, thoughts, and experiences of the author; none of this content has been paid for by any advertiser. The MultipleSclerosis.net team does not recommend or endorse any products or treatments discussed herein. Learn more about how we maintain editorial integrity
here
.

Community Poll
How well do people around you understand MS?