Get Some "Swimspiration" This Fall from MSAA
All summer long, the Multiple Sclerosis Association of America's Swim for MS participants swam, splashed, and dived into the pool for a good cause! MSAA's Swim for MS program is a do-it-yourself fundraiser that allows you to create your own swim challenge and recruit online donations to support the MS community. We encourage everyone to take a dip in the pool this fall to improve not only your physical wellness, but to also give back to members of the MS community. Here are some stories from this year's Swim for MS participants to inspire your fall swim challenge – happy swimming!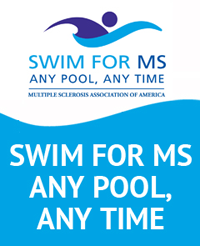 National Honor Society - Stafford Chapter
In July, students from the Stafford Chapter of the National Honor Society embarked on their fourth Swim for MS challenge – the group collected two dollars for each lap they completed, and one dollar for each cannonball jump during their one-day swim event at the local pool. Thanks to their hard work and dedication, the Stafford team experienced their most successful year yet with more than $800 raised for MSAA's free programs and services!
Julia
Inspired by a friend with MS who loves to swim, Julia jumped into the pool for the third year in a row to raise money for the MS community. Julia says she loves to participate in Swim for MS because it allows her to work out her own schedule and set her own fundraising goal. This year, Julia challenged herself to swim 10 miles during the month of July. She was able to raise more than $1,400 dollars in support of the MS community!
Brendan
While browsing a volunteer website, Brendan came across MSAA's Swim for MS initiative and decided to swim 50 miles by the end of May. However, Brendan met his goal so quickly that he extended his challenge to a total of 75 miles! Not only did Brendan reach his 75 mile goal, he also raised more than $900 in honor of a close family friend with MS. "Signing up for Swim for MS really helped me keep up with my swimming and having a goal and accomplishing it is one of the most rewarding feelings," said Brendan. "I hope I can inspire others to participate in Swim for MS!"
If you are looking to try aquatic exercise and give back to the MS community by creating your own unique Swim for MS challenge, please visit our website at SwimforMS.org. For more information about the benefits of aquatic exercise for people living with MS, please visit our online Aquatic Center website.
This article represents the opinions, thoughts, and experiences of the author; none of this content has been paid for by any advertiser. The MultipleSclerosis.net team does not recommend or endorse any products or treatments discussed herein. Learn more about how we maintain editorial integrity
here
.

Community Poll
How well do people around you understand MS?