How A Study of 64 Veterans May Help The Multiple Sclerosis Community With Fatigue And Depression
When I grew up, exercise meant riding my bike and walking or, as I got older, signing up for an aerobics class. Today, technology is changing the face of exercise for people with disabilities, and it may help those battling with the fatigue and depression of MS.
Traditionally MS specialists prescribe a myriad of medications to combat fatigue and depression. It's been my experience that none of these work. So for years I've looked high and low for holistic ways to address these issues.
What I've found is something we've known all along: Physical activity makes a difference in more ways than one.
According to the Cleveland Clinic, "A number of studies have shown that regular exercise, usually with some aerobic (cardiovascular) component, helps with MS-related fatigue. Regular exercise is also good for balance, endurance, weight loss, and well-being."
Now all we need to do is go out and (yes, I'm going to say it) just do it,right?
Not so fast.
If you're like me, someone who doesn't exercise nearly enough, and you also happen to live with a chronic illness, getting daily exercise is not as easy as it sounds. The thought of walking, biking, lifting weights or dancing while battling fatigue can feel overwhelming. So I sit in the comfort of my chair promising myself that tomorrow I'll get some exercise.
But tomorrow never comes.
What we need is a buddy, a mentor, or a friend to simultaneously inspire and hold us accountable to an exercise routine.
As I was deciding on my next topic to write about, I found myself leafing through abstracts from The International Journal of MS Care (the official publication of The Consortium of Multiple Sclerosis Centers) from the hundreds of presentations offered at the recent CMSC Annual Meeting.
One particular study seemed to jump off the pages.
It was a study done at The University of Washington called "Improving Fatigue and Depression in Individuals with Multiple Sclerosis Using Telephone-Administered Physical Activity Counseling" performed by Aaron Turner, Ph.D. and Alicia Sloan, MPH, MSW, LICSC, at their Multiple Sclerosis Center of Excellence.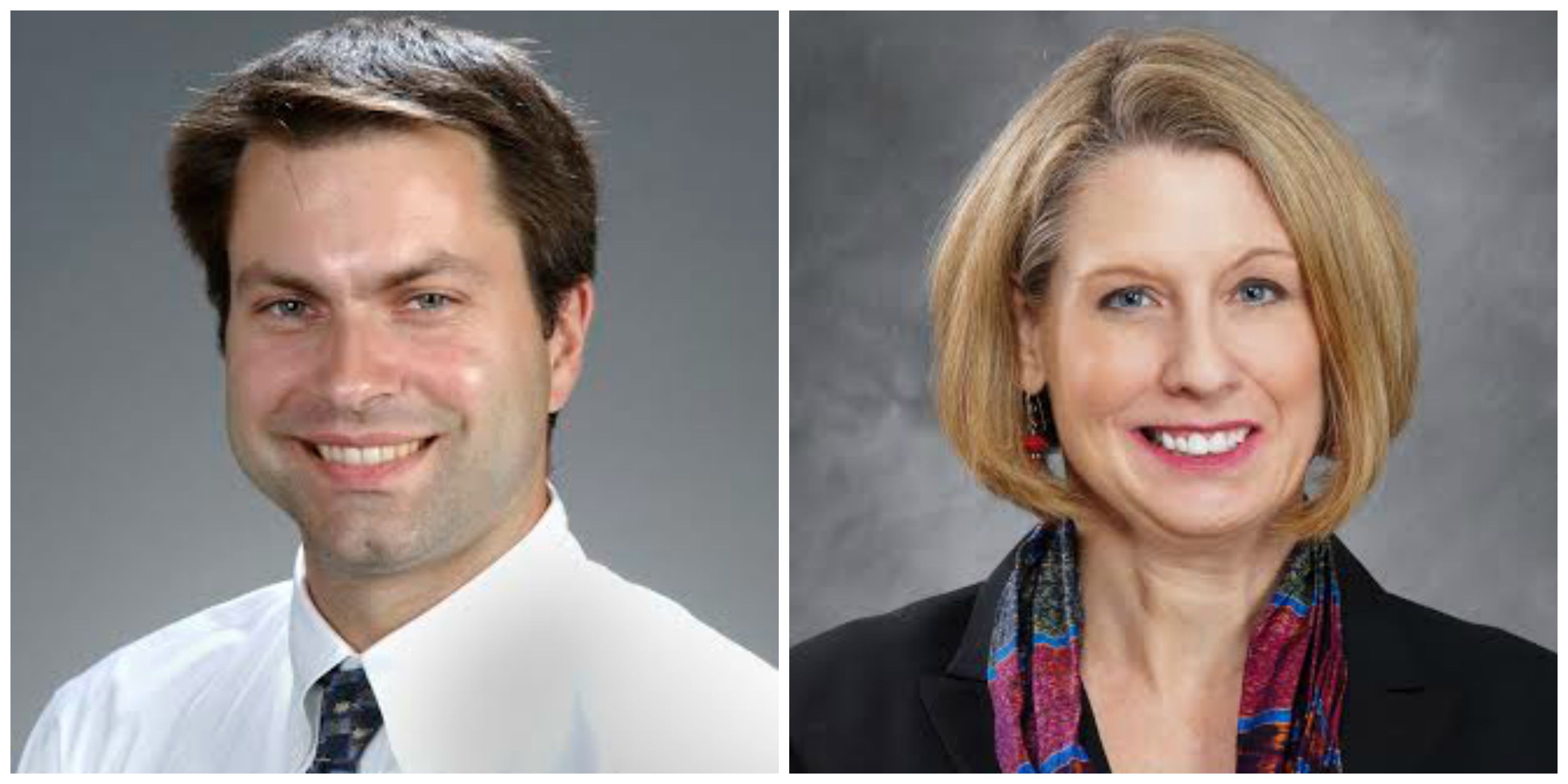 Aaron Turner and Alicia Sloan performed a study on 64 veterans to see if fatigue and depression were affected by exercise.
Its objective was to evaluate the impact of physical activity to improve fatigue and depression in patients with MS. After going through a screening process, sixty-four veterans became part of the study, receiving either telephone counseling (TC) or self-directed physical activity education (EC).
TC included mailed graphic feedback, six telephone counseling sessions that used motivational interviewing and telehealth home monitoring (including telephones, computerized ankle step monitors and home telehealth monitors) and a way to track progress on exercise goals.
EC consisted of advice and a DVD that was produced by the VA called "Get Fit for Life" which provided examples of in-home exercises. The activities included exercises for multiple physical abilities.
There was a three and six month follow-up.
The TC group showed significant increases in physical activity because they were monitored, and they also were found to have a reduced amount of depression and fatigue!
I find these results extremely promising.
I reached out to Aaron Turner and Alicia Sloan to ask a few questions about their study. I wanted to learn a bit more and find out if they're planning a larger study to reach a wider patient population.
What is a "mailed graphic feedback"? Mailed graphic feedback is a structured way of summarizing back to participants some of the things we learned about them in the initial interview.
The feedback included information on how active they are, their perceptions of the benefits of exercise and the barriers to completing it, and their thoughts about how exercise might help their symptoms of MS.
Feedback contained information about recommended levels of activity and also compared each person's current activity to typical activity for people with MS. This kind of information and normative feedback helps shape the initial discussion of goals and interest in exercise.
What is "motivational" interviewing? Motivational interviewing (MI) is a form of brief psychosocial counseling and has been shown to help initiate and sustain behavior changes across many health domains.
MI encourages behavior change by contrasting current behavior, such as physical inactivity, with desired goals and values, such as physical fitness, good self-care, and quality of life, in a manner that is empathetic, evocative, and collaborative and intended to promote self-efficacy (Miller & Rollnick, 2012).
There is some specific evidence to suggest that MI-based counseling may be effective in promoting physical activity among individuals with MS (Bombardier et al., 2013) which led us to design this study.
How did patients qualify for your study? Participants were screened using the Modified Fatigue Impact Scale (MFIS), Expanded Disability Status Scale (EDSS), and the Physical Activity Readiness Questionnaire (PAR-Q) for fatigue and activity level.
Inclusion criteria included a physician-confirmed diagnosis of MS, age between 18 to 80, sufficient ambulatory ability (EDSS less than 6.5), willingness to complete a physical activity program but currently exercising less than 300 minutes per week, having telephone access, and currently reporting fatigue measure by the MFIS score greater than or equal to 20.
Exclusion criteria included MS exacerbation (relapse) in the past 30 days, health conditions for which aerobic exercise might be contraindicated (e.g., cardiopulmonary difficulties, significant balance problems, bone and joint disorders) as assessed by the PAR-Q, exercise-induced MS symptoms (such as extreme heat insensitivity), or current mental health issues that suggested it might be better to focus on exercise at a later date, like psychosis or unmanaged bipolar disorder, active suicidal ideation, or current active substance use disorder.
What technology was involved in monitoring the patients? For the intervention group, we used several modes of technology: telephones, computerized ankle step monitors, and home telehealth monitors.
Telephones: Participants used their own telephone for six sessions of telephone counseling with the study therapist.
Ankle step monitors were worn to count the number of steps daily.
Home telehealth monitors: These units connected to ordinary phone lines and programmed to receive and deliver information using "store and forward" technology.
The units served two purposes. First, for interested participants, monitors were programmed to provide reminder alarms to exercise at desired intervals.
Second, monitors queried participants weekly about their physical activity and progress on their exercise goals.
Individuals who reported that they met their exercise goals received encouraging statements.
Individuals who answered that they did not meet their goals received a series of questions examining barriers to exercise during the past week.
Responses were transmitted via a web-based graphical interface to the study coordinator who reviewed them.
Individuals who did not meet their goals, or who did not respond to the weekly questions, received a follow-up telephone call for additional counseling and problem solving.
What kind of exercise did you have the patients perform at home? What DVD's did you use?
Exercise goals were self-selected. It was emphasized that the exercise goals chosen would be home-based or accessible to the participant (a nearby health club, class, etc.) with emphasis on establishing short-term goals that were specific and achievable based on the study participant's abilities.
Exercise could be based upon structured exercises found on the DVD, or upon other personal interests. For example, one participant chose walking as exercise to enjoy nearby forested trails.
In the counseling sessions, the study therapist used Motivational Interviewing and other goal setting exercises as a way to help the participant figure out specific goals for walking. Later this participant added home-based yoga to his plan! Another participant wanted to attend yoga classes offered by a nearby community center.
Other participants chose to use the "Get Fit for Life" DVD as a home based exercise plan. The study therapist helped them figure out which exercises made sense for their abilities.
Many of the participants used to participate in the activities they chose to do for the study, but stopped because of fatigue and other MS symptoms.
We used DVDs produced by the VA called: "Get Fit for Life". The DVD has veterans participating in various ability levels of exercise led by an exercise coach. It is a great DVD that has a motivating, patriotic spirit that veterans could relate to.
What is the next step after this study? Will your study be brought to more patients for a wider study? Will it be brought outside of the VA community, or perhaps shared within the VA community?
The next step of this line of research is an intervention focused on health promotion more broadly that includes physical activity, but other health behaviors as well.
It is likely the intervention will be delivered in a similar manner (via telephone).
The ultimate goal is to develop a service that could be brought to people in their homes at low cost wherever they receive care.
Have you considered how your results will positively impact the MS community?
The findings of this study suggest that telephone-based counseling (Motivational Interviewing) combined with home monitoring is a promising means of improving physical activity and treating fatigue and depression for people with MS.
Providers could implement this kind of program into their practice with people with MS.
Has there been much interest expressed in your study and its results?
It is important to note that the primary scientific paper from this study is still under review. The results presented at CMSC were a preview to begin discussion. We hope the final paper will be published in less than a year.
Many thanks for the opportunity to interview you both. The MS community appreciates the hard work you are performing to provide us with a better quality of life:
Study Coordinator and Study Therapist: Alicia Sloan, MPH, MSW, LICSW. Clinical Research & Special Projects Coordinator, Multiple Sclerosis Center of Excellence (MSCoE) - West. VA Puget Sound Health Care System, Seattle, WA.
Principal Investigator: Aaron Turner, Ph.D., ABPP (RP). Director, Rehabilitation Psychology, Rehabilitation Care Services, Associate Director of Research, Multiple Sclerosis Center of Excellence (MSCoE) - West. VA Puget Sound Health Care System, Seattle, WA 98108. Associate Professor, Department of Rehabilitation Medicine, University of Washington.
This article represents the opinions, thoughts, and experiences of the author; none of this content has been paid for by any advertiser. The MultipleSclerosis.net team does not recommend or endorse any products or treatments discussed herein. Learn more about how we maintain editorial integrity
here
.

Community Poll
For trips, which means of travel do you prefer and why?