How to SEARCH for the Right MS Therapy
Having conversations with your doctor and your healthcare team can seem overwhelming when considering all of your treatment options.  Treatment decisions are different for each person, which is why it is important to recognize the need to prioritize your issues, questions, and concerns.  To help individuals with MS work with their healthcare team to find the right treatment, the Multiple Sclerosis Association of America (MSAA) developed the S.E.A.R.C.H.TM program.
Designed as a memory aid, the S.E.A.R.C.H. acronym represents the key areas that should be considered when "searching" for the most appropriate MS treatment for each individual. Each letter represents an important topic that must be considered by patients, physicians, and other healthcare and social service professionals.
S.E.A.R.C.H. stands for: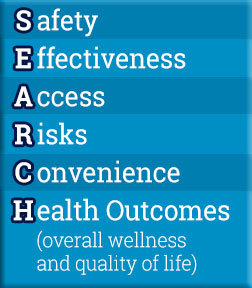 MSAA has produced a variety of informational tools to help people in the MS community maximize their success with S.E.A.R.C.H.™. Current S.E.A.R.C.H.™ tools available include:
MSAA's recently updated booklet, How to S.E.A.R.C.H.™ for the Right MS Therapy for You!, has information about the specific FDA-approved medications available for relapsing forms of MS and strategies for working more productively with your doctors and health care team when considering a disease-modifying therapy.
Developed as a companion piece to the S.E.A.R.C.H. booklet, the updated MSAA S.E.A.R.C.H.™ Workbook serves as an effective tool to help individuals review MS treatment information through an easy-to-follow chart, write down questions and notes, and prioritize questions to ask during the office visit.
This article represents the opinions, thoughts, and experiences of the author; none of this content has been paid for by any advertiser. The MultipleSclerosis.net team does not recommend or endorse any products or treatments discussed herein. Learn more about how we maintain editorial integrity
here
.

Community Poll
How well do people around you understand MS?