What Would Dave Do?
A recent trip on the Norwegian Pearl cruise ship had me thinking of our friend and fellow MSnet writer, Dave Bexfield. Dave had his own adventure on a cruise to the Greek islands, which involved trying to board a tender from the big ship to go ashore.
The Pearl had set anchor off of Roatan, Honduras, and to get on the shore we would need to transfer to a tender ship. These tenders double as the lifeboats in case we would need to abandon ship, and are regularly used for ship to shore transfers when a harbor is too shallow for the large vessels to dock.
Tours for people with limited mobility
We booked a shore excursion that was titled 'sightseeing tour for people with limited mobility' but when it came time to leave the ship the crew did their best to discourage me from making the trip ashore by tender.  The seas were a bit rough, and there was a lot of bobbing up and down to make the transfer from the ship to the tender and there was concern if my timing was wrong I could end up in the water. The crew suggested we return to our cabin and a full refund would be given for our excursion.
Decision time
It was at that time that a voice in my head asked, "What Would Dave Do (WWDD)?" And quickly I had my own answer – Dave would forge ahead and so would I. It turned out the seas weren't nearly as rough as they wanted us to think, and with careful timing, I was able to step onto the tender without losing my balance or footing. WWDD? I smiled and thought that Dave would be proud of my never say never attitude.
The shore excursion, hosted by Go with Gus Quality Tours, started with the guide asking us all to pause for a prayer as he dropped to his knees and invoked God to oversee our day and safe passage. I silently laughed to myself, thinking I had already survived the transfer to the tender, could it get worse?
As we left the shipyard the first sight our guide pointed out was a graveyard. I couldn't help it and again, thinking WWDD, I quipped to Jerry that this wasn't such a good sign – first a prayer and now the cemetery.  Were these omens for the day?
Three hour tour
It actually turned into a lovely three-hour tour with Jerry and the six other travelers on this bus – only one of whom actually had limited mobility besides me. The others had been attracted to the possibility of sightseeing while on an air-conditioned bus, which can be a rarity on some of these tropical islands. I wonder if more people had been discouraged by the crew and turned back and didn't get to visit this beautiful island. I'm thankful I took my chance to see Roatan and had the opportunity to sip a cool Monkey Lala while at water's edge. Monkey Lala, the island's signature drink, is also another name for the Jesus Lizard, a reptile that runs on water.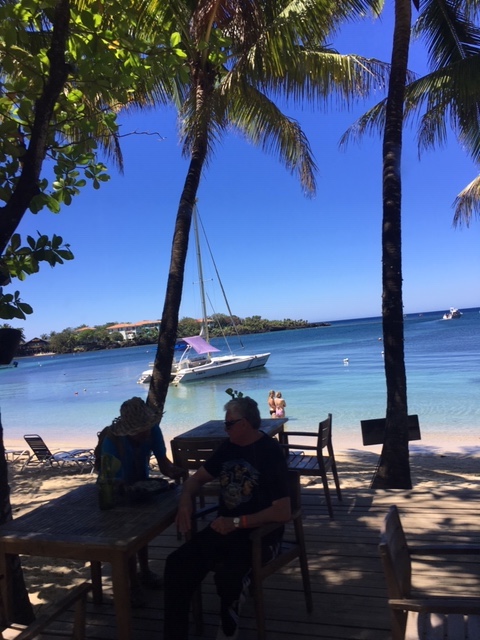 Plunging in
Life will always have unexpected challenges, and if we listen to the naysayers who want to keep us from pushing our limits, it could also be pretty boring. The next time someone suggests I avoid an activity because of my MS, I will do my best to remember to question WWDD? And then plunge in! Dave will be proud.
Wishing you well,
Laura
This article represents the opinions, thoughts, and experiences of the author; none of this content has been paid for by any advertiser. The MultipleSclerosis.net team does not recommend or endorse any products or treatments discussed herein. Learn more about how we maintain editorial integrity
here
.

Community Poll
The holiday season is among us and can be so stressful! Do you experience more flares during this season?