Inspiring Stories from People Living with MS

During December, the Multiple Sclerosis Association of America (MSAA) held a nationwide search for inspiring stories from the MS community of people who incorporate swimming or water-based exercise into their regular fitness plan. Today, MSAA is excited to share three of these compelling stories that feature individuals in various stages of the MS journey who have all discovered the numerous benefits from being in the water. We invite you to watch their Swim stories and learn more about this unique and supportive exercise!
Mary of Harleysville, PA has been living with MS for more than 20 years and enjoys the physical and emotional benefits she gets from her water aerobics class.
Mandy Iris of Flagstaff, AZ was diagnosed with MS two years ago and looks at her time in the pool as a time for self-reflection. Mandy Iris swims laps at her community pool to help improve her strength to enjoy other activities such as running and biking.
Ginny from Asheville, NC is a dynamo of a woman who has not let her diagnosis of secondary-progressive MS (SPMS) slow her down. Over time, Ginny built her swimming routine up from five minutes to 40 minutes of continuous lap swimming, and is now a nationally certified fitness instructor.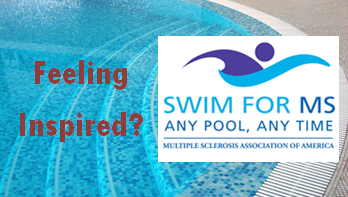 To help you get started, MSAA has developed an all new resource – the Swim for MS online Aquatic Center found at www.SwimForMS.org. The online Aquatic Center features new print,
video, and web-based content including: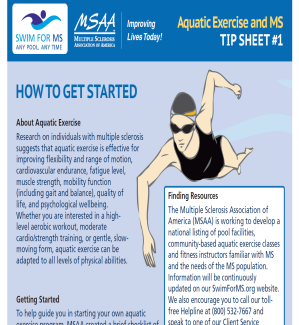 Aquatic Exercise & Multiple Sclerosis: A Guide for Patients
Aquatic Exercise & MS Tip Sheet

Webinar: Discovering Aquatic Exercise and MS    
Inspirational videos from MSAA's Swim for MS & Why I Swim Ambassadors
MSAA invites you to learn more about aquatic exercise and MS by visiting our brand new Swim for MS online Aquatic Center at SwimForMS.org.
The Swim for MS online Aquatic Center has been developed through a collaborative sponsorship with Genzyme, a Sanofi company.
For more information on MSAA's online Aquatic Center, please visit www.SwimForMS.org
To learn more about MSAA's programs and services and to sign up for email updates from MSAA, please visit www.mymsaa.org.
To learn more about Genzyme and services the company provides to the MS community, sign up at www.MSOnetoOne.com.
This article represents the opinions, thoughts, and experiences of the author; none of this content has been paid for by any advertiser. The MultipleSclerosis.net team does not recommend or endorse any products or treatments discussed herein. Learn more about how we maintain editorial integrity
here
.

Community Poll
Have you ever tried acupuncture to help alleviate symptoms?