International Airport Assistance
I've said it before and I'll say it again – if you are traveling by plane and have any problems with your multiple sclerosis, let the airline know you require assistance. They are more than happy to assign a person to get you safely to your departure gate or the luggage pickup area. That said, you can't expect this assistance to always go off without a hitch. On my recent trip abroad to participate in an MS meeting, I requested help at nine different points, and each experience was different from the others.
I would not be able to travel and do the MS advocacy work that I do if I couldn't count on assistance in the airport. My family tends to worry a small bit about all my travels, and it was a good opportunity for my daughter and travel partner Kristin, to observe firsthand how airport assistance makes my travel possible.
Making it through Madrid
Sometimes it's a matter of faith that airport assistance will work – such as when in Madrid I was unceremoniously left in a wheelchair in an area of the airport that didn't even have departure gates. We were instructed in Spanish to wait there, or at least we think that was what we were told since neither of us is proficient in another language. We waited, but with a touch of anxiety, until finally another person came and started rolling me off to my gate. Again, it was on faith I was heading to right spot because the person spoke no English.
Lost in London
Just because I have airport assistance doesn't mean they are entirely responsible for me – I have found it's still necessary to track my flights and make sure I'm at the correct gate on time for my destination. When making my transfer in London, the gate agents sent me in a wheelchair to a lounge to wait, since I had almost four hours between flights. When the time came for me to be on the move, I asked and was told my flight had been delayed and I didn't need to be in a rush. When I checked on my flight via my smartphone, I found the plane was still on the original schedule.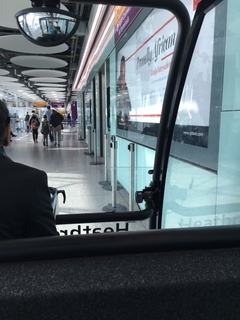 After a couple more inquiries and being told someone would come for me, I was finally summoned to head toward my gate and was led to a cart that whisked me through tunnels and who knows where to get me to an entirely different terminal building. It was cutting it close – I made it to the gate with only five minutes to spare even though I had been in the airport for hours. I was among the final people boarding the plane. Had I counted entirely on the people in the airport assigned to help me, I have no doubt I would have missed my flight and instead spent the night in London. Had this been in Madrid where we had no English language assistance, it could have been much worse.
The main lesson I can share about airline travel is even if you have assistance, you are still responsible for keeping track of your own flights, just in case you might be set aside and forgotten about.
My travel companion's view of assistance
No trip is complete without hiccups and moments of "what ifs." Sometimes finding the right information in an airport is daunting enough with two legs that can keep motoring- let alone what my mother powers through in normal day life. I am very thankful that the airports we flew through were able to accommodate her needs. This meant also having a little faith in their system even when not speaking the same language.
For the travel into France we had 3 legs or 12 hours of air time, and the layovers in Charlotte, and Madrid, Spain, before arriving into Nice, France went quickly. With hardly enough time for an able body to navigate through European customs or multiple terminals, you just have to remind yourself to breathe and that you are with a super traveler: mom. The airport staff whisked us here and there and everywhere before finally arriving at gates with just enough time to board. It all worked out. Our three flights back were more interesting. Thanks to a ticketing snafu, Mom flew home through London, England, and I traveled back through Madrid. We stayed in touch via text messaging, and we both stayed up to date on the other's travel experience and progress toward home.
Back in the USA
Once we connected again in Philadelphia, I had a sigh of relief- I was able to help again and knew we arrived home safe together. However, this was where we hit a quick fixable hiccup -Philly normally runs small golf cart like shuttles around the terminals to help people with mobility issues. Unfortunately, one was nowhere to be seen and we needed to pit stop at the bathroom before flight time. A quick scan down the terminal I saw an available wheelchair. Mom agreed to let me do the job of pushing and we were on our way. I am sure if we truly needed help, someone in the airport could have helped locate the golf cart. Asking never hurts and if you have to ask three or more people, do!
I wish I could go back and thank the helper bees in the airports a thousand times more, especially our friend in Madrid that pushed mom to our ticket counter, through customs and rescanning - with the wave of a pass on to the gate waiting area. We were lost in translation, how their system worked, and relied on him fully without verbal understanding. It is wonderful to know that Mom and other folks needing assistance in traveling can truly count on the incredible staff in every airport.
Wishing you well,
Laura and Kristin
This article represents the opinions, thoughts, and experiences of the author; none of this content has been paid for by any advertiser. The MultipleSclerosis.net team does not recommend or endorse any products or treatments discussed herein. Learn more about how we maintain editorial integrity
here
.

Community Poll
How well do people around you understand MS?