Learn More About The Foundation of The Consortium of Multiple Sclerosis Centers to Learn More About the Future of MS Care
After being invited to be the first official blogger for the Consortium of Multiple Sclerosis Center's (CMSC) Annual Meeting in Indianapolis I knew I'd have to change hats – from wearing a patient hat to wearing one as part of the press.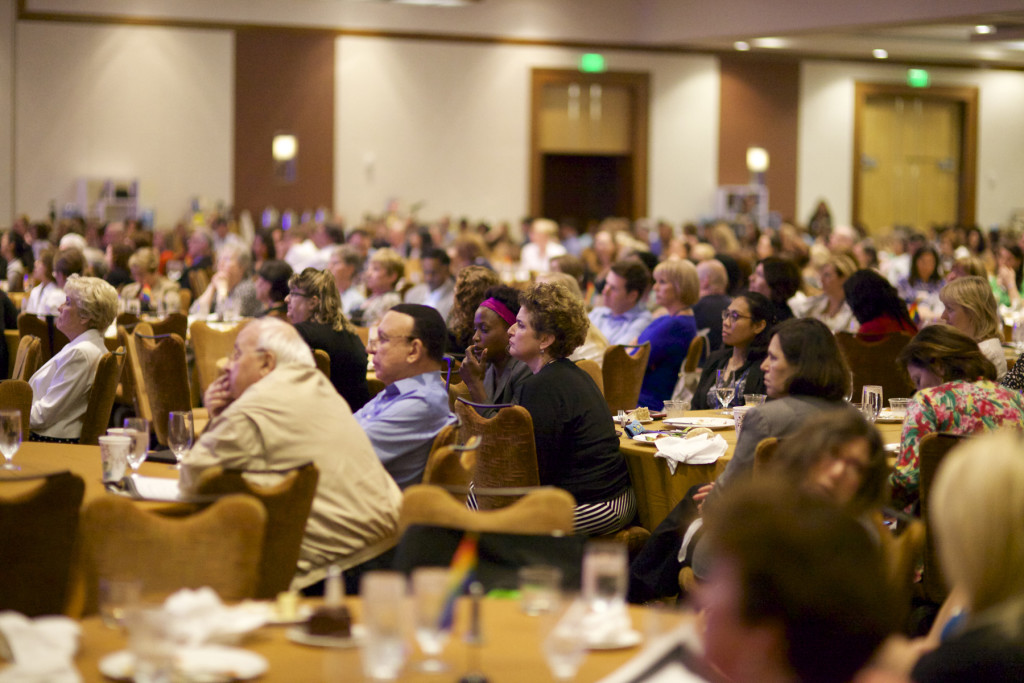 Photo: I was among many attendees listening intently to the opening presentation at the Consortium of MS Centers Annual Meeting in Indianapolis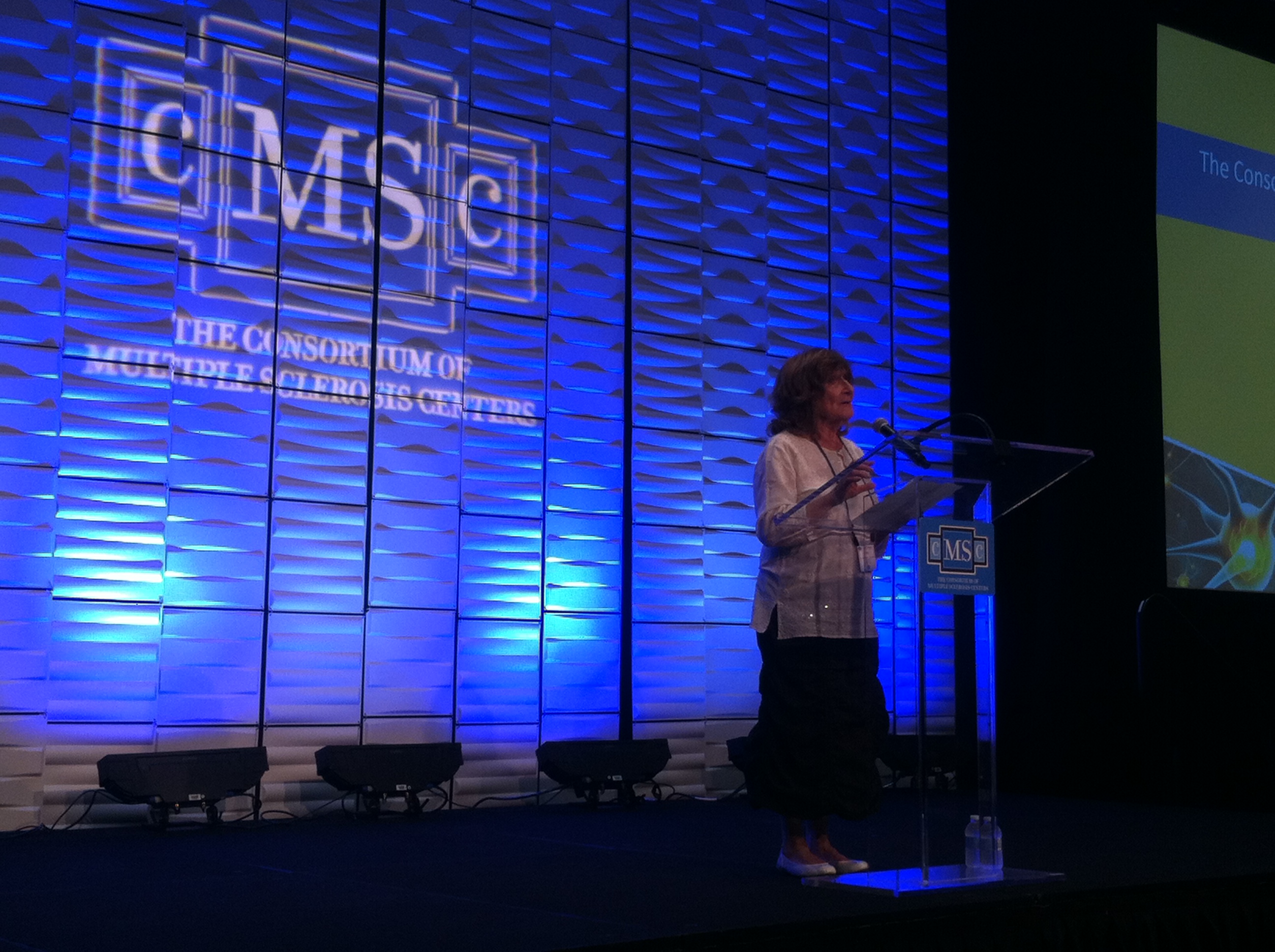 Photo: June Halper, CEO of The Consortium of Multiple Sclerosis Centers, welcoming attendees to the 29th CMSC Annual Meeting in Indianapolis
When I write about MS that's usually not a problem, but after living with it for almost 30 years sometimes it can be impossible to separate myself, especially when I learn new information that I know will impact our community in a positive way.
One of the reasons it was hard to take my patient hat off was because I felt choked up when I learned about the important work taking place through the Foundation of the Consortium of Multiple Sclerosis Centers (FCMSC), a not-for-profit organization that supports CMSC in three "mission-driven" projects:
MS Workforce of the Future:  Driving mentored research scholarships and opportunities to improve patient care in the future,
Tools for MS Professionals Today:  Providing annual awards and tools for CMSC members helping patients today,
MS Research and Resources:  Offering Research Fellowships and awards, expansion of CMSC Pilot Research grants as well as growth of the CMSC Global MS Patient Registry.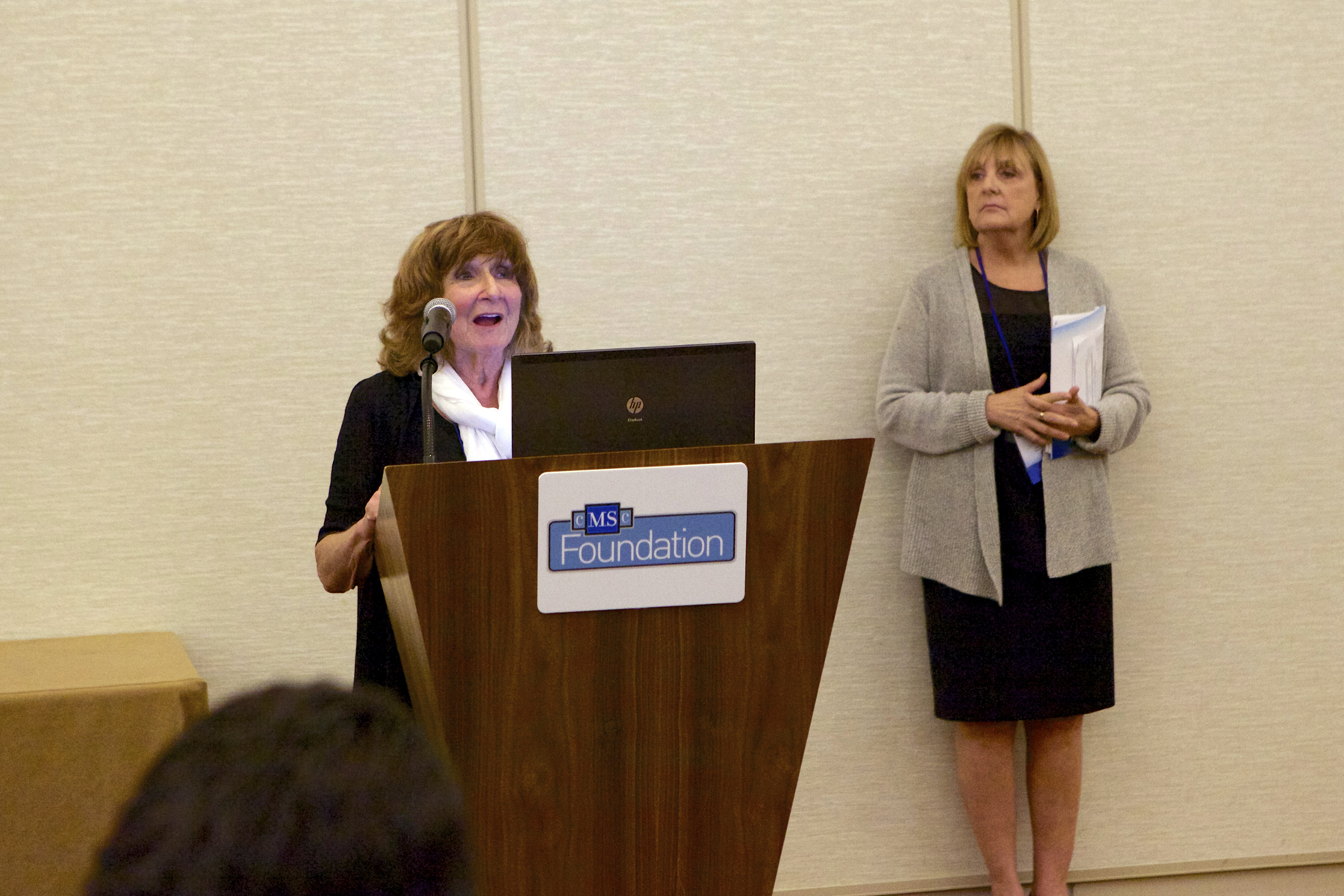 Photo: June Halper introducing Judy Katterhenrich, Executive Director of the Foundation of CMSC, at the FCMSC luncheon
At the risk of sounding corny I had tears rolling down my face when I attended the FCMSC luncheon in Indianapolis as I met some extraordinarily gifted and dedicated young medical students and residents talking about the ways they are looking to improve the lives of people with MS. They are our future and will dedicate their professional lives to discovering new ways to help the MS community feel, walk and be better.
NOTE: The following 5 photos show five out of many posters that illustrated work performed by the mentored medical students/residents. Having these posters on display while hearing what they were about gave us a chance to gain a better understanding of each project. It was a phenomenal opportunity for us.
Now the world I've imagined seems a step closer to becoming a reality. A world where my generation and subsequent ones will know less about fatigue, spasticity and pain and more about rejoining the lives they were meant to live,
I thought it'd be worthwhile to ask the Executive Director of FCMSC, Judy Katterhenrich, to explain to readers what the FCMSC is about. It's an important organization for us to become familiar with. Judy and her team work tirelessly, and I know that the work they do will help to bring positive changes in the field of MS care and research.
Take it away, Judy!
When I attended my first CMSC annual meeting in 1995, there were approximately 400 attendees. This year, celebrating the 15th year of the Foundation of the CMSC, I am proud to say we have awarded over 400 FCMSC scholarships, awards for excellence, and fellowships. We are very excited about this because our strategic focus is to encourage and develop the MS Workforce of the Future.
We know that surveys show that the growing MS population could outstrip the number of dedicated, expert MS healthcare professionals providing lifelong care by the end of the next decade.
The Foundation was founded in 1999 by the CMSC Board of Governors to stimulate the growth, development and provision of patient care services, education and research in the field of MS and to enhance the quality of life of those affected by MS.
We are a distinctly separate non-profit entity from the CMSC but we collaborate closely in our planning to serve the mission of the CMSC membership in fundraising for specific strategic objectives:
Mentorship and specialized training opportunities for the MS Workforce of the Future - Providing expert mentorship and trainee opportunities to the future MS Workforce through student research scholarships, training for neurology residents, rehabilitation therapy graduate students, and MS-specific fellowships.
Medical student research projects
Rehabilitation therapy trainees
Neurology resident scholarships and mentor programs
The FCMSC MS Mentorship Forum for residents and Fellows
Fellowships in MS-Related Research and Clinical Care
We are very proud of the MS Workforce Development program, as it allows us to expose trainees to training not available within their home institutions and interaction not only with people with MS, but mentorship by the very top tier of MS experts across North America.
Applicants for these programs are nominated by their program directors and selected by review committees composed of FCMSC and CMSC leadership and members of the CMSC Research Committee.
We have committed to our supporters to follow these promising individuals for at least five years as they choose their career paths. While some choose other paths, we know that over 50% of those surveyed do stay in the MS field.
All of our "alumni" do receive a greater understanding of the challenges of MS and the spirit and commitment of the multidisciplinary teams who have enhanced MS care so much over the past few decades.
From my personal experience and informal discussions with so many of the leaders in this field, it takes a personal spark, a personal example of mentorship to give trainees the passion for MS research and MS care.
I love the fact that we now see prior medical students, residents and rehab trainees working in MS Centers themselves as our "next generation" of the MS Workforce. It's really a very tangible and rewarding outcome to see their enthusiasm.
Expanding Research Opportunities
Pilot Research Grants – This is an important collaboration with the CMSC's Research Committee. CMSC Pilot Grants enable CMSC members with funding to conduct small-scale studies (note: $40,000 per year) that answer important questions in all fields of MS care, and that may enable them to pursue larger-scale, more long-term study grants funded by sources such as the NIH.
Over the past 8 years, the FCMSC has raised 60% of the funds for CMSC pilot grants. These studies have led to many publications, presentations at major MS conferences, and 12 additional large-scale grants from external sources that may not have been possible without these pilots.
Pilot grant investigators submit applications to the CMSC Research Committee and 5-7 awards are selected annually. This meets an important demand because the usual number of applicants is generally 20-24 annually (to be confirmed by June or by Dr Steven Kamin, Head the CMSC Research committee.)
We are continually fundraising to be able to increase the number of these grants annually.
NARCOMS patient registry recruitment and retention efforts for patient-driven long-term data
The FCMSC currently funds a Fellowship dedicated to evaluating data from the registry on the needs of underserved special patient populations and solving the problems of access to care and needs for tailored treatment approaches.
We also fund, through multiple corporate supporters, the NARCOMS NOW Patient Magazine, which keeps participants of the registry informed about the value of their input and also on advances in research.
The FCMSC has secured funding for two annual awards clinical care and research presented each year at the annual meeting.
The Labe Scheinberg Award, honoring the late Labe SC Scheinberg, MD, recognizes the annual meeting abstract best epitomizing interdisciplinary teamwork in the delivery of neurorehabiltation and comprehensive care. Dr Scheinberg's family has generously funded this award for almost 10 years.
The Whitaker Award for MS Research recognizes the work of promising young clinician-scientists. It was founded in memory of the late John D. Whitaker, MD. The head of the Whitaker track, Michael Racke, MD, accepts applications from 4-6 young researchers each year, who present their work at a dedicated session during the annual meeting. The winner receives a generous cash scholarship.
How do we decide where to focus our efforts? We have been part of an overall strategic planning effort with the CMSC each year. We focus solely on these three areas for now, until strategic needs change: training the Workforce of the Future, mentorship across disciplines, and expanding research opportunities.
Our Challenges: We are dependent on funding for all of our projects. We have a unique fund-raising challenge. Unlike many of our partner organizations out there in the MS community, we cannot point directly to an immediate and direct effect such as patient programs or provision of devices, etc.
We do know, though, that it takes a committed, impassioned team of people who REALLY care about what they do every day, who understand the unpredictable nature of MS.
If you look around the CMSC meeting each year, you see the same faces who started that organization 25 years ago. Regardless of their prestige or their level of position, they never stop learning and they never stop caring. What is really exciting is that we can now see the Foundation is making a true difference in the new faces that are out there now starting to provide clinical care and doing research.
Some these individuals will be the stars in the MS community tomorrow and may be answering new questions about MS.
We work throughout the year to secure funding from corporate sources, family foundations and through individual contributions. What we accomplish depends on our level of funding each year. We're a lean organization. We have only one full-time person and two of us are part-time. Our fundraising events at the annual meeting help us a bit, but we're constantly searching for the means to keep these activities going.
Our website has many of the personal stories of our past awardees and scholars, and it's easy to donate through our Friends of the Foundation program.
To learn more about The Foundation of Multiple Sclerosis Centers click here.
CMSC is the preeminent organization of Multiple Sclerosis health care providers who work tirelessly to improve the lives of patients with MS. Their annual meeting brings together groups from all over the world –neurologists, radiologists, physiatrists, other medical specialists, clinical researchers, scientists, nursing professionals, rehabilitation specialists, mental health professionals, members of the non-profit community and corporate sponsors – who teach and learn from each other about the latest findings about MS. To learn more about CMSC click here.
All photos are the property of Consortium of Multiple Sclerosis Centers. Used with permission.
This article represents the opinions, thoughts, and experiences of the author; none of this content has been paid for by any advertiser. The MultipleSclerosis.net team does not recommend or endorse any products or treatments discussed herein. Learn more about how we maintain editorial integrity
here
.

Community Poll
Do you live with any comorbidities aside from MS?