MAD about MS: Lydiaemily
This article is part of an ongoing series about people who are Making A Difference (MAD) about MS. Visit Ashli Hopson's and Stuart Schlossman's interviews.
Lydiaemily declares it up front – "I definitely am thinking 'let's go', I know the bus is coming. What can I do before the bus gets here." She lives with Secondary Progressive MS and knows her future might hold a bleak outcome.
After my recent chat with this artist, I can tell you one thing – she is not standing on the corner waiting for the bus to come. You won't even find her at the bus station sitting in air conditioned chairs waiting. Lydiaemily is out on the streets, spreading the word of multiple sclerosis through her murals being painted on the outdoor building walls of NMSS chapters around the country. Her goal is to paint one for each chapter, and raise awareness about MS.
Lydiaemily is not new to the scene of big art – painting murals on the sides of buildings – but has only begun to gain recognition for her talent and be a much sought after artist. She has commercial clients as well as her personal advocacy art work. Her work at bringing awareness for MS and advocating for you and me is being made into a documentary and you can view a preview of it at http://www.pc594.com.
This article is Part 1 on how street artist Lydiaemily is M.A.D. about MS by using her talents to raise awareness about multiple sclerosis through her street art.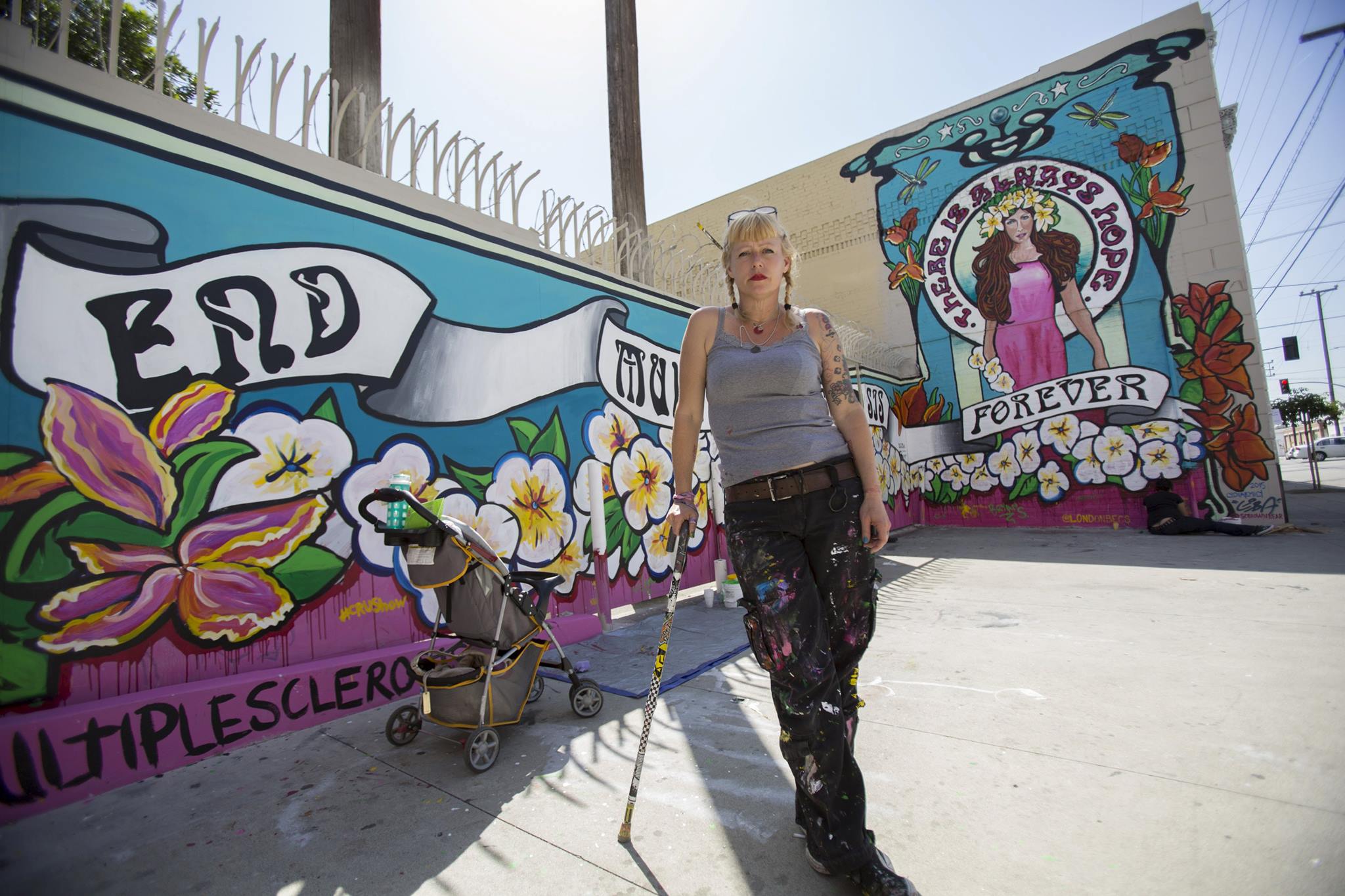 Image: Artist Lydiaemily
Will you tell me more about the MS murals project?
I did four of them to start with and the goal is to complete one for each (NMSS) chapter. Any chapter can apply. The project is funded entirely by Genzyme, but there is no sponsorship logo. You won't see their name anywhere on the work. I don't even use their hashtag. (Lydiaemily adds this is one of the rare times she is even mentioning their corporate sponsorship. While explaining how important it is to keep the commercial support of this project from a pharmaceutical company distant from the final mural because it is not about one particular drug, she went on to add how appreciative she is of Genzyme's unconditional support of her work on the MS Mural project and how the company has committed to financing a mural for every NMSS chapter in the US.) Any chapter can apply through a grant application and all of the costs are covered. For every city we do the mural, the news sources are out, Genzyme even gives money for a reception when the mural is done, and I donate paintings to raffle off and raise money. We are really proud of this.
I would like to do two of these a month but one a month is it right now. I can't do murals during the summertime. I have MS. I don't book mural work for anybody, or even for myself. I try to relax and get my head together. Each mural takes about a week. I'll start back in September and the next ones will be Seattle, San Francisco and San Diego.
It sure makes sense that you don't work outside in the summer.
I can't do heat. I have to monitor myself everywhere. I can't feel heat. It doesn't register with me that it is hot. My husband and kids will say look at the thermometer and I will say oh, it's 100. I don't feel heat at all and that is why I don't work on murals in the summer at all – I can't self regulate.
Did you have a formal art education?
No, I could never afford art school because I didn't have the capital for it. I was always working in cafes and hacking. I was always doing small jobs and making money to take care of me and my kids. And now I wouldn't go because I have style I wouldn't want to change. The only art class I took was in high school and I failed it.
Do you remember why you failed art class?
I didn't want to do what he (the art teacher) wanted me to do. I don't know, maybe I was a punk – it was high school. But I joined band and I did the art to advertise those shows.
Let's back up to the beginning. Do you have a place you can identify as when you became a street artist?
Absolutely. I've always done political artwork. I don't do anything but political artwork. I couldn't get my work into galleries. I couldn't even give away my artwork. People were like, oh that's that crazy artist girl. And I had friends in the art world who owned galleries and they all said you're talented and have a gift but nobody would want a sad Obama (one of her paintings) hanging over their couch and I was told I had to start painting generic flowers and things people want on their walls. And I never did it. I have so much to say through my art about the Middle East and Africa and the Chinese colonization of Africa, sex trafficking, all these things I care about. No one is ever going to show these and I am never going to change. But I am never going to stop.
So I took my oil paintings that nobody liked, printed them on large paper and put wheat paste on the back and put them up. Then people were interested. People started picking it up. And I got attention from the Huffington Post (and other places). Then it happened – people started to ask me to do work. Can you paint this? Can you do this mural? And then the galleries came. It changed. And now I am in a gallery.
That's a crazy schedule to do two of these murals a month, especially since you have multiple sclerosis.
Yeah, it's hard. Then I have my two girls. I have a 14 year old who is an amazing hacker and I've got a 12 year old with autism and she needs 24 hour care. There's not a huge room for error. My kids will learn at home this year and they will do everything paperless. That will take a lot of focus too. I'm not home schooling, don't get me wrong. I am NOT homeschooling. That would be insane.
As for Coco (her 12 year old) - I'm very proud of her. She is awesome just the way she is and we don't prescribe to trying to fix her or change her. We are grateful to have her. She has autism and downs syndrome which is very mild.
If you make one misstep with all your schedules and wear yourself down, with the MS you are going to pay.
Yeah, and I'm taking a huge step now. I just decided I wasn't going to take any more medicine. I have gone from 14 pills a day to five.
Are these symptom drugs or everything for MS?
I'm not yet eliminating my designer drug (disease modifying therapy) but I just started it and I'm not really sure it is doing anything for me.
I just decided I didn't want to be on medicine anymore. I'm going to try it and not take pain medicine. (She went on to tell me everything she was on for pain and I was surprised she could even function due to all the potent drugs). What happened was they (doctors) would give me more and more until I reached the ceiling, and then they would give me another one and give me more and more. What I did I drink expresso all day long to stay awake and I still took naps. I just had to stop.
I'm not painting (right now) and I had a month to try it – I would take a pill out and wait to feel the pain. I wanted to know what made it mad. The way it moves. I want to understand it. I want to learn how it works. I am now incredibly hyper – with the detox of so much pain meds I would have so much more energy. I had to get rid of drinking coffee.
I get they were trying to help me. I don't blame the pain management. I just have to take a break from it. I haven't even told my doctor- he doesn't even know yet. He is awesome.
Every time it hurts, which is often, I walk around or I swim or even jump. I'm just trying to keep moving. I definitely feel like I am defrosting – my skin is defrosting from all the medicines. I'm cracking and warming up.
What year were you diagnosed?
Three years ago? Maybe four. Wow, has it been that long?
(Lydiaemily went on to list all of the DMTs she had tried and also the schedule where she has undergone nine sessions of plasmapheresis, and none of them slowed her MS).
I've been diagnosed with progressive MS – there's nothing for me. I continue to progress.
I don't know what it will bring - whether it be my eyesight, being able to walk, or the pain. When the pain comes on the only option is death. I'm not suicidal but it would be ok with me to die while I am in that pain – it's that bad that I can't function.
Do you see how secondary progressive MS might influence your work to do this at a frantic pace while you can?
Maybe. I definitely am ok. I don't feel frantic in a manic or panicked way. I feel a free form with no worry of my future. I have no worry of savings. I have no worry of long term goals. I've been released from my 401K, worrying about my social security. Everything is about the next six months. What can I do next? I have no plans –
When I am asked to paint live, I say no. It doesn't matter who it is. I was asked to paint live for the Dalai Lama and I said no. It's not about me it was about him that day. And I don't know how I will be that day. I don't make any promises anymore.
When I do these murals, I take a crew just in case something happens to me. They can step in and help. While painting the MS mural in Portland I fell asleep, I was having a bad day and while I slept in the car my assistant was able to fill in all the blue - she knew exactly what to do to get the work done when I was completely exasperated.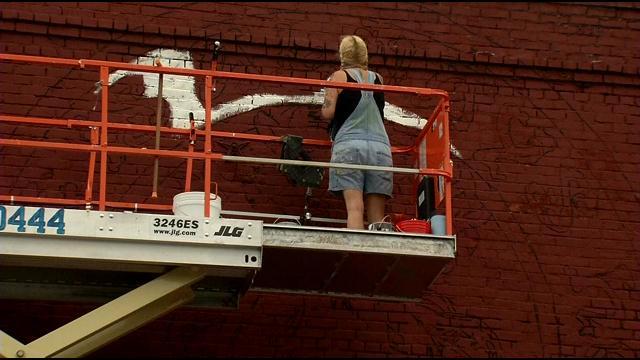 It seems you've had to change and adapt as your MS changes. Have you adapted your tools or your scaffolding as you paint?
I don't do scaffolding – I use lifts. I conserve my energy and the scissor lift is my automatic ladded. I can paint pretty well in big strokes for the background. But the details are more difficult on my ailing hand and sometimes I just tie the brush to my hand so I don't have to press so much. I'm not holding the brush so much as I am guiding it. That makes it so I can work for much longer. If I am holding it for too long my fingers are giving up.
Imagine writing a full length book with a pencil on lined paper. That's what it would feel like to hold a brush all week to do a mural. A regular person could do it – it would be tiresome, but they could do it.  I just can't do it. I still have to move my arm, but I don't have to hold on to the brush.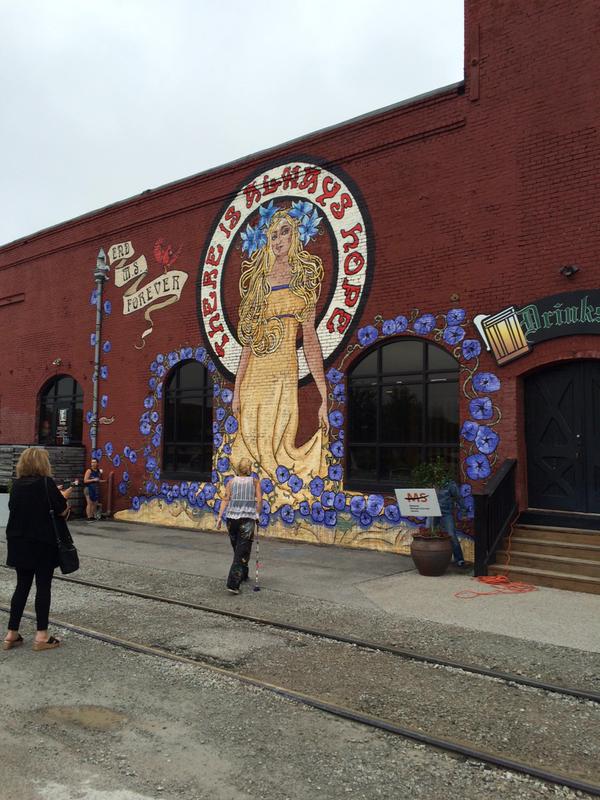 Image: MS Mural in Louisville, Kentucky
How long can you work in a stretch?
For a mural I try to work 8 to 10 hours. We'll take a break in the hottest part of the day and then work as late as I can until I get exhausted. I design the mural and I paint it on canvas first. I surround myself with people who I know can help with this.
Do you also use local volunteers to complete your MS murals?
I put out an email blast for help. I always have a local person to help. There's always a local artist and I put in my per diem for them to help. It makes an official tie to the city – it's important to have a local artist involved and bring awareness.
Read Part 2 of my interview with Lydiaemily - her political motivation and thoughts on social justice.
Wishing you well,
Laura
*Photos used with the permission of the artist, Lydiaemily
This article represents the opinions, thoughts, and experiences of the author; none of this content has been paid for by any advertiser. The MultipleSclerosis.net team does not recommend or endorse any products or treatments discussed herein. Learn more about how we maintain editorial integrity
here
.

Community Poll
How well do people around you understand MS?