MAD About MS: Lydiaemily (part 2)
This article is part of an ongoing series about people who are Making A Difference (MAD) about MS. Visit Ashli Hopson's and Stuart Schlossman's interviews.
Lydiaemily, the activist
This is the second part of my interview with the MS mural artist, Lydiaemily, who is Making a Difference (MAD) About MS. In Part 1, we discuss her work on the MS Mural project and her own life with multiple sclerosis.
I remember the first time I became aware of the world - I went to Germany and was watching something on the television news and it was a story I knew from living in New York that was being presented very differently. I was in my early twenties – and I said what, this is the story. And the guy I was with said you are only being told the US version of the story. I wondered why am I getting a filtered version.
The world is incredibly different now, but this was the late 80's. I said wait a minute, I want to learn more. The goal is you never want to be the smartest person in the room. No matter where I go, I want to know more. I want to know your side. I want to be tolerant. I never want to be the smartest person. That would be a waste of a day if I didn't learn something from someone else.
I don't want to just hear what I already know or what I believe. I know what I believe. I know who I am.  I want to know what you believe. And I want to know why it is different. That's the whole point of the American dream – you can think totally different and we can find a commonality so we can understand each other without having to adopt each other's beliefs. That's the point of this country. There should be points we don't agree with and still be neighbors and all of us can still like chocolate cake. You know what I mean?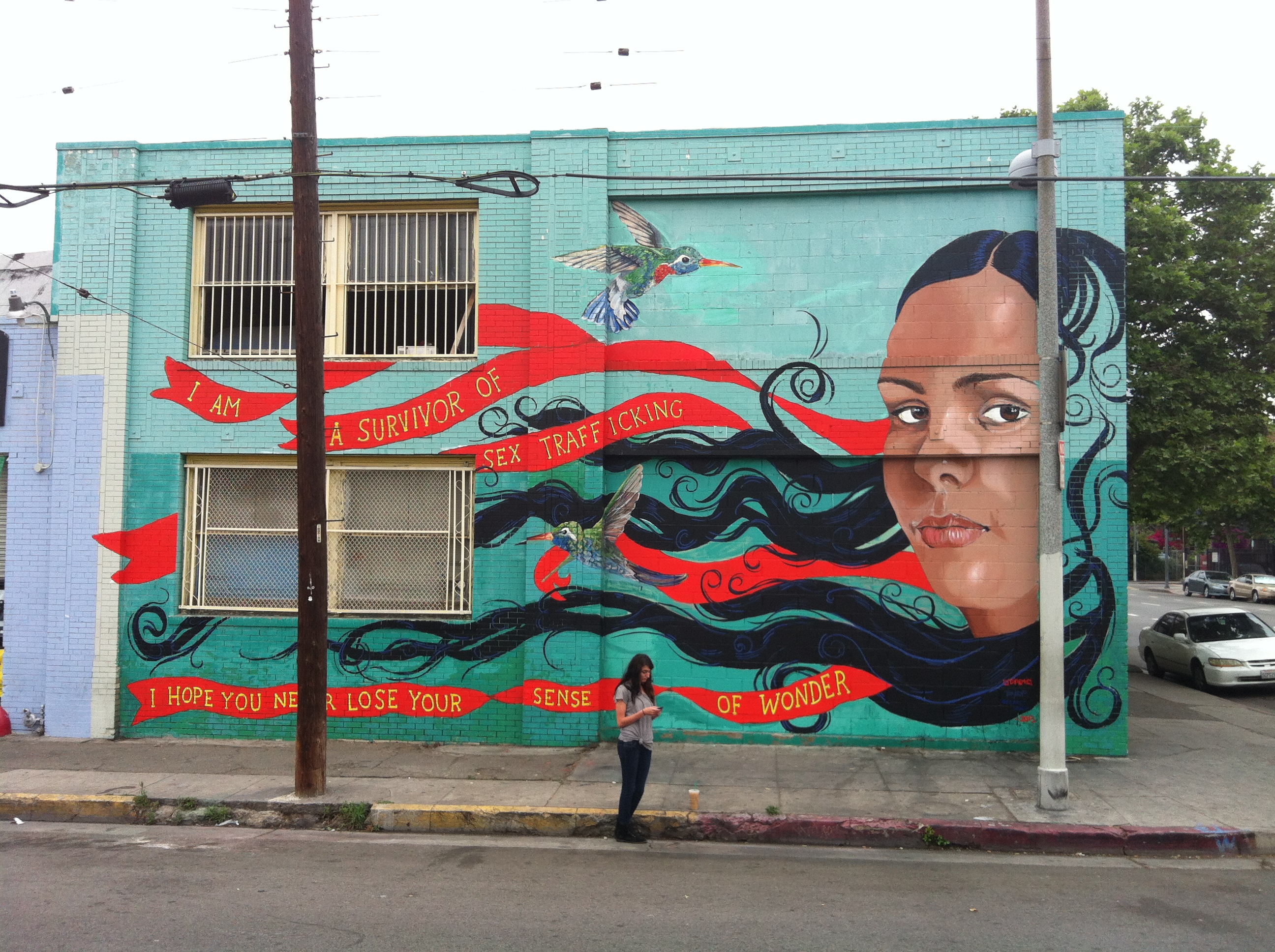 You have this strong sense of social justice; your sex trafficking mural is spectacular. I love that message. Do you find with all your resources and time devoted to so many things that now you have to be more selective about your projects?
I would like to have another body. I absolutely have to pick and choose what I do now, how I can do something correctly. How I can manage my time best. Every day there are all these causes that come at me and I wish I could do it all. I made an agreement with myself to live my life this way but there are still not enough hours in the day. I would say my major causes are, not necessarily in this order MS, Free Tibet, Sex Trafficking and the Chinese colonization of Africa, which is very hard to address.
What is it really that pushes Lydiaemily to go that extra step?
I always ask myself, What am I doing to participate? Don't get me wrong, there are days my participation is to sit in my chair and do something small. Some days it is about my girls and making sure I am doing things to send two girls off into the world as whole people. I've always said on everything, I'm a mom first, the art is second, you (meaning herself) third. I've always wanted them to feel love. Outside of them, I want to say how can I help. What motivates us?
I think now that I know, how can I pretend I don't know. The shame I feel is huge when I see people who know – what they eat is going to lead to diabetes, they know whatever the cause is. You know now – don't act like you don't. Don't continue to buy from that company with bad policies. Don't continue to smoke.  Don't turn your back and pretend you don't know. The truth of a situation is that situation asking for help. Now what are you going to do? Are you going to act like you don't know.
(Then she pauses and asks.)
Does that sound preachy? Do I sound like a jerk?
It really resonates – 'now that you know, how can you act like you don't know?' is a powerful message. You say you learned a lot from your parents.
They are both academics. Everybody in my family is something – they are all involved and we are a very social conscious family and I am very grateful for that. I think my dad and my mom are like my best friends. They are great people. I'm trying to be that great person for my children.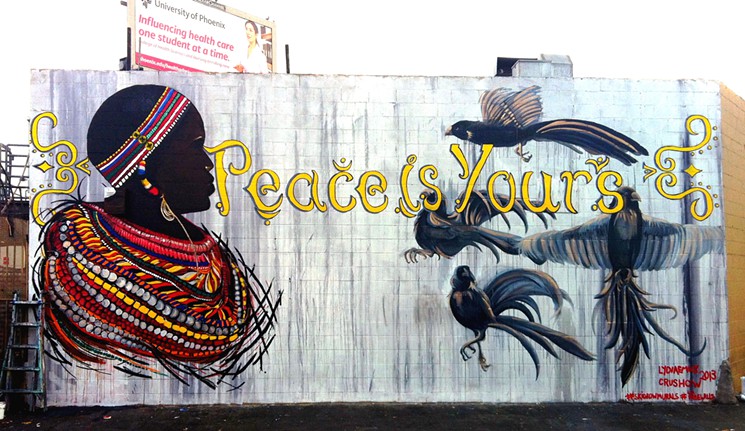 Does he have your sad Obama painting  over the sofa?
No – a conservative bought the sad Obama. People pick and choose the stuff I do. It was a very conservative man who bought my sad Obama. I love the conservatives. I love the liberals. I love anyone who is passionate about what they care about. I would hate to be in a country without a balance where people are different and they have a voice and have a right to be heard. You can't preach tolerance just for your own cause.
You've mentioned a movie about you – will it be about MS or is it about your social activism.
I'm not involved in the editing process. They won't even let me see the results of the focus groups.  They followed me for three years and I left nothing out. My MS, my struggle with Cancer. All the charities I do. I can't imagine what the storyline might be. I'm very excited to see it done and the filmmaker Libby Spears is very thoughtful and very soulful and hopefully by next year it will be ready for release.
It is supposed to come out next year but they are still needing funding. A lot of people want to see it but don't want to put money toward it. Their website is up and they are working as quickly as they can and hope more people will donate. She wants it to be beautiful and polished and a movie about MS. I'm hoping someone will hear about it and donate.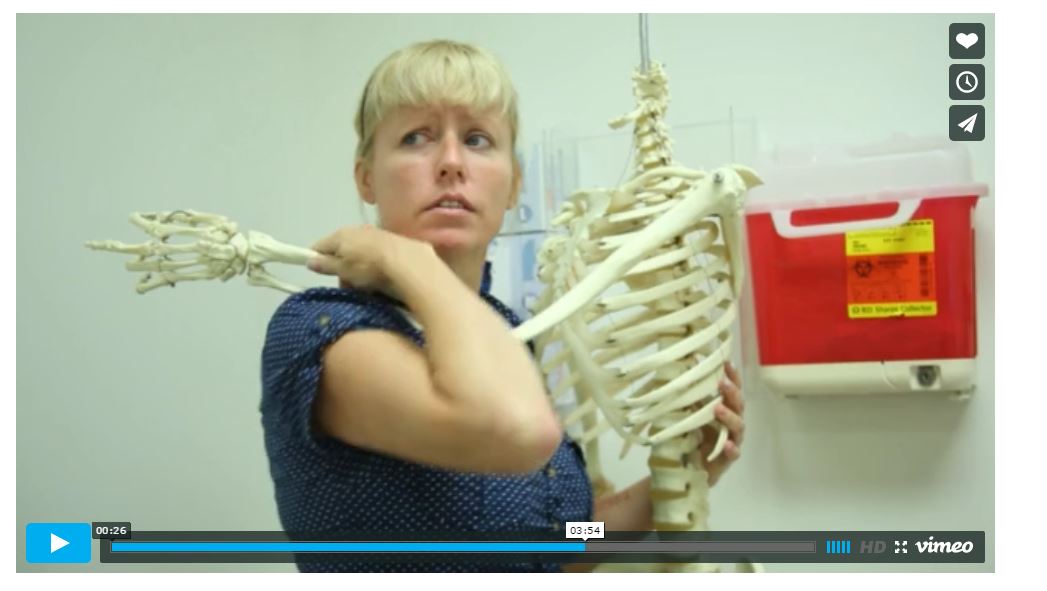 Is the movie specifically about your life with MS?
There are definitely things in there about my daughters but the main point is MS is not a diagnosis for old people in a wheelchair. It is about young women, or fathers, or just because you are diagnosed you do what you can. You can participate. No matter how small. You must participate. [Image: Click on image to view the video trailer]
When I was in the hospital and I couldn't use the left side of my body, I was told – 'You didn't have a stroke. You have multiple sclerosis.' and I immediately thought I would be in a wheelchair. And that is bullsh!t. It's time for that image to go. Here's a movie of someone doing a mural or it could be a movie about whatever we can do. We're not these useless lumps of people because we have MS. We have vibrant wonderful lives and I want others to know that. It's time to get rid of that imagery.
This message of Hope is central to Lydiaemily's MS murals and I hope you will encourage your chapter to have one done in your area. It was an honor to speak with this gifted activist, who isn't content to sit back and wait on others.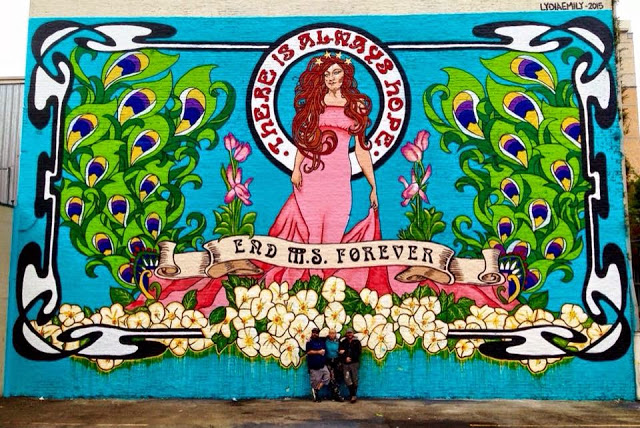 PC594 is the title of the movie, and represents Penal Code 594, the law regarding defacing public property that she has been arrested for violating a number of times, by creating her messages on public spaces that were otherwise being unused. The majority were dilapidated, abandoned buildings. The trailer for PC594 shows the passion Lydiaemily has for getting the message out that people with MS are so much more – and it was a joy for me to have this very personal conversation with her. I hope you will want to learn more about her work and support the creation of PC594 for others to view her passion. [Image: MS Mural in Portland, Oregon]
Lydiaemily works at staying MAD About MS every day.
Wishing you well,
Laura
*Photos used with permission of the artist, Lydiaemily
This article represents the opinions, thoughts, and experiences of the author; none of this content has been paid for by any advertiser. The MultipleSclerosis.net team does not recommend or endorse any products or treatments discussed herein. Learn more about how we maintain editorial integrity
here
.

Community Poll
How well do people around you understand MS?