Mary Poppins & MS
We all get them in our online browsing – those small advertisements that promote something about multiple sclerosis in the hope we will take the time to click on it and learn more or sometimes even spend more. Many are credible and might even be worthy of our attention or a quick click on it to see what it might be about and if it were on interest to the viewer.
But then there are others that are just plain laughable if you know anything about MS. That was the case today when I was playing catch-up on my Facebook page and a large number of the connections I visit are associated with multiple sclerosis groups. The little widgets and cookies that track where I visit on Facebook, Twitter and all the other social media sites I might use, know a lot about me and target the ads to my specific interests.
We've all googled something and been taken aback when magically there appears a promotional link for another site for something you've just been researching, whether it is information or a product to buy. I have a favorite brand of shoe and I can count on those ads to populate many of my online browsing sites. I've made a promise to myself to not buy anymore and now have the resolve to not follow those links and further fill my closet. The same happened a while back when I was checking out new suppliers for my intermittent catheter – I was deluged with ads from all the different suppliers hoping to get my attention long enough to visit their site.
There are also sites that want to share information with me, and sometimes the multiple sclerosis ads for information websites really do beg for a closer look. Today it was a photo and web link about multiple sclerosis that grabbed my attention and I immediately thought of it as the Mary Poppins wish – you remember how in the classic Disney movie she sang about how much better things would be with just a spoonful of sugar? That's the immediate reaction I had when I saw this sponsored link about multiple sclerosis on Facebook -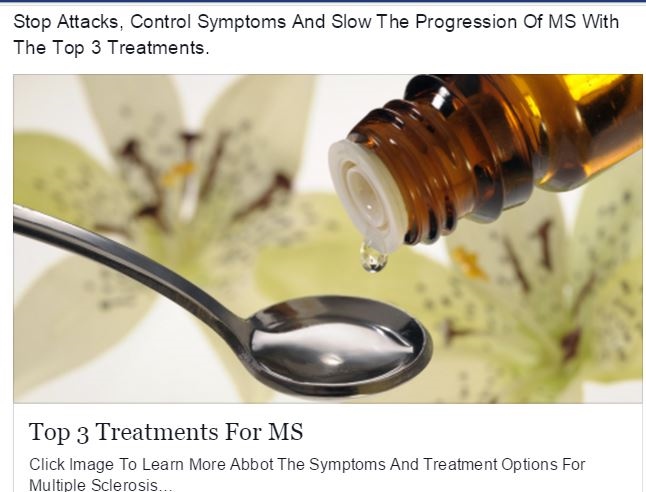 If the liquid had been red I would have thought it would suggest a gross tasting cough syrup; as so many parents know, if it were bubblegum pink it could be an antibiotic. But the flowers in the background and the clear liquid makes me think that Mary Poppins might have had the antidote for MS all along – a spoonful of sugar. I've racked my brain, though, and can think of no MS treatment that can stop attacks, slow progression or control relapses that comes in this tasty liquid form.
Not surprising, when I click on the image I get a very generic page about multiple sclerosis and the types of questions I should consider asking my doctor. As for the Top 3 Treatments, disappointedly they don't list three, but rather offer just vague suggestions – 'The top three treatments for MS are corticosteroids to reduce inflammation, muscle relaxants to ease muscle rigidity and various medications designed to reduce the frequency of flare-ups and slow the disease's progression."
The information in their top three list was useless but my time was not lost – I now have that little ditty going around in my head and will hum it to myself when I am in the clinic this week getting my monthly infusion – 'every task you undertake, becomes a piece of cake …. Just a spoonful of sugar helps the medicine go down.'
Wishing you well,
Laura
This article represents the opinions, thoughts, and experiences of the author; none of this content has been paid for by any advertiser. The MultipleSclerosis.net team does not recommend or endorse any products or treatments discussed herein. Learn more about how we maintain editorial integrity
here
.

Community Poll
The holiday season is among us and can be so stressful! Do you experience more flares during this season?