MS and Cognitive Impairment
Although severe cognitive impairment only affects a small group of people with MS, up to two-thirds of people with MS notice some problems with the thinking process. This may include memory, communication skills, attention span or ability to concentrate, among other symptoms.
In our own MS in America survey, 66% of respondents identified cognitive dysfunction as an MS symptom (n=3,009). 92% of individuals experiencing frequent cognitive symptoms reported either short or long-term memory loss.  Over 80% also reported challenges with concentration/attention span, information processing (slow thinking or sensory overload), or verbal fluency (problems finding words).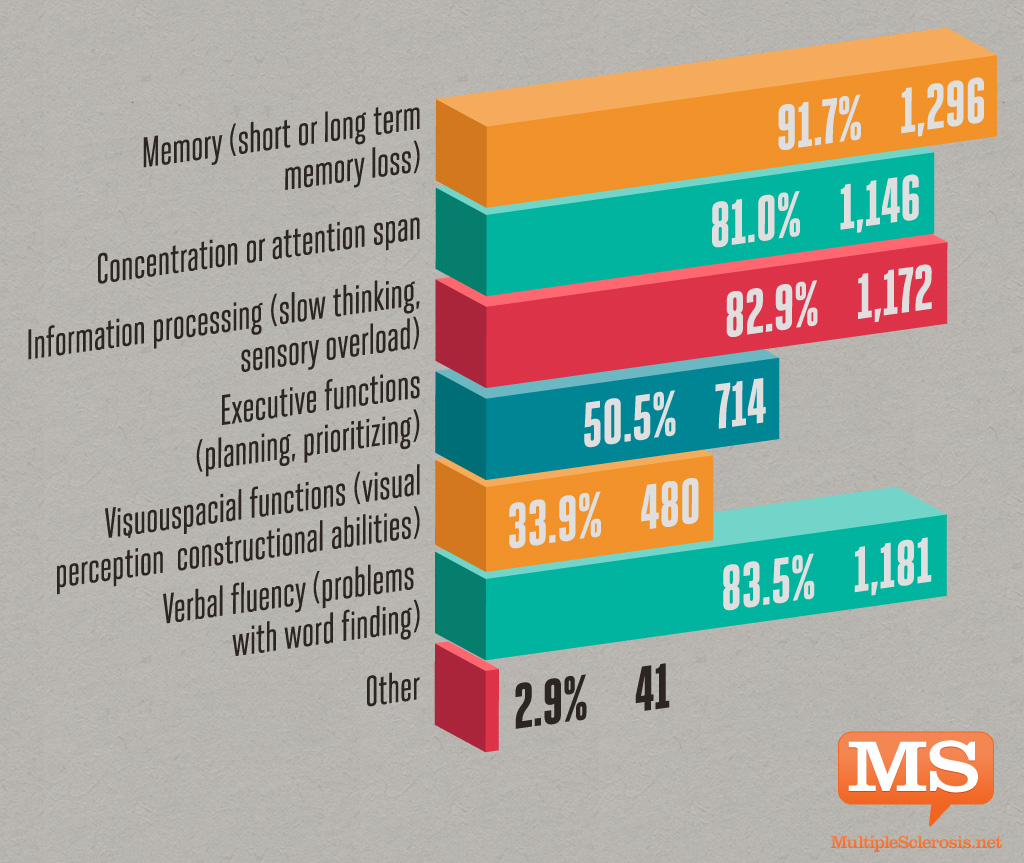 *With regards to your cognitive dysfunction, in which of the following have you experienced difficulties (check all that apply)
Because cognitive symptoms can have an impact on daily living – including the ability to work and maintain relationships – it is important to identify these symptoms as early as possible.  Your doctor may conduct a comprehensive cognitive evaluation to identify problems you are having, and will work with you to develop strategies for symptom management.
Do you experience cognitive problems due to your MS? If so, have you developed techniques for managing your symptoms?
The MS in America Study was conducted over the internet from November 2012 until January 2013. The primary goal of the study was to establish an understanding of the current state and trends of patients affected by Multiple Sclerosis. The survey included over 100 questions on a broad range of topics. A total of 3,437 people started the survey while 2,562 people completed the survey resulting in a high completion rate of 74.5%. To qualify for the survey, participants had to be MS patients over 18 years old and a US resident or US citizen living abroad.
The study was solely developed and funded by Health Union, LLC which does not manufacture, sell nor market any product to diagnose, prevent or treat MS or any other disease.

Community Poll
How well do people around you understand MS?