MS Fundraising – Big and Small
I'm guessing almost everyone reading this has given to the MS cause in one form or another- whether it was to participate in a walk, give of your time, or make a donation to one of the many great organizations that support research and the people living with MS.  My pockets aren't very deep but I do try to give a little bit here and some more there, to help in some small way.
My mail will sometimes bring invitations to special local events that are asking for a 'donation' to attend a luncheon or dinner, and I almost always set them aside as a bit too pricey for me. I do have an MS walk team and each spring we raise funds for that program.  I have some other favorite research organizations as well, and give an annual donation to support their work of finding a way to re-myelinate my brain, or maintain a repository of biological samples from people with MS that can be shared with scientists worldwide. There are so many organizations searching for answers to this disease and it's hard to pick just one over the others as the best one to support.
We are encouraged to raise funds to support MS by walking, biking, swimming, and running.  There are also ways to eat or drink our way into supporting the cause, one of the largest of these is in Canada where a certain root beer brand donates money  from the sales at their restaurants from one day.  It appears a root beer float and a burger can raise significant funds in 24 hours – their 2012 one-day campaign raised $1.3 million; although I'm not sure if that is Canadian or American dollars, either way it is a lot of money.
There is also the Hollywood-based MS support group that once a year brings out the stars to raise money to support their foundation and fund young MS investigators.  Each year this group selects a Hollywood face associated with MS to be the honoree for their gala.  It actually looks like a lot of fun for one evening but I don't own a dress nice enough for this one and I can't walk in high heels anymore. Their gala evening is then followed by a day-long symposium on MS and recent advances in research.  This year's co-honorees were recently diagnosed Jack Osbourne and his mom, Sharon1. The online photos of this gala give a glimpse as to how star-studded this event is, and if this is any clue as to how costly it can be to attend an event like this, consider that Elton John was the headliner entertainment for the evening.
A $25 luncheon, $75 reception or a $1,000 gala ticket, are just some of the options I have seen as ways I can give my money to an MS cause.  Today I saw a notice for the ultimate MS fundraiser that made me pause and fantasize how I could pull it off.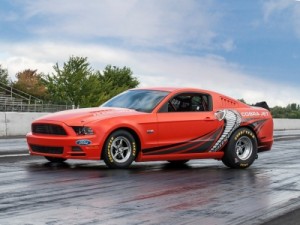 It even has MS in its Vehicle Identification Number (VIN)
Do you happen to have an extra $100,000 or so sitting around, just waiting to be donated to a worthy cause?  Well here's your chance- Ford Motor Company has donated the 2014 prototype of the Mustang Cobra Jet2 to be auctioned off at the end of September in Las Vegas.  The proceeds from the sale will be donated to the National MS Society.  This one-of-a-kind car auction includes extra perks such as a tour of the production facility, drag racing school and your very own video to keep of the making of your car.   If you ask me, the sweetest part of this Ford Cobra is the color – it is the brightest MS orange you can possibly imagine. Whoever buys this ride is more than welcome to stop by my house and give me a ride around the block since my husband prudently pointed out that we could be 4 or 5 new cars for the price of this one and stripping our retirement funds aren't an option.  I won't care that it is a used car, having been driven as the prototype at the Ford drag track.
When it comes to raising money for MS, it is true that every little bit helps and there are some creative and even exotic ways out there that people are being asked to support our cause. As for me, I would rather just give an extra $10 here and $20 there to the cause and skip the meals entirely, but I sure would look good in that car.
Wishing you well,
Laura
This article represents the opinions, thoughts, and experiences of the author; none of this content has been paid for by any advertiser. The MultipleSclerosis.net team does not recommend or endorse any products or treatments discussed herein. Learn more about how we maintain editorial integrity
here
.

Community Poll
How well do people around you understand MS?