MS in America - Treatment By the Numbers
MS patients that are able to find treatment effective for them, will maintain on that treatment regimen. Whereas others need to change course, due to issues with efficacy or finding a treatment format that meets their needs. Check out a few numbers we learned….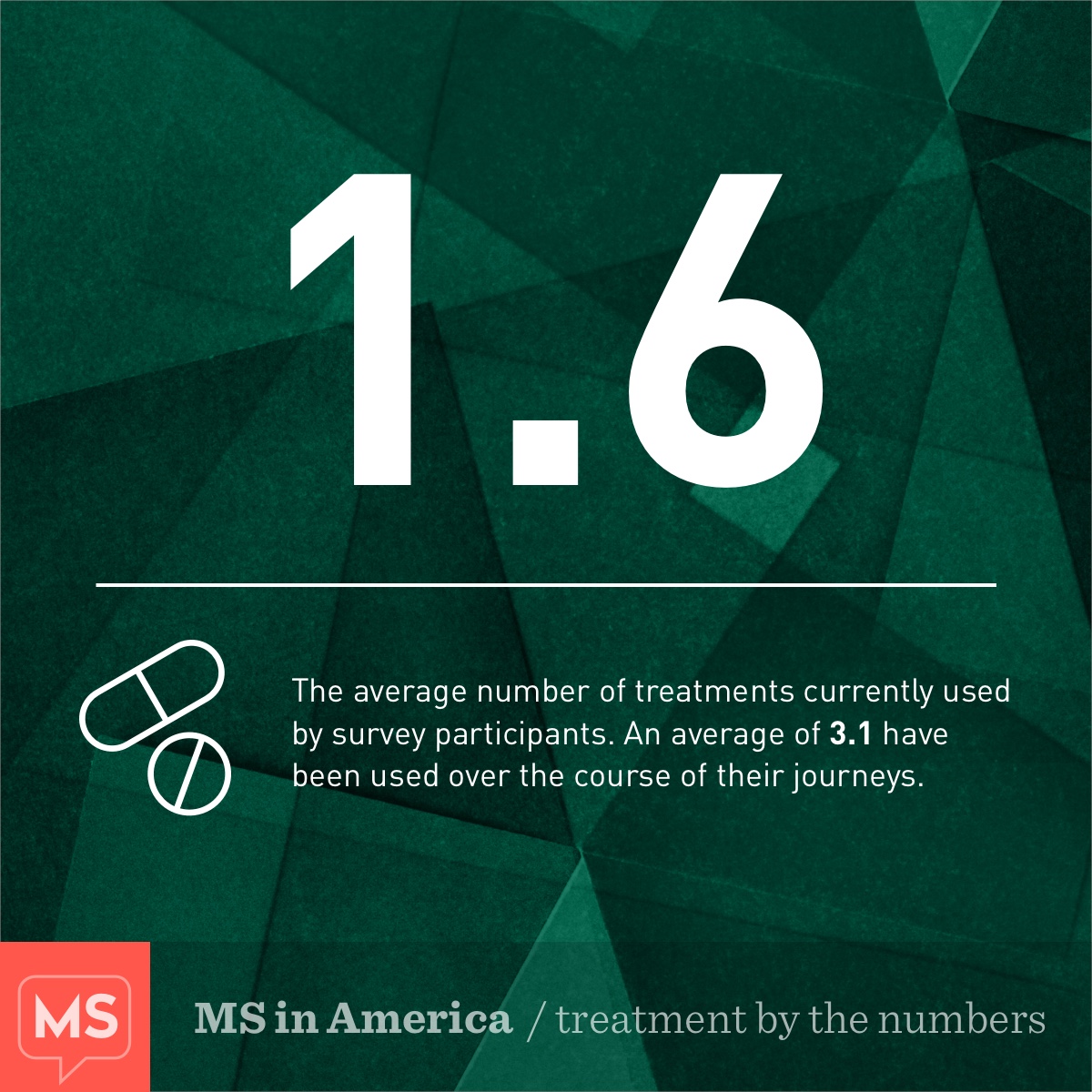 1.6
The average number of treatments being currently used by MS patients surveyed. Over the course of their journey, an average of 3.1 have been utilized.
5,927 MS patients
Completed the online MS in America 2015 survey, which gathered about their symptoms and diagnosis journey, as well as their quality of life and treatment experience.
Almost 1/2
Of individuals have been on their current treatment plan for at least 2 years (46%). Among those surveyed, 64% were satisfied with their current MS treatment plan and only 4% were "very dissatisfied."
At least 2
Disease Modifying Treatments (DMTs) have been prescribed to 54% of those surveyed. Only 12% indicated they have never been prescribed a DMT throughout their MS journey.
Up 5%
The usage of oral medications from 2014's survey of similar MS patients, while usage of injectables is down 16% from last year. Of those surveyed this year, prescription orals was the primary treatment for 38% of individuals, prescription injectables for 34%, and infusion medication for 13%.
67%
Of those currently taking prescription oral medications previously used a prescription injectable. Whereas 9% of those currently taking a prescription injectable previously used a prescription oral. Needle fatigue was the most common reason for switching from an injectable to an oral (49%), whereas seeking fewer side effects was for most common reason for switching from an oral to an injectable (41%).
87%
Of those surveyed started on prescription injectable medication due to their doctor's recommendation, whereas 73% of oral users started due to their doctor's advice.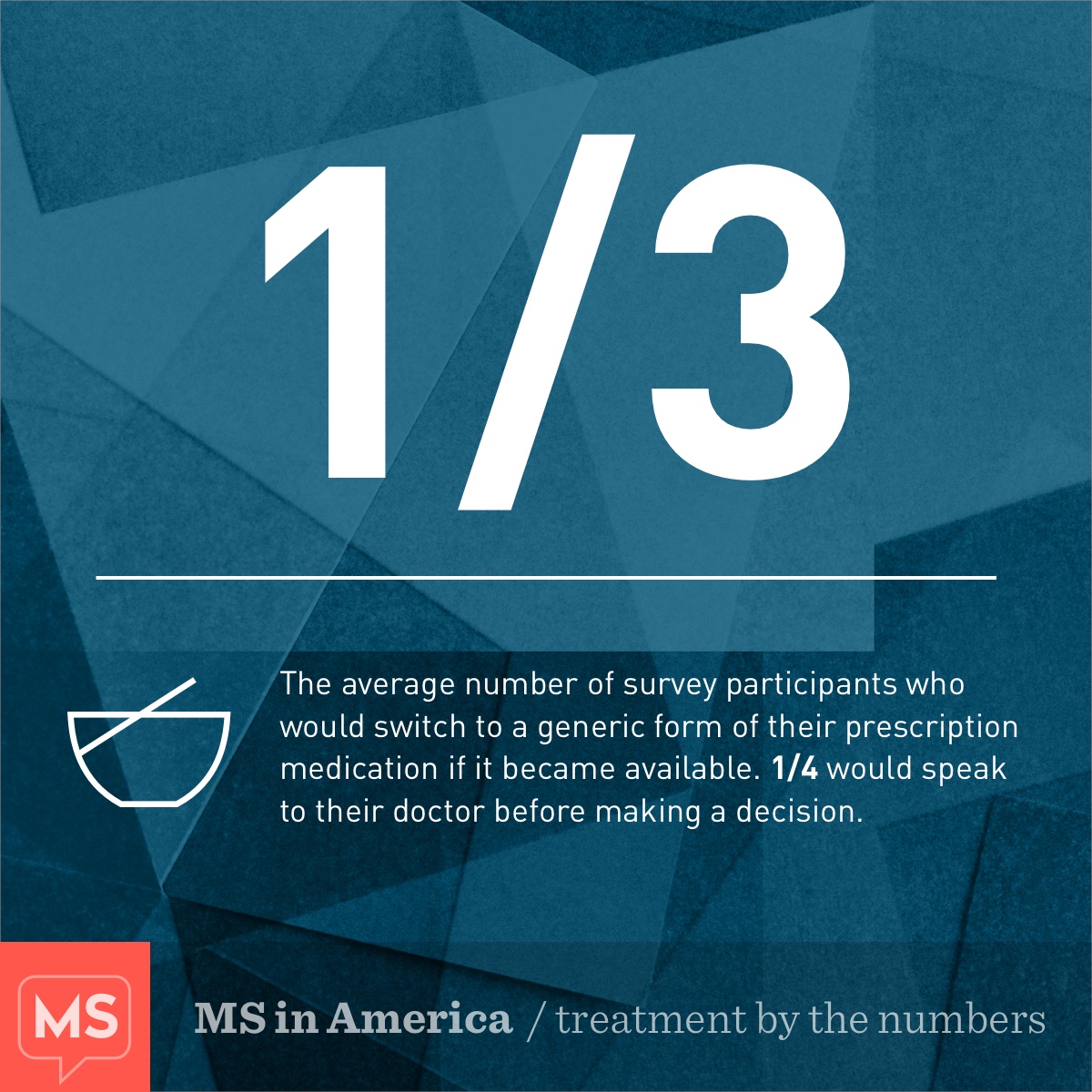 About 1/3
Of individuals surveyed would switch to a generic form of their prescription medication if it became available, whereas about ¼ would speak with their HCP before deciding. Only 5% would ask to stay on their MS branded product when the generic version came to market.
Less than $5,000
Is spent annually out of pocket for MS-related treatment and therapies by 62% of individuals. Financial access also plays an important role in MS care, as 27% have avoided medication due to cost. 67% of those currently taking prescription injectable medication have used a manufacturer-sponsored financial support program, and 75% of those currently taking a prescription oral have also used such services.
Less than 20%
Of those individuals currently not taking a prescription MS medication felt they were likely to start within the next year. 30% of individuals not on treatment weren't sure and 17% indicated they would definitely not start.
17%
Of those surveyed that experience cognitive dysfunction, have explored medical treatments to combat this side effect of MS.
Less than 1 in 5
MS patients are aware of new MS prescription medications in development.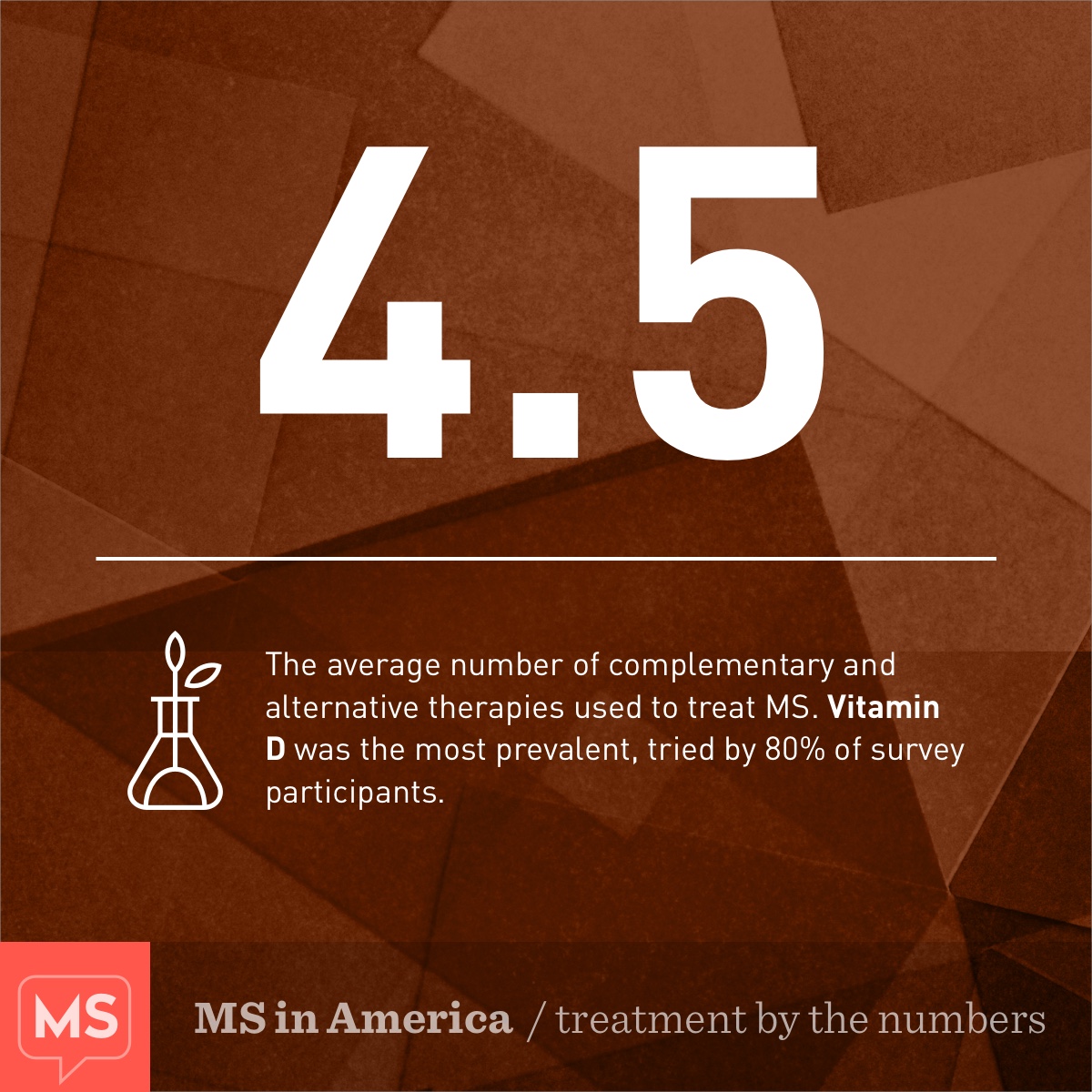 4.5
The average number of complementary and alternative therapies that 93% of individuals have tried to treat their MS at some point. Vitamin D was the most prevalent, tried by 80% of individuals.
38% of those surveyed
Have tried different diets for managing for their MS. With Eating Clean having been tried most often (by 43% of those surveyed).
46% of those surveyed
Indicated they had never tried rehabilitation therapies for managing their MS. Of those who have tried rehabilitation therapies, an average of 1.6 have been tried – with physical therapy being the most common (51% of individuals).

Community Poll
How well do people around you understand MS?