"MS Wingmen" - Fundraising Winner
In honor of the 10,000th member to join our Facebook page, MultipleSclerosis.Net picked one lucky member to receive a donation toward their MS fundraising efforts. Read more about our winner, Amy Vandergrift, below. You can also view other submissions and discuss your own fundraising & awareness efforts in our discussion forums.
Tell us a little about yourself
I grew up in a small town in Pennsylvania and soon after graduating High School, I entered the USAF; where I remained for 20.5 years. I had the extreme pleasure to hold two wonderful positions while in the AF... an AF COP (Security Force Member) and an AF Paralegal. I have been all over the world, stationed at 6 different locations and experienced more than most.
I'm a single parent of two wonderful boys. My boys are my "Biggest Supporters." They're my "Will and Strength."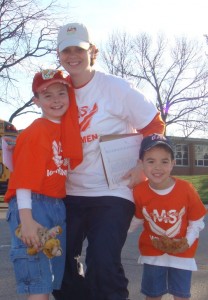 When were you first diagnosed with MS and what was that experience like?
I was diagnosed in Nov 2005, while stationed at the US Air Force Academy, Colorado Springs, CO. The base neurologist and I were introduced immediately. My initial symptoms were very severe with complete numbness of my right side of my body. It didn't take long for the doctors to diagnose me. I couldn't walk, get dressed or eat without the help of my family members.
My experience was nothing short of challenging but I decided early on that my boys need me and even though I have MS, it doesn't have me. It took nine months to regain total control of my body.
I was very blessed right away to have a very supportive family and AF supervisors... they were in my corner from day one. I only missed a week of work. I was determined not to allow this to define me or my life.
Where are you now with your MS?
I have good and bad days. I have probably experienced a dozen episodes. My continuous issues are weakness in right leg, right hand and my overwhelming fatigue. I have been on the same drug therapy since 2005.
Tell us about your involvement with the National MS Society
WHY I WALK? Nov 2005 came as a "Huge Eye Opener"...Therefore, I have devoted all of my available resources to make sure others do not become a victim to this devastating disease.
I have been involved in the MS Society since Nov 2005...I formed a team called "Amy's Animals" (Team Captain) for the All American Chapter in Cheyenne, Wyoming for 2006 & 2007. I also walked in Colorado Springs, CO in 2006 with "Bobby's Buddies", prior to being relocated to Wright-Patterson AFB, Dayton, OH. I was one of the Top Fundraisers for 2006 and 2007. I also volunteered for the 2007 and 2008 Bike MS in Wyoming (All American Chapter).
Since my arrival in Ohio, I have been involved in the Ohio Valley Chapter. I have been the local Walk MS Chairperson since 2009 and I formed a new Team... "MS WINGMEN". I wanted to combine my AF Family and My New Life with MS. I walked in last 6 Walk MS events - Cincinnati and Dayton. I have also volunteered for the 2008-2012 Bike MS events for the Ohio Valley Chapter.
"MS WINGMEN" was the #1 Walk MS Team for Dayton in 2009, 2010, 2011. I have been one of the Top Fundraisers for Walk MS 2008-2012. In 2010, I was honored to be named the 2010 Dayton Walk MS Ambassador. This allowed me to educate local support groups and Corporate Walk MS Sponsors. Additionally, 2010 was the biggest year for "MS WINGMEN" - as a team we raised over $16,000 and were the largest team (70+ Walkers) for Dayton. Every Year "MS WINGMEN" has exceeded their fundraising goal.
As a result of my team's and community's dedication...I was chosen to attend the 2009 National MS Convention in Chicago, IL and represent the Ohio Valley Chapter.
In 2012, Dayton was blessed to shatter all previous years in the amount we raised for Help Find a Cure and the total amount of Walkers.
What's one thing you wish everyone knew about living with MS?
Hopefully my experience has touched at least one person... showing that MS is very unpredictable and different in each person who lives with MS. One day MS will = "Mystery Solved!"

Community Poll
How well do people around you understand MS?