MSAA Can Help You Get An MRI
Finding answers about multiple sclerosis is essential to effectively managing the disease and working toward a better quality of life. Physicians often use a magnetic resonance imaging (MRI) exam as part of the process to help diagnose MS or keep track of its constantly changing course.
A cranial MRI allows doctors to get an "inside view" of the brain to evaluate both disease activity and treatment efficacy. Although an MRI may be ordered by the neurologist, many people go without the much-needed test due to having no insurance or, insurance with deductibles far too expensive to pay down.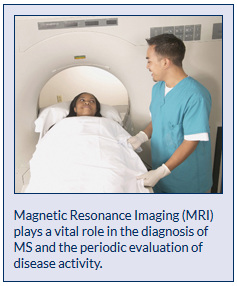 Recognizing this, MSAA helps fund cranial MRI exams so people who lack insurance or adequate coverage can get the test and the answers they need. Through the MRI Access Fund, MSAA will:
Cover the remaining cost of a person's co-insurance balance
Or pay for an MRI through contracted imaging centers for qualified candidates.
Program applicants must meet income requirements, receive approval from MSAA prior to having an MRI (no reimbursements for previous MRIs), and cannot exceed one MSAA-funded MRI exam within a 24-month period. MSAA will work with eligible individuals, physicians, imaging centers, and insurers to help fund the necessary MRI exam.
If you have discussed with your physician the need for an MRI to aid in diagnosing multiple sclerosis or evaluating disease progression and need assistance, please download the MSAA MRI Access Fund application or contact MSAA at(800) 532-7667, extension 120, for additional information or to receive a copy in the mail.
This article represents the opinions, thoughts, and experiences of the author; none of this content has been paid for by any advertiser. The MultipleSclerosis.net team does not recommend or endorse any products or treatments discussed herein. Learn more about how we maintain editorial integrity
here
.

Community Poll
I have the hardest time with my MS during the following season: