Latest Issue of The Motivator Now Available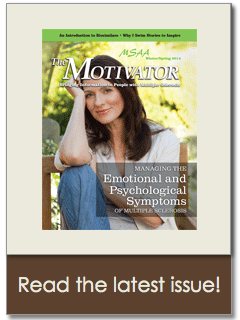 The Motivator is MSAA's award-winning magazine provided to the MS community and to our generous supporters. Distributed twice per year, this publication addresses the physical, emotional, and social issues that arise with MS, and provides information and support to many individuals affected by this disorder.

Cover Story:
The Emotional and Psychological Symptoms of MS
… The symptoms of depression, anxiety, and pseudobulbar affect (PBA) are described, along with effective treatment strategies. Important information is also given on how these symptoms affect roles and relationships, sexual function, and self-image.
Feature Story:
…Competitive "biosimilar" drugs may soon be considered for approval. Read about how these "highly similar" drugs may affect procedure, treatment, and cost.
Program Notes:
…Details on MSAA's new Swim for MS online Aquatic Center are highlighted. This national program initiative supports the awareness, understanding, and availability of swimming and aquatic exercise as a positive wellness opportunity for the MS community.
This article represents the opinions, thoughts, and experiences of the author; none of this content has been paid for by any advertiser. The MultipleSclerosis.net team does not recommend or endorse any products or treatments discussed herein. Learn more about how we maintain editorial integrity
here
.

Community Poll
How well do people around you understand MS?