The Multiple Sclerosis Association of America (MSAA): Improving Lives Today! …But How, Exactly?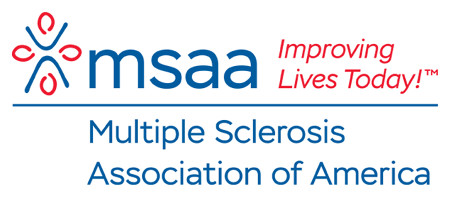 When first hearing MSAA's name, many people imagine a nonprofit organization dedicated to funding vital research to manage, treat, or even cure MS.
But even though MSAA is a leading resource for the entire MS community, we don't actually fund research for MS. If you've ever visited MSAA's website, you may have noticed our tagline, "Improving Lives Today!" That phrase means exactly what it says: to improve the everyday lives of people with MS today - right here, right now. Founded in 1970, MSAA is a national nonprofit organization and leading resource for the entire MS community, improving lives today through vital services and support.
MSAA is also a member of America's Charities and is a founding member of the Multiple Sclerosis Coalition (MSC). The MSC is a collaborative network of independent MS organizations whose mission is to increase opportunities for cooperation and provide greater opportunity to leverage the effective use of resources for the benefit of the MS community.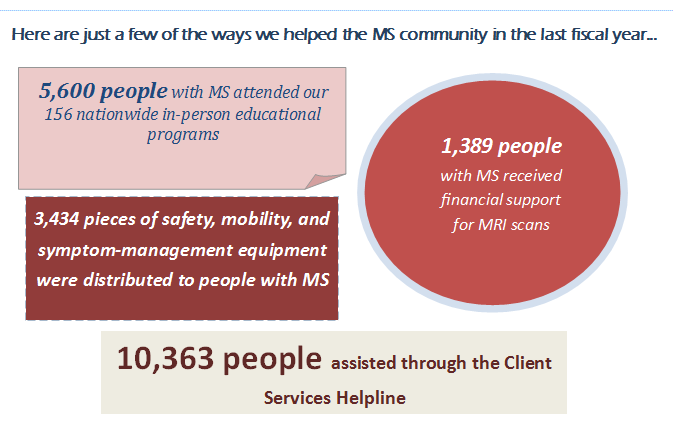 In addition to these ongoing programs and services, MSAA is offering two free webinars aimed to assist people with MS in understanding and navigating the Affordable Care Act (ACA) and its impact on MS healthcare needs.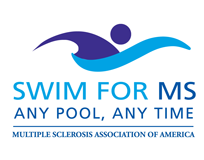 To help provide these programs to people with MS, MSAA uses funds from our signature volunteer fundraising event, Swim for MS. Swim for MS provides the opportunity for anyone – at any level– to create and arrange his or her own special Swim for MS fundraiser.
In addition to serving as a fundraiser, this national initiative encourages water-based exercise for people with MS and fundraising events where volunteers can create their own swim challenges. Funds raised through Swim for MS help support MSAA's services, including our national program on aquatic exercise and MS.  Supporting MSAA's mission, our Swim for MS Ambassador is Olympic Gold Winner Missy Franklin.
While MSAA provides services to the entire country, our headquarters and regional offices consist of a highly dedicated staff as well as an accomplished Board of Directors. Our Client Services department typically deals directly with the clients we serve, but everyone here is required to maintain up-to-date knowledge of MS symptoms, treatments, and MS-related current events. Requiring that level of expertise for all staff helps ensure the rigorous quality standards MSAA sets for any information we provide to the public.
We hope and believe that one day there will be a cure for MS. We know that we can't wait until tomorrow to provide help for the MS community. For many people with MS, the need for help is today.

Community Poll
What types of programs/services would you like to see provided more often to the MS community?
MSAA invites you to become a part of our community as well as a part of our mission to improve lives today.
MSAA would like to thank MultipleSclerosis.net for the opportunity to contribute to their blog and to detail our programs and services to their readers. We are delighted to have this partnership. Having generously welcomed us to their community, MultipleSclerosis.net helps us to be a leading resource for more individuals with MS and to continue achieving our mission of improving lives today.
This article represents the opinions, thoughts, and experiences of the author; none of this content has been paid for by any advertiser. The MultipleSclerosis.net team does not recommend or endorse any products or treatments discussed herein. Learn more about how we maintain editorial integrity
here
.

Community Poll
Do you live with any comorbidities aside from MS?