NARCOMS: How YOU Can Help Expedite MS Research And Create Better Clinical Care
Happy New Year! I always view my new year as a time to begin anew, keeping hope in my heart that better research will lead to positive outcomes for the entire MS community.
In my daily meditations I've found it helpful to visualize myself climbing a majestic mountain that rises high above a sparkling ocean. With each passing mile I get closer to accomplishing personal goals. When I finally reach the pinnacle I imagine how vibrant and alive I'll feel, mindful of my glorious achievements while enjoying the magnificent view that envelops me.
Reaching the top of the mountain would mean that a cure for MS has been discovered. Will I get to the top of the mountain in my lifetime? I'm not clairvoyant but I hang onto hope in my heart.
That's why I'm proud to be taking part in NARCOMS (North American Research Committee on Multiple Sclerosis) for almost 20 years on the good advice of my friend, nurse practitioner and CEO of The Consortium of Multiple Sclerosis Centers, June Halper.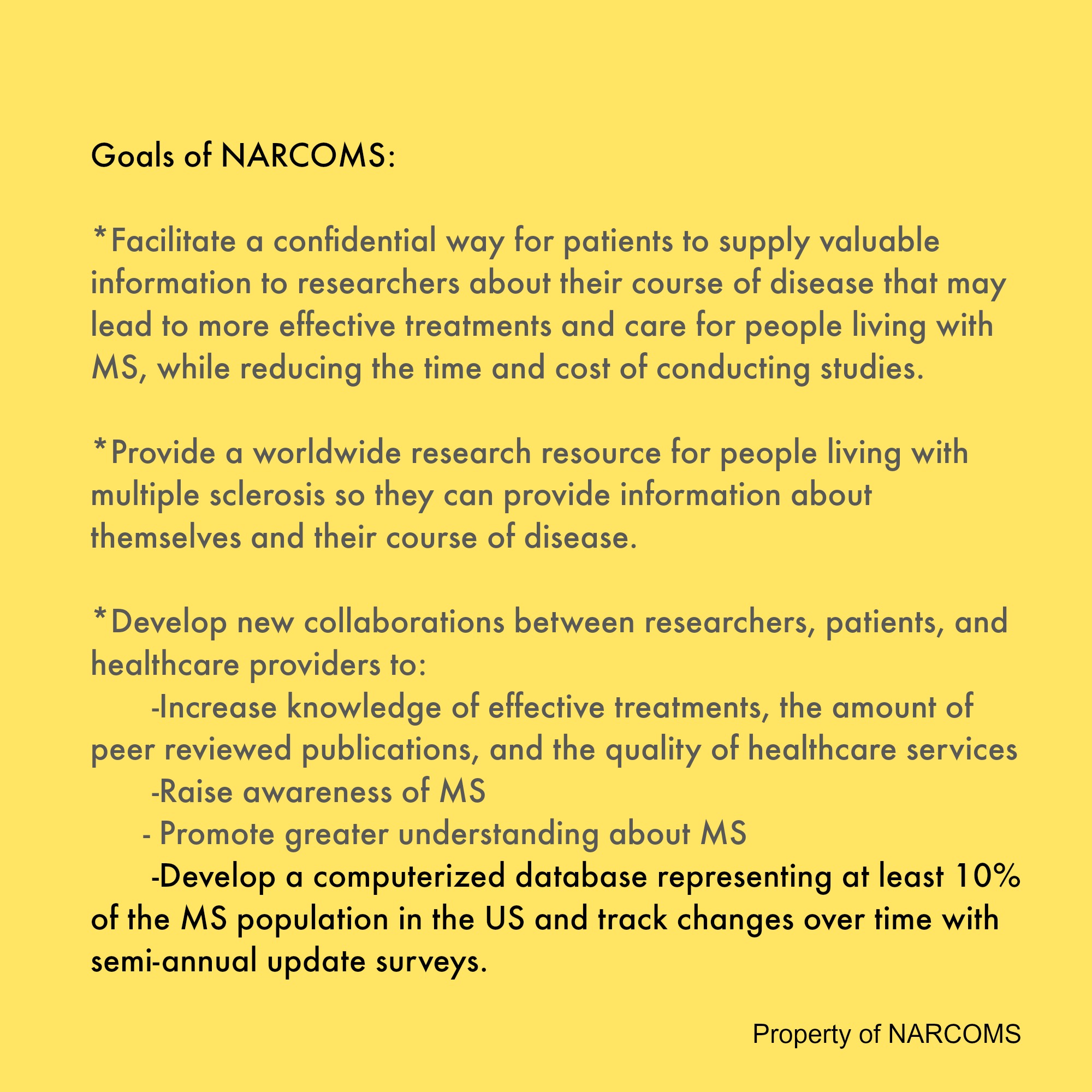 NARCOMS is a bi-annual online patient registry where I answer questions about my experience of living with MS. I feel good knowing that my answers will help make a difference in research and clinical care. Collectively my answers, along with over 37,000 other registered patients, help to facilitate multi-center research about MS.
"NARCOMS, a project of the Consortium of MS Centers, is a patient registry that was founded in 1995 and contains patient-driven information on over 37,000 patients. Information from NARCOMS has enhanced research activities regarding demographics of MS as well as environmental factors involved in disease activity (vitamin D, smoking). "~June Halper, APN-C, CEO of CMSC, Executive Director of IOMSN, MSNICB 
Anyone diagnosed with MS can sign up for this free, confidential registry. Like me, your information (such as demographics, disease history, quality of life, functionality and symptom progression) will supply valuable information to help expedite research and improve clinical care and quality of life issues for patients and families affected by MS.
[banner class=bnrOneToOneC]
NARCOMS also publishes a quarterly magazine, NARCOMS Now (free to all NARCOMS participants), which features MS news and information about the registry. The Winter 2015 edition focuses on health and wellness and is filled with interesting information.
I was fortunate to be interviewed for their Feature Focus story.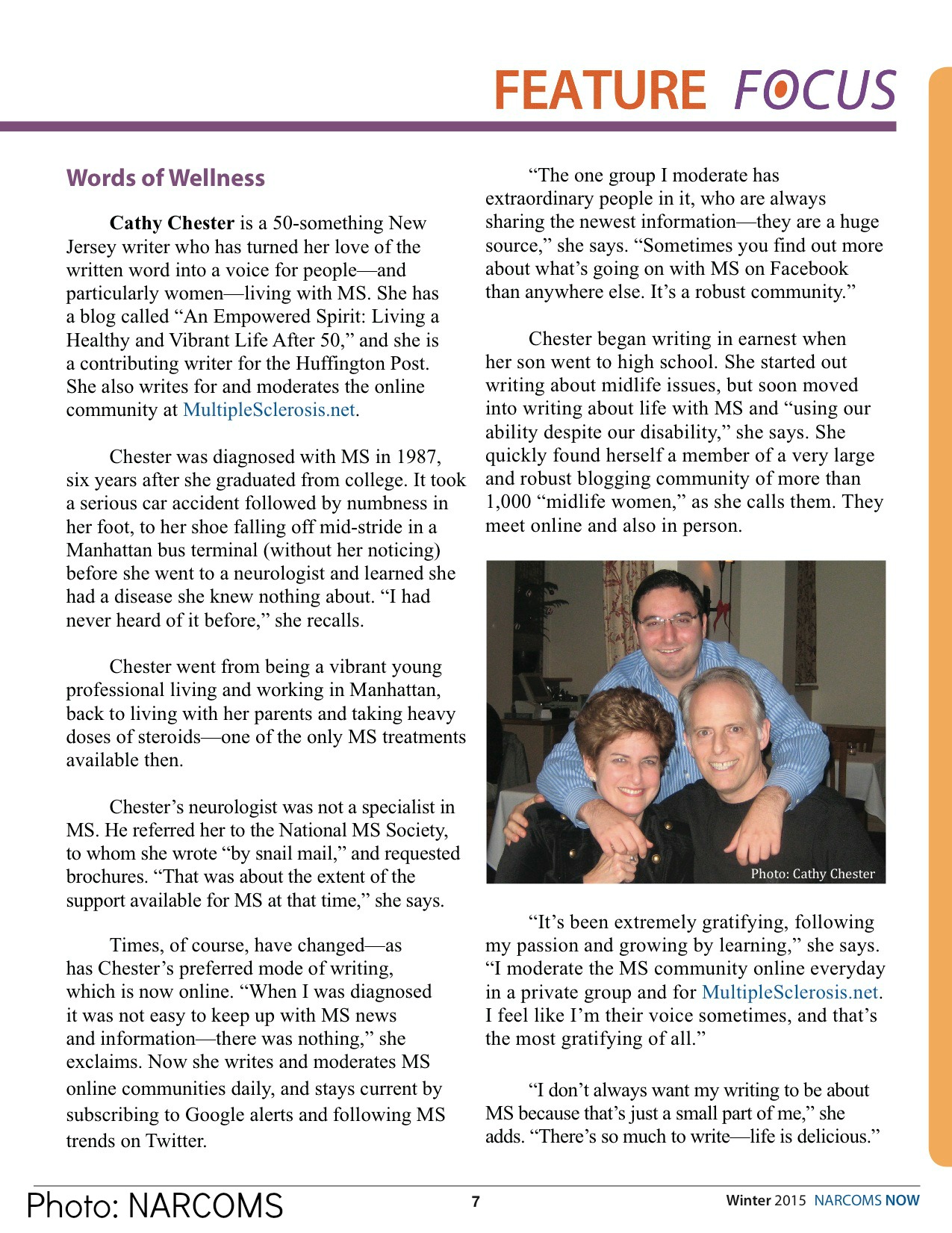 Check out the NARCOMS website and sign up for their registry. While you're there take a look at the NARCOMS Now page to find the latest MS news and information, and learn about NARCOMS MS apps and photo contests. Click the PLAY tab to give your brain a workout with their word puzzles.
To learn more about the purpose and participation benefits of NARCOMS, here's Dr. Daniel Kantor interviewing Dr. Gary Cutter, Director, NARCOMS Data Coordinating Center.
https://www.youtube.com/watch?v=4ZuH68-xJWI
This article represents the opinions, thoughts, and experiences of the author; none of this content has been paid for by any advertiser. The MultipleSclerosis.net team does not recommend or endorse any products or treatments discussed herein. Learn more about how we maintain editorial integrity
here
.

Community Poll
How well do people around you understand MS?