Pedaling to Better Health
Look what I bought! Yes, it's an exercise desk. I can pedal away while I am working on my laptop, watching tv, or talking on the phone. Our friendly UPS guy delivered all 70 pounds of pieces and parts in a box to my front hallway. 
My new exercise bike
This isn't any old stationary bike, it is the Exerpeutic WorkFit 1000 Fully Adjustable Desk Folding Exercise Bike with Pulse Meter and it was delivered to my door just two days after placing my order, thanks to my favorite store, Amazon. (Note: I am not getting compensated from either for writing this article.)
Easy to assemble
The bike/desk arrived on June 30 and for the next two days my workout was avoiding tripping over this huge box. It was on Monday that I got serious and cracked open the box to read the assembly instructions. There were only a few parts that had to be assembled and that turned out to be very easy because as soon as I asked my husband for help to hold a piece in place while I tightened the first bolt he took over and finished it. I sat back and watched and complimented him on his contributions to my health.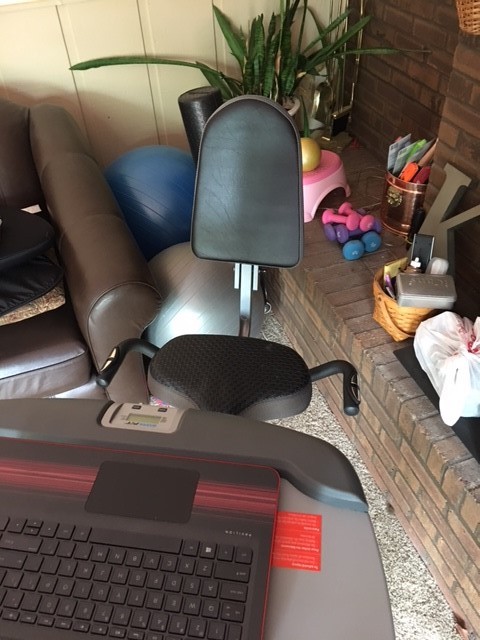 When he finished the task, he asked me to sit on it so the proper height and length adjustments could be made. This is a folding bike, so it will be easy to store in the corner with the other pieces of gear I previously have purchased with good intentions. The frame makes a basic X shape and to sit on it I first have to hike one of my legs over the middle bar, which to anyone else sounds simple but for me it's a workout of its own. It's been a long time since I had to hike my leg 18 inches for any purpose let alone to clear the bar and mount the seat. It's not pretty, but somehow I figured out how to get it done.
Getting started
July 4 was a holiday and who works on a holiday? Certainly not me – so I took the day off from riding and just looked at this new bike. I saved my inaugural ride for July 5, and did a whopping three miles in just under 30 minutes. My hip abductors screamed in pain as they pushed the pedal and rotated through the strokes.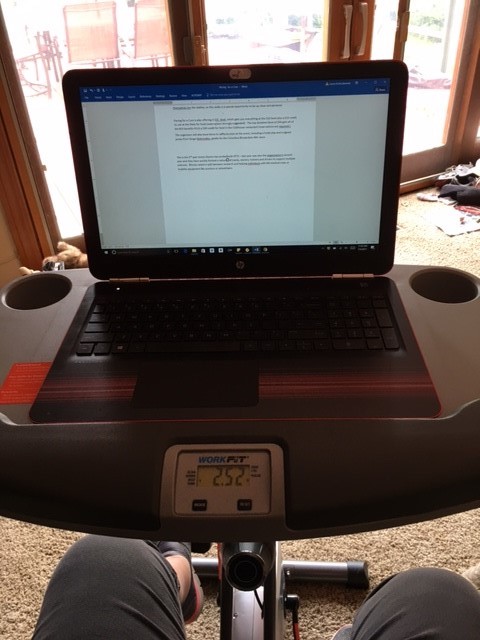 Getting off the bike/desk is an even greater challenge because I still have to clear the 18" bar in the reverse direction, but this time it is with legs that have been worked out by cycling. If you have MS you understand exactly what I'm talking about. I keep my phone handy in case there is no one else at home and I have to call 911 to be rescued from this machine. Yesterday my second three mile ride was a little better. My mount and dismount though will need lots of practice.
Resistance to exercise
My always helpful husband has suggested that there isn't much resistance on this bike as I have it set for now, and I should crank up the pressure. After all this time he still doesn't completely get what living with MS does to the body and the only resistance I have is to his idea of making this workout even tougher for a beginner. Cranking up the resistance dial on my bike/desk will come in time, but not yet.
My biggest worry is that it will sit in the corner with all the other exercise tools I have purchased but lack the discipline to stick with using. So now it sits in my family room, in full view of at all times and I can't ignore it.
Thanks to MS, multiple foot surgeries, and a close relationship with my laptop computer and recliner chair, I easily slipped into a sedentary lifestyle. Now I am paying the price because my mobility is worse and my weight has gone up. I have joined all of you doing your physical best, whatever that may be, and committed to this new way or working and wrote this article while riding. Perhaps this crazy work desk just might be the answer to regaining some of my health and mobility.
Wishing you well,
Laura
This article represents the opinions, thoughts, and experiences of the author; none of this content has been paid for by any advertiser. The MultipleSclerosis.net team does not recommend or endorse any products or treatments discussed herein. Learn more about how we maintain editorial integrity
here
.

Community Poll
I have the hardest time with my MS during the following season: