Planning to Travel with MS
It's been years since we've traveled together, just as a mother/daughter duo. A lot has changed during that time, including my diagnosis of multiple sclerosis and declining mobility. I invited my daughter Kristin to share her thoughts about traveling with a parent who has special needs and what she might recommend to other adult children/companions. 
Planning to make the most of our time
Traveling overseas requires quite a bit of planning for anyone, and Mom and I had about a month to figure out our adventure to Nice, France. Luckily, we both love traveling and I enjoy learning before I go to a new destination. My own travel experiences, including twenty-four hours as a child in the car on our way to Florida, influence my attitude: I always had plenty of time on our car trips to look at brochures, follow our route on the AAA TripTiks maps, and dream about vacation.
This trip was a bit different as Mom let me navigate us through the unknown of this next adventure and do the planning for our sightseeing. Mom had the hotel and airplane flights covered, and she left the rest to me. We needed to plan according to energy levels and weather - both could adversely affect our fun. This means having advance knowledge and knowing our options. I researched the city of Nice's tourism webpage for all handicapped accessible options and looked for tips on "how to go" by public and private transport. Once we were in Nice, knowing the options beforehand made it all the more enjoyable and the language barrier less daunting.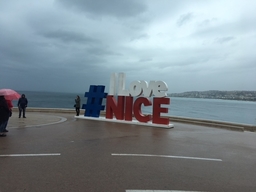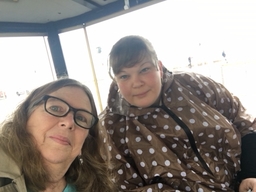 In advance of our trip I did research on accessible tourist attractions and tours. We booked a small van tour to Monaco, the village of Eze, and a perfume factory. This was a full day where we could enjoy the sights while reserving energy during the "in between." After realizing the size and scope of Nice, I suggested that we book another tour by van for the following day knowing we could fully enjoy ourselves and we could manage mom's fatigue both from traveling and the jet lag, at our own pace. We chose a private tour into Italy where we sipped on real espressos, navigated a market and enjoyed slices of Sicilian pizza. It was a rainy day, but our private driver made sure he got us to each destination safely and dry.
Conserving steps & energy
Back in Nice, we chose a multiple day city pass which allowed us to do almost any tourist attraction within Nice that our hearts could desire. Most cities offer passes for attractions and give information on accessibility. Our pass allowed us to hop a Disney-like train for a small city tour and ride a double decker bus for the larger tour of Nice. Both modes of transportation preserved mom's energy and offered a guided view and narrative - we saw more in five hours than we could have done in five days by foot.
Remain flexible
Going into this vacation - I knew I would have to slow down and be flexible. we might have bypassed some experiences because of her MS fatigue, but the experiences we did have I know we will both treasure forever.
It took a bit of discovering before we left, a lot of flexibility in our plans once we were there and 100% positive attitude that this was the trip of a lifetime no matter what we did or didn't do. I recommend websites dedicated to the location you are traveling and also go ahead and buy a "lonely planet travel guide" for the lesser-known spots. While traveling with your parents or any other person that has needs outside the box – be on the go, do, see; and when they say they need a break, let them. You can always venture out of the room for an hour or so on your own.
Reversing our roles and having one of my children look after me after all these years was a change I could not have anticipated when we last traveled together. Although I would prefer it the other way around or even traveling as equals, it was nice to have my daughter take care of me and make this trip even better with her advance planning. No matter how far away you might travel, planning can make a difference.
Wishing you well,
Laura and Kristin
This article represents the opinions, thoughts, and experiences of the author; none of this content has been paid for by any advertiser. The MultipleSclerosis.net team does not recommend or endorse any products or treatments discussed herein. Learn more about how we maintain editorial integrity
here
.

Community Poll
Do you ever experience MS bloat?