Positive Thinking - This Month on MS Conversations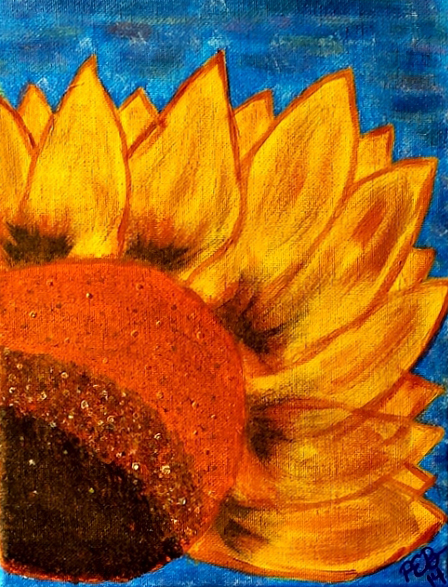 Throughout the month of July, the Multiple Sclerosis Association of America's community blog, MS Conversations, has focused on positive thinking - with personal stories from our inspiring guest bloggers to tips and tools that anyone can use to remain in a positive space. [Image: Sunny Disposition by Paula Breiner, artist with MS and included in MSAA's Art Showcase 2015*]
In case you missed it, here are several recent blog posts discussing journaling, mindful meditation, and tips for changing thought patterns:
Life with MS: My 5 Ways to Stay Happy, Lollipops and All by Jeri Burtchell
Let's face it, even days that start out all "sunshine and lollipops" sometimes wind up with you getting sunburned and the lollipop stuck in your hair. You can't prepare for the negative things that happen in life and those with MS know what I mean when I say we have our fair share of them.Read more.
Journaling as Therapy for Multiple Sclerosis by Meagan Freeman
No matter what challenge I am coping with, I find that if I sit down and pour those feelings onto paper, I am refreshed and renewed. It is much like traditional therapy with a counselor, except the paper is your therapist. The words are your medication, and the process of putting your thoughts and emotions into words is your cure.Read more.
Mindfulness and Meditation for Multiple Sclerosis by Samantha Schech, MSAA
Studies have continued to show how creating a mindfulness or meditation practice can assist those in reducing fatigue, depression, and anxiety associated with living with a chronic illness.Read more.
Sometimes You Just Gotta Laugh… by Angel Blair, MSAA
We've heard the saying 'Laughter is the best medicine' but how true is this statement? How can humor really heal or remedy a situation for us?Read more.
Please be sure to check back with MS Conversations next month as we discuss health insurance, the Affordable Care Act, open enrollment, and more topics important to the entire MS community.
We invite you to join the conversation! Comments and questions are positively welcome!
Multiple Sclerosis Association of America (MSAA)
* Artwork "Sunny Disposition" by Paula Breiner taken from MSAA's 2015 Art Showcase, featuring work by talented artists with MS.
This article represents the opinions, thoughts, and experiences of the author; none of this content has been paid for by any advertiser. The MultipleSclerosis.net team does not recommend or endorse any products or treatments discussed herein. Learn more about how we maintain editorial integrity
here
.

Community Poll
I have the hardest time with my MS during the following season: