Remembering Patrick Leer
I opened my Facebook page on November 12 and was confronted with the following post from Patrick and Patti's daughter, Megan  -
"Patrick Leer passed away at home yesterday morning. It was quick and I am incredibly grateful that I got to be by his side the whole time, and that it happened at home. His wishes were to be cremated and a memorial service is being planned, although I have no details for anyone yet. Your messages this past month always brightened his days and I, and probably dad too, really just want to thank all of you for your support and love."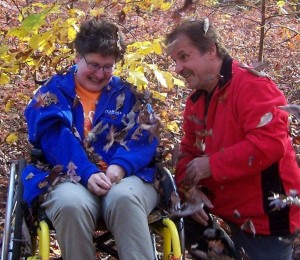 Patrick's memorial service is scheduled for Saturday, November 16, and I hope you will join me, and the other bloggers and writers for Multiplesclerosis.net, in taking a moment to pause in remembrance of Patrick Leer.  He personified the best of what selfless caregiving might look like.
A year or so ago, I became friends via the web with Patrick.  I read his blogs, had a few private back and forth conversations with him, and we were friends on Facebook. Patrick openly chronicled the challenges of life with chronic disease as a partner, through his blog, Caregivingly Yours.  When his young wife, Patti, was diagnosed with Multiple Sclerosis, Patrick was not only the  husband,  but also the caregiver for Patti, and the parent for their daughter, Megan who had posted this notice of his death.
The following are a few of his posts that he made alongside photos he captured of himself and Patti, living life.
Then we could take scenic drives through Fall foliage, now with progression of MS visual impairment – well we just enjoy it differently … on wheelchair accessible trails with 'someone' throwing piles of leaves into the air so they fall around us. how do you measure the years?To paraphrase Shakespeare, "There is a special providence in caregiving or needing care. If it be now, 'tis not to come; if it be not to come, it will be now; if it be not now, yet it will come—the readiness is all."
Only in Kodak moments does the world stay healthy and able bodied. Within a year my Mom would have a massive stroke, Patti was still two years away from being the other 'Mrs. Leer' and her diagnosis of Multiple Sclerosis.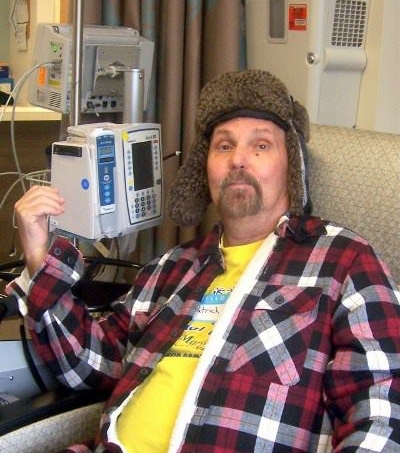 Patrick represented the voice of caregivers of people with MS as a blogger here at Multiple Sclerosis.net as well as many other places on the web, he wore many hats and did his best at all the roles he was asked to play.
Then the unthinkable happened - he was diagnosed with Stage 4 lung cancer when he took on yet another role and was unexpectedly  a patient needing intensive medical care.  He chronicled what it was like to be on the other side of caregiving through his Lung Cancer Survivor blog.
In August,  Patrick wrote –
Does fighting to outlive Stage 4 Lung Cancer trump a quarter century priority for spouse caregiving for Multiple Sclerosis?  … Most days I awake to find myself so conflicted that I am alive and fighting to outlive lung cancer … yet 'hands on' involvement with Patti's care declines....her MS related dementia impairs her awareness of any of these changes … she rarely remembers I even have lung cancer much less am fighting to outlive it.
Patti did not choose Multiple Sclerosis any more than I chose Lung Cancer … however a quarter century ago I chose to juggle spouse caregiving and basically single parenting ... now we enter a yet another new era in living with MS as a Family…"
If you have not read Patrick and Patti's story, I encourage you to visit his blog Caregivingly Yours  and learn more about this incredible couple and the sacrifices they both made over the decades.
Patrick's health took a turn for the worse a few months ago and he was hospitalized for pneumonia, a complication of his cancer and its treatment.  When he was released, he was unable to go home and became a resident at the very same care facility his beloved Patti has been at for so many years. He was able to visit with her as his strength allowed.
They shared laughs at Halloween, passing out candy to trick-or-treaters at the facility.
As we reported here, the recent news from Patrick was not good and many of you joined in wishing him well and offering comforting words of support and appreciation.  It was Patrick again sharing comforting words back to all of us, first full of optimism and then the somber voice of a man knowing he was facing his last days among us, as he acknowledged all of the messages Megan shared with him.
It was only a few days ago in early November when Megan shared on Facebook -
"Dad has been going slowly nuts in this place. Can't say I blame him. So far our visit has consisted of reminiscing over how someone here 'lost a body' and the night I was escorted out by a nurse because there was a man throwing chairs in the lobby. Inspiring messages on how to stay sane in crazy places or escape plans are very welcomed."
Megan just posted last weekend that Patrick was hoping to head home on Monday, but she didn't let on that he was wanting to go so he would die at home instead of a care facility.
In late October, Patrick made what I believe was his last post on Facebook that he typed on his own, with this painful admission that he recognized he was losing his battle with Lung Cancer, when he wrote-
"Stage 4 dawns at home were treasured, but now dawns at the care facility, I awake to the ferry men drifting closer. It's depressing and it takes the day to fight back to optimism"
It wasn't long before then that Patrick wrote the handicapped equipped van he had driven for over 110,000 miles to take Patti on outings was on its last miles; he thought about buying a new van for use in the future, but realized he no longer had the strength to transfer his wife and move her on his own. It was difficult to read that this person who cared for his partner knew he could no longer be the same caregiver he had been for decades.  He labeled this montage of photos on his blog page "end of an era."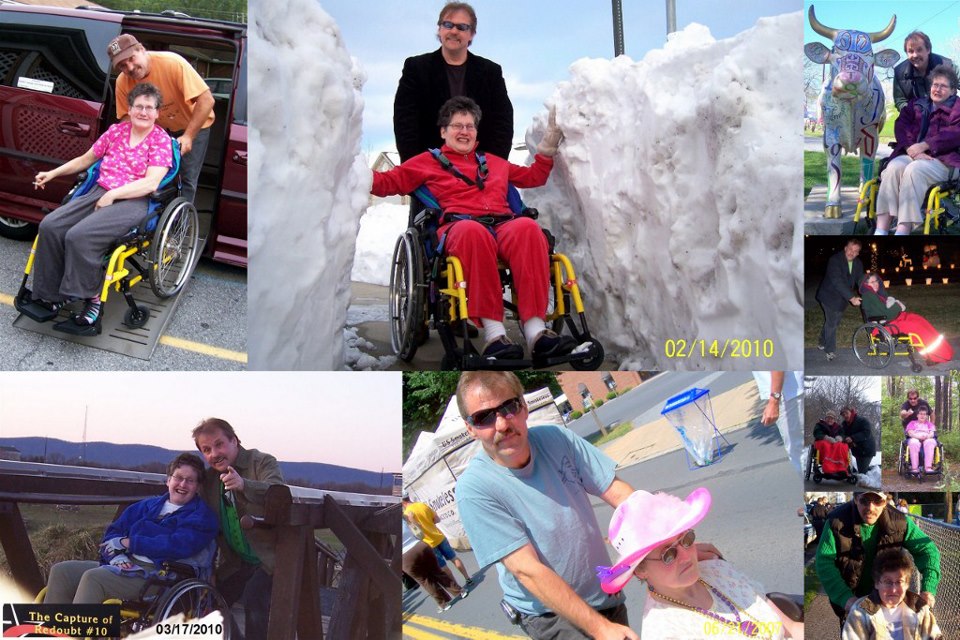 I asked Megan how her mother,  who continued to be the love of Patrick's life even though she had long ago mentally drifted off from the present and Patrick, who was facing his own mortality.  Patti, I'm told, had a few moments of processing the news  as Megan wrote –
"She rarely ever cries at sad things, but welled up for a few seconds … I told her, and I watched her process it for a few seconds before it seemed to vanish. I think he'll live forever in her mind, one of the strange blessings of her condition. She's doing fine otherwise, no new changes."
There is no doubt that among Patrick's last thoughts were loving ones of Patti and maybe he drew some small comfort in realizing she would not be distressed or feel pain over his absence. But somewhere I believe Patti knows how much she was loved and will feel the void in her life left by Patrick's passing, even if she can no longer express that emotion. Patrick, you will be missed.peace,Laura
This article represents the opinions, thoughts, and experiences of the author; none of this content has been paid for by any advertiser. The MultipleSclerosis.net team does not recommend or endorse any products or treatments discussed herein. Learn more about how we maintain editorial integrity
here
.

Community Poll
How well do people around you understand MS?