Rolling On
I have always had an overwhelming sense of appreciation and respect for my friends who happen to need mobility devices like a scooter or wheelchair to get around. Their desire to remain actively engaged with the rest of the world rather than be confined within their own home shines through each time they roll out the door.
For the second time in my life I used a mobility scooter, this time to get around at the Consortium for MS Centers 2016 annual meeting. My first time was last summer at Disney World and I don't think that quite counts the same, especially considering their scooters had a speed limiter on it that kept me at no more than three miles per hour and I was jammed in with lots of other people in the park and my family was along to run interference for me. This time I was on my own and it gave me a renewed appreciation for what my friends who must have a wheelchair or scooter to get around must encounter regularly.
I rented the scooter mainly because I was still recuperating from reconstructive foot surgery and want to be sure it heals correctly –this requires my continuing to be cautious. I found a company online that's specializes in scooter rentals for visitors to DC and the shiny blue four-wheeler was waiting for me when I arrived at the hotel. The first thing I had to figure out was what speed I wanted to go without going too fast or too slow. There was a rotating dial, illustrated with the sketch of a turtle and a hare for setting my speed and the throttle located inside the handles to go forward and backward. As best as I could figure, the top speed was about 8 miles per hour, almost three times as fast as my last rental. I know when I had open hallways and went full hare speed, it made my own hair fly from the strong breeze.
My first challenge was maneuvering through doors, both manual and automatic ones. I was traveling by myself and had to figure out how to unlock my room, push the door open and then slide on in, all while not bouncing violently off the walls and door. It looks rather easy when I watch my friends who are regular chair and scooter users but I now know it takes finesse and a lot of practice.
The elevator doors posed another problem – the button to ring for the lift was in the middle of a bank of eight elevators (four on each side). It became almost a game with me to guess which elevator door was going to open and then charge full speed to enter it before the doors closed. For some reasons the doors remained open for a very brief time and more than once I misjudged which door would open first and missed the chance to ride and had to push the button and wait again.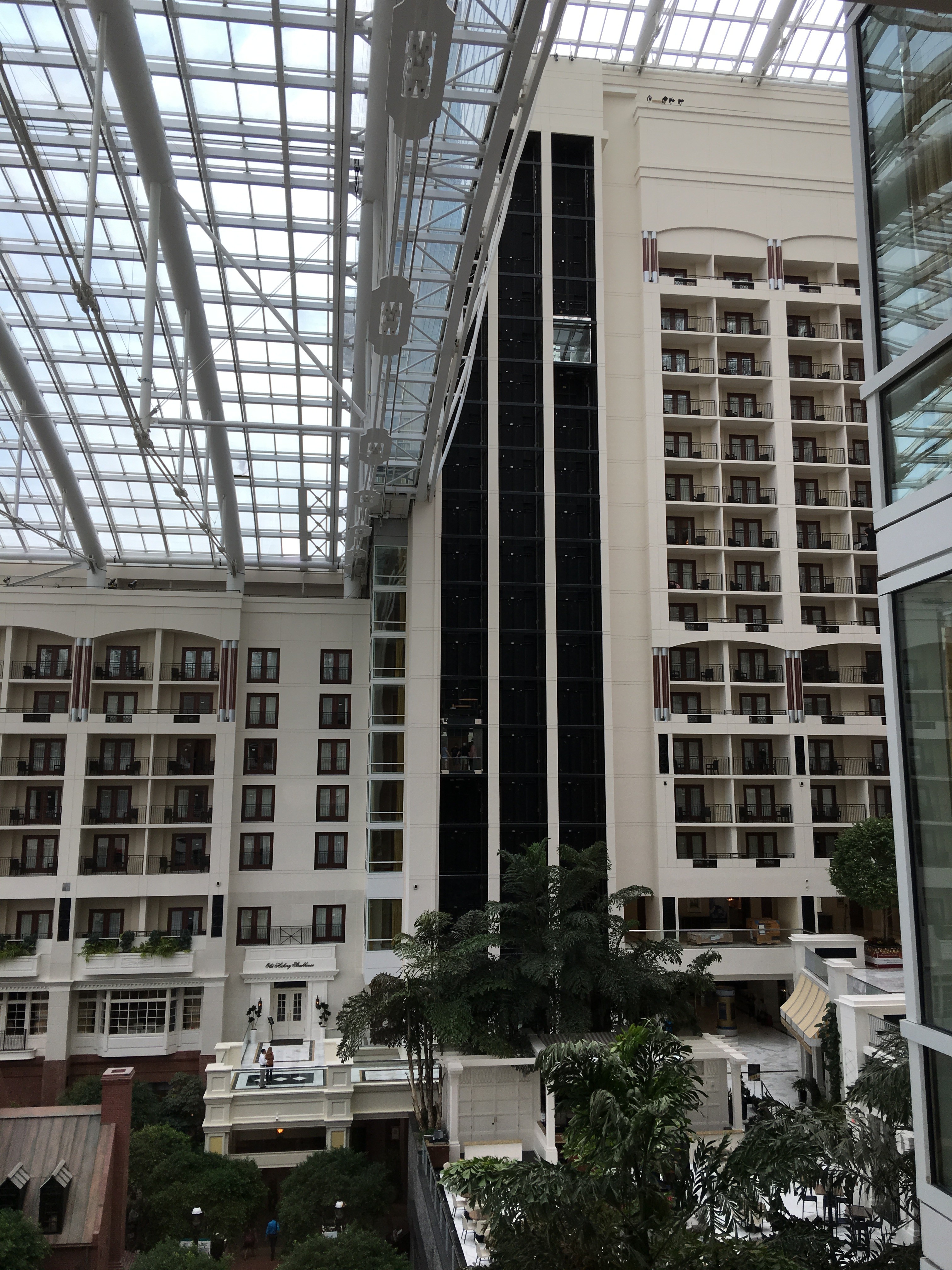 View from the top in the elevator
Each time I caught the elevator, I found myself charging in full speed and having to stop abruptly once inside. This hotel's elevators have a glass side, giving a great view of the hotel atrium, but also creating the feeling I was driving straight into the glass each time I got on. Because of the fast closing doors, if I was alone I had to speed into the elevator and then I found myself bringing my ride to an abrupt halt as I bounced off the railing inside the elevator. If it is possible to get whiplash on a scooter, I was working on it, but whiplash was preferable to crashing through the glass and careening down 20 stories to the atrium.
Then there were my excursions outdoors with the scooter. The sidewalks were not wide enough for me and a companion to travel side-by-side without blocking others, so I traveled ahead or behind the pack when we went out to dinner and also to an off-site presentation. The hotel was situated along the Potomac River and I ventured out to take a look at the water dockside. The path to travel down from the hotel to the dock was steep and full of flights of stairs, but there was also a route marked handicapped accessible, which lured me. Their path was narrow, comprised of multiple hairpin tight turns which I could envision it was the equivalent of traveling down the infamous Lombard Street in San Francisco. Unlike Lombard Street, this path was not one way and I had to go up it to return to the hotel. I remained aware that if I miscalculated the turns the wheels of my scooter would be off the path and I would be stranded until help would arrive.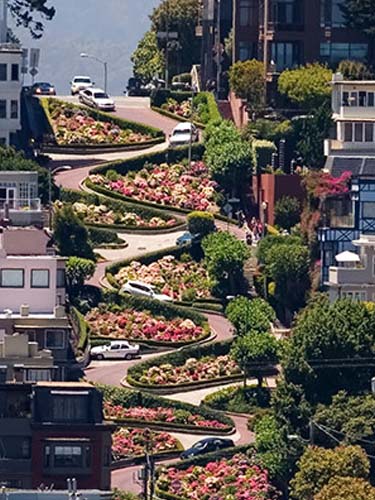 Lombard Street in San Francisco
I thought of the times my dear friend DJ would be out and about, and her motorized chair would stop due to a malfunction or she couldn't completely clear a curb and she would hang in limbo until someone would come and rescue her. It's one thing to be dependent on a mechanical device but something totally different if there is also a need for the intervention and the aid of others.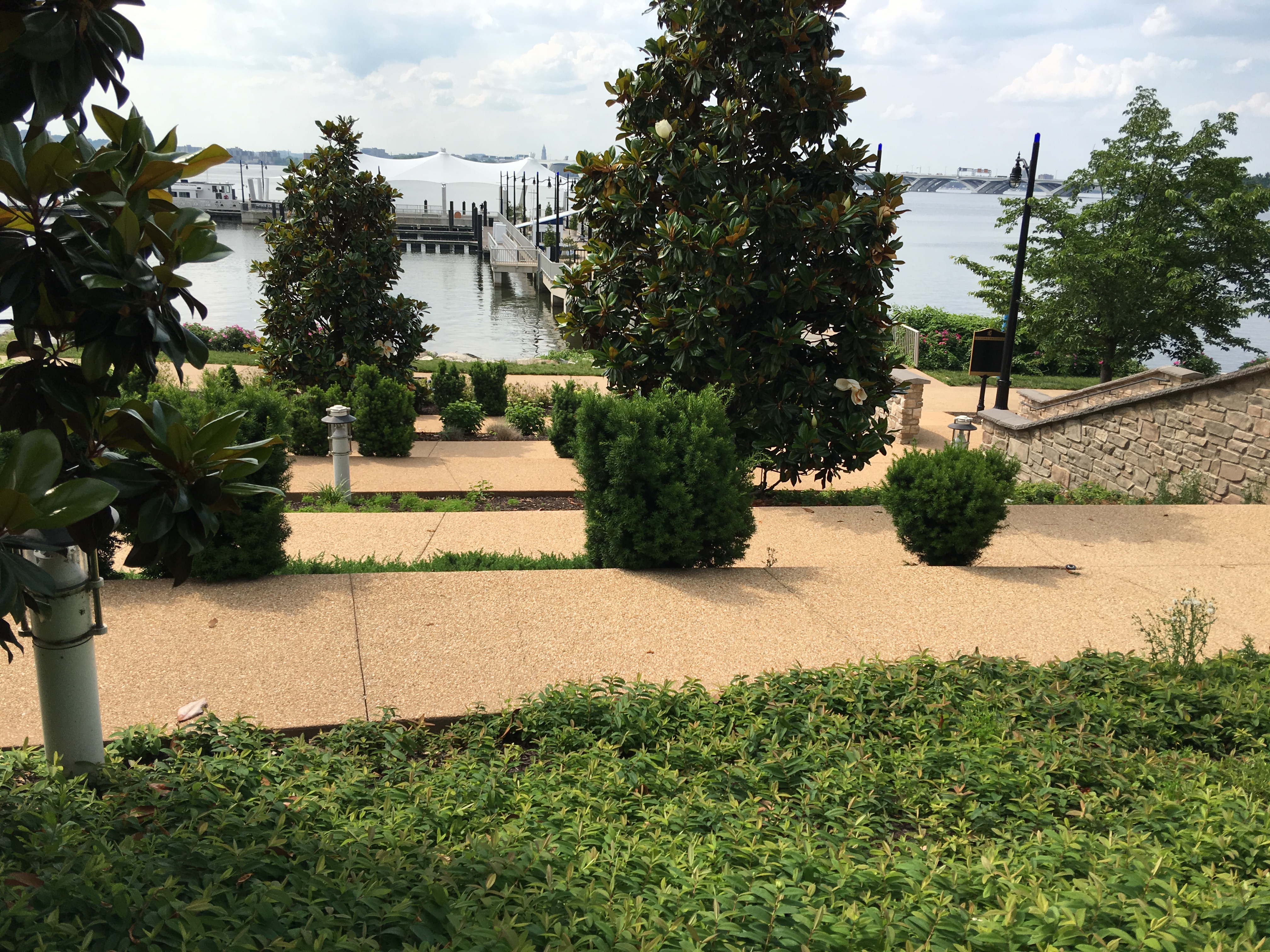 The switchback path to the waterfront
The view from the waterfront looking back up to the Center
The view of the world from this seated position is definitely different too – and how the world viewed me seemed to change as well. There's something to be said about having an eye-to-eye conversation instead of staring at someone's midsection. Unlike so many of my friends in chairs, I had the ability to park my scooter and then stand to talk with others. Even though I was already aware of this, my scooter time gave me the personal experience of how much harder communicating with others is for anyone on wheels.
I have another big conference coming soon and I have rented another scooter; I can only hope my driving skills have improved. As for those of you who regularly use wheels to get around, my own experiences give me a renewed appreciation and respect for what you do daily. You handle these obstacles with humor and grace and I hope that also carries over to me as I go another round with a scooter.
Wishing you well,
Laura
The experience was humbling...
This article represents the opinions, thoughts, and experiences of the author; none of this content has been paid for by any advertiser. The MultipleSclerosis.net team does not recommend or endorse any products or treatments discussed herein. Learn more about how we maintain editorial integrity
here
.

Community Poll
How well do people around you understand MS?