Seeing the World, Disney Style
We recently visited Walt Disney World in Florida, for a whirlwind visit with our granddaughters (and their parents) in late October. This was supposed to be an easy, leisurely visit in the park, during some of the nicest weather of the year. Instead, we had four action packed days, all in near record high temperatures for October. And guess what …. We had a great time by being smart and acknowledging I couldn't visit Disney World as most able bodied persons might do.
I hope there are useful ideas here to help you in planning your own trip if Disney World might be on your list of possibilities. Here are a few tips of how we managed:
We bought our tickets in advance, and our son and his wife wisely researched which days would be the best for each of the parks, including their hours of operation. Our visit to the four parks operated by Disney in Orlando was planned well in advance of our going through their front gate.
People who have their park admission tickets may go online 30 days in advance and reserve their spots to ride the most popular rides – this is called the Fast Pass system. Because we were going for four days, there were four different strokes of midnight when these two were waiting to get online and reserve our spots. Surprisingly for the most in demand rides, I am told they fill up quickly. This meant we did not have to stand in long lines for the most popular rides and attractions, such as Elsa's Frozen Sing-Along (yes, we did sing!), Toy Story (Happy 20th birthday, Woody!), and Thunder Mountain, to name just a few. The Fast Pass system allows you to pick three rides per day to begin with, and you are assigned a one hour window to show up and get on the ride. Not having to stand in line, in the heat, with hundreds of other people, is a big plus in my book, whether I have MS or not.
They also reserved our Fast Pass rides in a logical order, so we weren't going from one side of the park to the other and then back again. It was a route designed to reduce the number of steps we would need to take.
Disney revamped their program in guest services to accommodate people with disabilities and it can seem rather complex, but it is a very fair program and is a great change to the previous disability system at Disney that was being abused by so many without a real need for accommodations. I went to their guest services office and registered myself and the people I was with; the Disney staff member asked a few questions as to why I needed accommodations, and we were then on our way. If there was an attraction or ride in addition to our Fast Pass selections, and there was a lengthy wait, I could go to the line worker, they would scan my wrist band, and assign me a return time to use the Fast Pass lane.  I could also only request one special accommodations return at a ride at a time. The time I was given was always equal to however long the regular wait time was; if it was a 120 minute wait in line, I could come back in two hours and use the Fast Pass lane. I was waiting as long as everyone else, just not standing in line in the heat.
They also made meal reservations for us – those can also be done thirty days in advance. There's nothing more necessary in the parks than to be able to take a break, especially at one of the many restaurants that offer air conditioning and table service. You would think that would be easy to take an impromtu meal break, but almost all of the Disney World restaurants fill their reservations well in advance.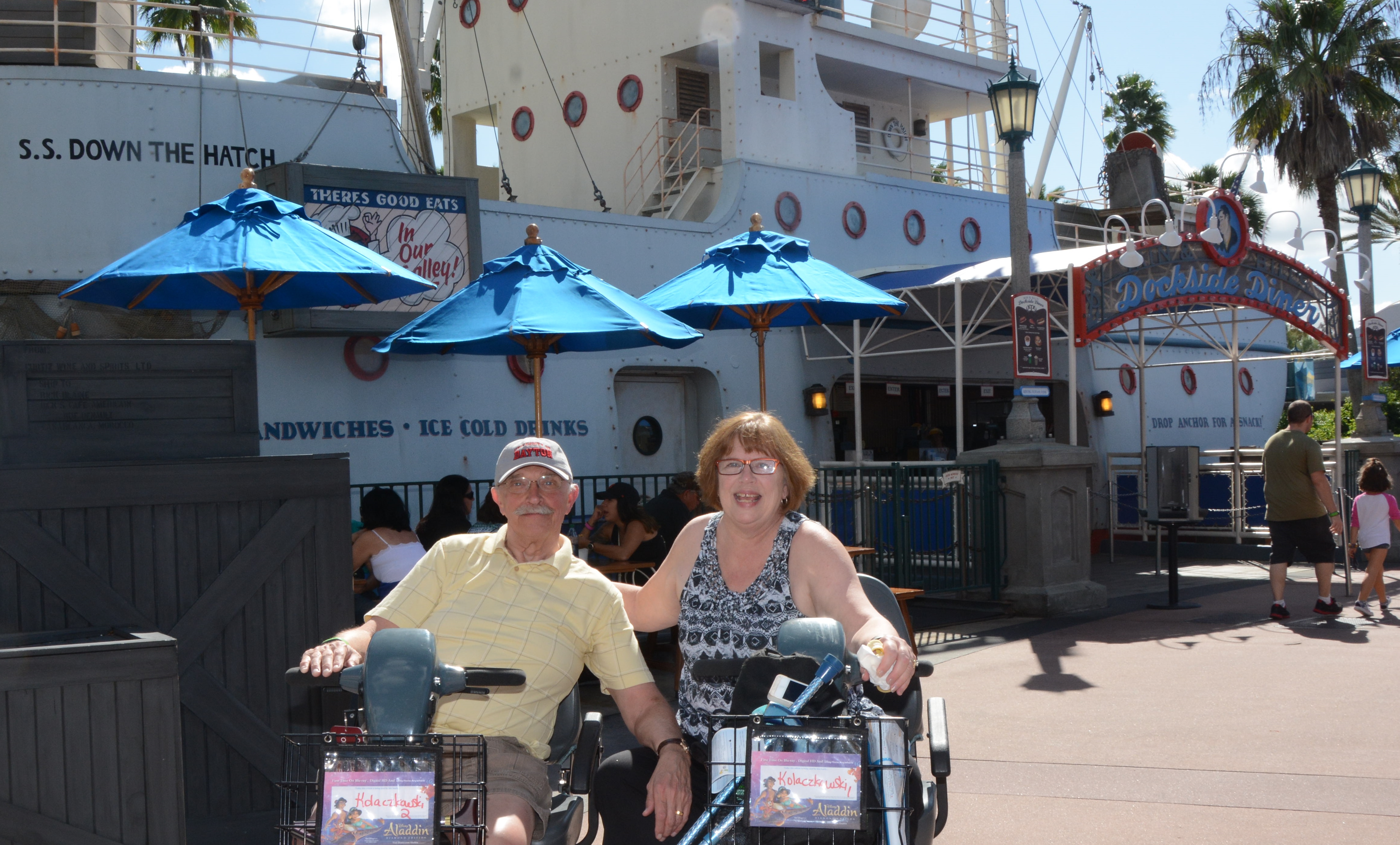 Finally, the smartest thing we did for this trip to Disney World was to rent electric scooters. I researched online and found vendors outside the park who deliver scooters to your Orlando hotel, but decided to take my chance that there would be ones available inside the park. I didn't want to mess with putting a scooter into the trunk of our rental car. I use a cane to walk and had no experience with a scooter, but found it fairly easy to use and Disney has designed everything to be scooter and wheelchair accessible. Yes, it was an added cost (especially since we rented one also for my husband who is due for a hip replacement and can't walk much without pain) but it was worth every last penny.
Despite all this planning and efforts to conserve energy for me, it was still four physically demanding days for the trip. We spent shorter days in the park and didn't push to see and do everything. I also allowed myself extra time once we returned home to take it easy. With the right resources, extra attention to planning details in advance, and being smart about how I used my energies while there, we were able to spend four memory making days with our grandchildren. I hope there are enough ideas here to help you in planning your own trip if Disney World might be on your list of magical destinations.
Wishing you well,
Laura
This article represents the opinions, thoughts, and experiences of the author; none of this content has been paid for by any advertiser. The MultipleSclerosis.net team does not recommend or endorse any products or treatments discussed herein. Learn more about how we maintain editorial integrity
here
.

Community Poll
Do you live with any comorbidities aside from MS?