That Darn Photograph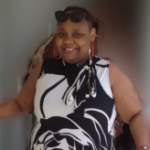 By Dianne Scott

·

July 10, 2018
Exactly how I happened upon it I'm not exactly sure, but there it was… A picture of me at work. The memories came rushing back, and I relished in them. It made me smile. I remembered the day, having my coworker wanting to take the picture that morning, the outfit, how much I enjoyed my job, how I felt when I was able to work…
I stumbled on this photograph
It kinda made me laugh
It took me way back
Back down memory lane
How I used to be
I was posed standing in my office, in front of my desk – not a single mobility assistive device present. I stood straight and tall, not holding on to or propped up on anything. I was dressed smartly in a cute just-above-the-knee dress with a blazer and knee high riding boots. Though I fondly recall those good ole days, the recollection also highlights the 'other' side I live with at this juncture. That particular outfit is not one of my 'wheelchair friendly' outfits. Chronic bilateral foot and ankle edema from being sedentary so often prevents me from wearing my footwear of choice, and no way can I stand unassisted anymore. Or work. The memories and contrast of then and now all infiltrated my mental rolodex.
Why oh why
Did I have to find this photograph
Thought I had forgot the past
But now I'm slippin' fast
Back down memory lane
I feel the happiness…
I feel the pain
Here am I…
Back down memory lane
Redirecting my thoughts
I try to regulate when I allow myself to think back, to travel down memory lane. There are times when it's ok, but definitely times it's not. Admittedly, there are times I feel a bit doleful. Remembering the pre-MS or pre-MS progression days, like that darn photograph highlighted, when life was so much easier in so many ways does nothing to bring me cheer. Never wanting to stay despondent, it's those times that I desperately try to redirect my focus to new life pleasures – because I definitely have some.
I'm in the sunshine…
I'm in the rain
I don't want to go traveling down
Faster than the speed of sound
Back down memory lane
Be still my foolish heart
Don't let this feelin' start
Back down memory lane
I don't want to go… save me, save me
Being transparent
I don't want to be mistaken for a grinch or considered forlorn. Nor do I mean to sound bitter. This is just me being transparent. My reality is that I am living with a chronic, debilitating disease and although I manage pretty well with mood, attitude and spirit, there'll be something that threatens my newly adapted comfort zone by way of a random memory of yesteryear such as a song, an article of clothing … or a darn photograph.
{Song: Memory Lane; Artist: Minnie Riperton}