MAD About MS: Tim the MS Bear
This article is part of an ongoing series about people who are Making A Difference (MAD) about MS. Visit Ashli Hopson's, Stuart Schlossman's, and Lydiaemily's interviews.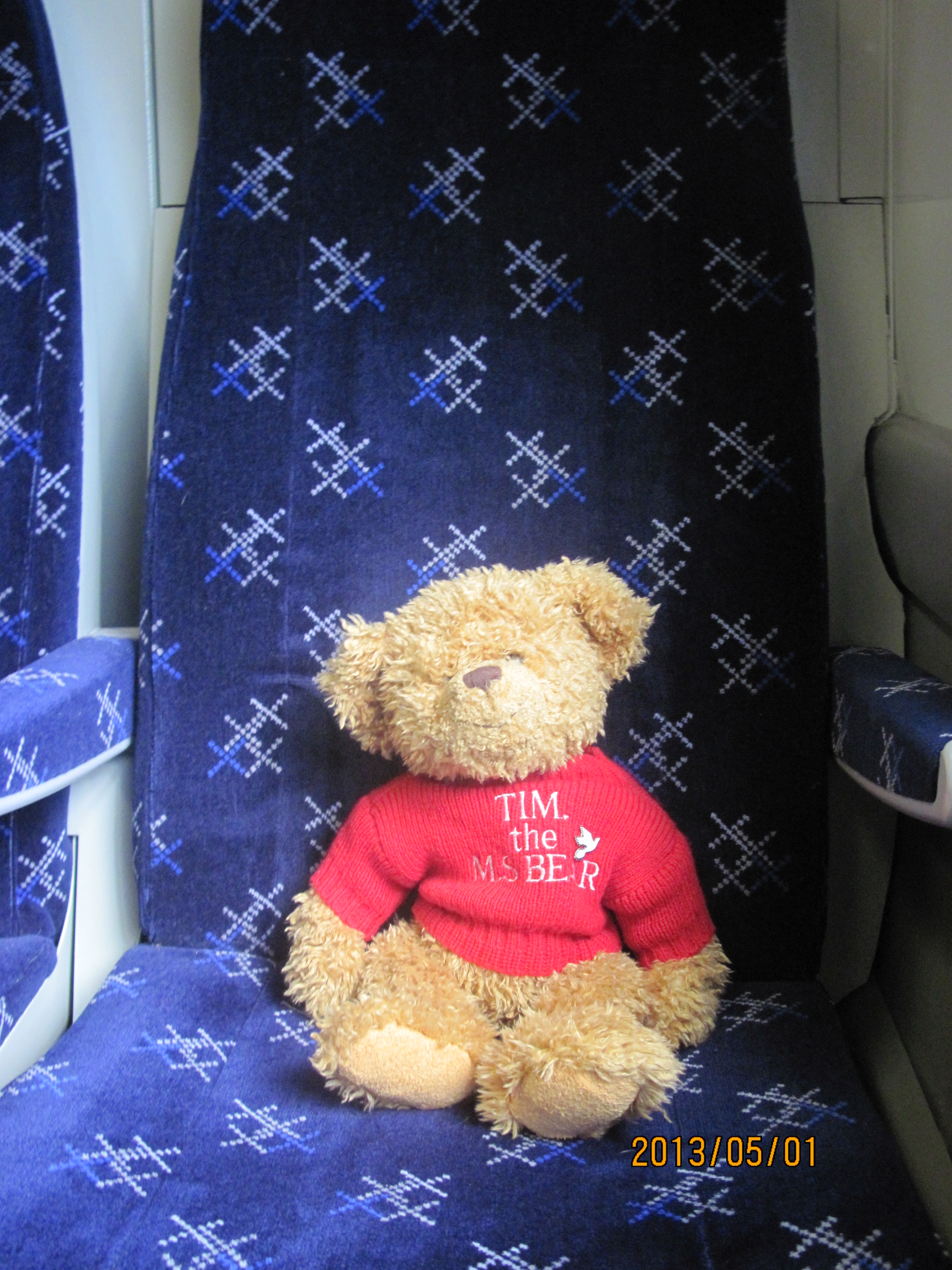 Perhaps you are one of the almost 1,800 fans of Tim the MS Bear and his FaceBook page, or maybe you are just hearing about our furry friend for the first time. Tim the Bear's page is a regular roundup of news items, blogs and other bits and pieces of MS news and words of support – he shares these items for people to learn more about MS and encourages people to ask questions about what they read. [Image: Tim on a train trip in 2013.]
With that in mind, I hunted down Tim the MS Bear for an interview about why he is MAD About MS - Making A Difference.
Laura: Tim, thanks for taking the time away from doing what bears normally do with their days, to answer our questions. Let's jump in and get started, ok? Would you tell me a bit about yourself, such as where you live, and any personal details you might share such as your age or who you might live with. Are you a solitary bear or do you have a honey somewhere?
Tim the MS Bear: I am 8 years old, however I have only been on Facebook for a few years. I live with Mum and Dad or Clive and Linda as they are known in North Lanarkshire Scotland. I have a girlfriend named Tina, who I have been with for 2 years. Last year I travelled over 1,500 miles and met a number of people including athletes taking part at the Commonwealth Games in Glasgow.
Laura: Eight is a bit young, but you do such a good job I won't tell the Facebook people you aren't old enough for an account with them quite yet. It sure sounds like you don't stay home much and you travel a lot, and seem much smarter than the average bear. But why do you do this? How did you first get involved sharing information about multiple sclerosis? We know mice can have MS, but there is no record of a bear ever having MS, so what makes you so involved and want to help people with multiple sclerosis?
Tim the MS Bear: Yes you are correct. I do not have MS but Clive, who I live with does, so that is what got me involved. Clive and Linda take me to places and because of what it says on my jumper people usually then talk to them and it then lets them do some MS awareness and a chance to teach others a bit about multiple sclerosis.
Laura: You share a lot of information about MS with the people who follow your Facebook page and the pressure to get it done and use it all must be unbearable at times – how do you decide what to share?
Tim the MS Bear: I try to share a range of different information. As you are aware MS effects everyone differently so the wider a range of information we can find to share the better.
Laura: I believe bears might have trouble typing on a keyboard with paws, so I wonder if you use special dictation software or do you have someone like a person help you type your messages?
Tim the MS Bear: I use a special computer programme called BASIC Bear but most of the time I just let Clive and Linda do the work while I watch to make sure that they do it right. Lol.
Laura: Do you ever try some of the recommendations you share about things people should do for MS, such as exercise plans or any special diets such as a vegetarian or Paleo one? Or do you just stick to the usual berries, nuts and honey for bears?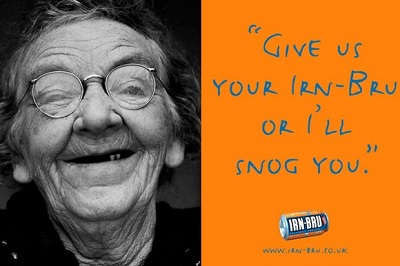 Tim the MS Bear: No, I just stick to my own diet of nuts and honey and Irn-Bru a famous Scottish soft drink that is made not far from my home. However I am aware that many people do use a range of different methods to help with their own MS and that is fine. It is important people do what is right for them. [Image: Tim's favorite beverage is Irn-Bru, but it's obviously not for everyone unless you want to be snogged.]
Laura: Bears like you are known to be cuddly and give comfort to children when they are sick or scared or have a boo-boo. Do you think adults with MS could also use a bear hug from you?
Tim the MS Bear: Yes of course I do, many people I have met have wanted a cuddle. Some of these are people with MS and even some people with out. My hugs are not like those nasty MS hugs that so many people experience because of their multiple sclerosis.
Laura: What words of encouragement would you share with people who have MS and try hard to just grin and bear it?
Tim the MS Bear: Remember that you are not alone and that many other people share your experiences and by sharing these on sites like Facebook and other social media you can support each other. After all, it is those who are living with MS that have the knowledge and experience about MS.
Laura: Is there anything else you might want to share with us?
Tim the MS Bear: I am sure that one day the cure for MS will be found. It is only a case of when the cure is found and hopefully this will be sooner rather than later.
Thank you Tim the MS Bear for taking the time to chat, but we especially thank you for being MAD About MS – you are Making A Difference.
Wishing you well,
Laura
If you know someone MAD About MS who would be a good feature for here, drop me a message.
This article represents the opinions, thoughts, and experiences of the author; none of this content has been paid for by any advertiser. The MultipleSclerosis.net team does not recommend or endorse any products or treatments discussed herein. Learn more about how we maintain editorial integrity
here
.

Community Poll
Have you ever tried acupuncture to help alleviate symptoms?