Trevis Gleason's New Book "Chef Interrupted" Is About Living Your Dreams Despite Living With Multiple Sclerosis
I was thrilled to receive the following note from Trevis Gleason, a man I've never met in person but have known for years through his stellar reputation in the MS community as an inspiring writer and advocate.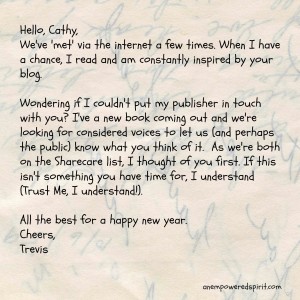 As I read his note I noticed the cadence of its language. I could almost hear Trevis speak a combination of American English with a wee bit of Irish brogue. It was endearing.
My next thought was, "Of course I want to read your book!" because thelife Trevis chose despite a diagnosis of secondary progressive MS is one that exemplifies what it means to live a quality life despite facing adversity.
Let me go back. Trevis Gleason is a former chef who was trained at The New England Culinary Institute. Settling into a directorial position with the California Culinary Academy and opening several cooking schools for the Academy, his life changed abruptly after his misdiagnosed ailments turned into a confirmed diagnosis of MS.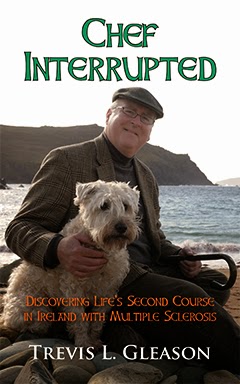 Trevis' new book, Chef Interrupted: Discovering Life's Second Course in Ireland with Multiple Sclerosis is not a book about diagnosis or coming to grips with a "new normal." Instead it's a celebration of life and the indomitability of the human spirit, illustrating that lifelong dreams can come true with a bit of gritty determination, some serious planning, a positive attitude and the ability to laugh at yourself.
And, of course, being surrounded by loved ones, including the furry kind.
His book begins five years after diagnosis, being forced from the job he was trained for, and a marriage that crumbled.
He reveals to the reader:
"If I was to enjoy any of the things I'd hoped to be doing in my far advanced years after a career, I would have to start identifying what those dreams were and create a plan to make them happen. Hope, without a plan, is just a dream."
Our journey as a reader begins alongside of Trevis from Seattle to a rented, rustic "functional" cottage in West Kerry, Ireland where he remained for the winter. Despite such obstacles as sheep-obstructed narrow roadways, an antiquated heating system, and the general difficulties of beginning a new life in a strange place, the hearty soul of Trevis remained intact.
[banner class=bnrOneToOneB]
His masterful tales are woven around the many connections he makes with the lively people of Ireland, his devoted companion, Sadie, an adorable puppy he adopts upon arrival, and the beauty of the rugged countryside that surrounds him.
Rising to the many physical challenges he inevitably faces, Trevis skillfully entertains a steady flow of loved ones who come to visit him. His skills as a master chef come in handy as he busily entertains, and he constantly whets our appetite when discussing simple local food and drink.
We are willing learners about the cultural differences Trevis embraces, and we feel his joy as he immerses himself in his newest homeland.
When Trevis described some of the people he met I was reminded of characters portrayed in John Ford movies. Flavorful characters that Barry Fitzgerald or Maureen O'Hara might have played.
Colorful, lively and always fascinating.
Trevis weaves magic with his poetic style of storytelling allowing us to, at times, forget that he's living with Multiple Sclerosis, the disease that catapulted him to visit his family's roots so far away. His story touched my heart, and I know it will touch yours.
This is not a story about disability but one about finding your joy no matter what life has to offer.
If you've ever had a dream you'll want to take a look at Chef Interrupted. It'll keep hope in your heart and help you believe that anything is possible.
Chef Interrupted: Discovering Life's Second Course in Ireland with Multiple Sclerosiswill be released on Amazon on March 1, 2015, but is available for pre-order by clicking here today.
This article represents the opinions, thoughts, and experiences of the author; none of this content has been paid for by any advertiser. The MultipleSclerosis.net team does not recommend or endorse any products or treatments discussed herein. Learn more about how we maintain editorial integrity
here
.

Community Poll
For trips, which means of travel do you prefer and why?