Wellness in MS - Latest Issue of The Motivator Now Available from MSAA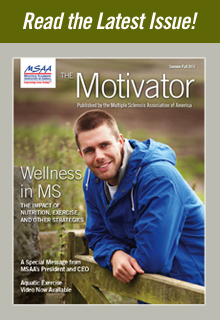 MSAA's award-winning magazine, The Motivator, features an updated design, with print and digital versions available. Distributed twice per year, this publication addresses the physical, emotional, and social issues that arise with MS, and provides information and support to many individuals affected by MS.
The latest issue of The Motivator is now available to order, download, or read the DIGITAL EDITION right on your desktop, tablet, or phone!
Included in this issue of The Motivator:
Cover Story:
Wellness in MS: The Impact of Nutrition, Exercise, and Other Strategies
…How good food choices, exercise, correct posture, and other lifestyle changes can have a positive influence on your overall health.
Research News:
…Updates on recent news items occurring since the last issue of The Motivator are featured including PML risk and updates on new therapies.
Up Front:
…MSAA's president and CEO gives a special message to readers, reflecting on his 16 years of service to MSAA.
Program Notes:
…MSAA's new DVD, Introduction to MS Aquatic Fitness, plus MSAA's online My Health Insurance Guide are highlighted.
Read the latest issue of The Motivator magazine and sign up for email updates from MSAA to receive email updates from MSAA!

Also be sure to check out MSAA's own MS Conversations blog. Throughout the month of October, aligned with the release of the latest edition of The Motivator, MSAA Client Services staff and guest bloggers have highlighted the impact that a wellness strategy can have on an individual with MS, discussing topics such as diet and exercised, mental health, and social wellness.
This article represents the opinions, thoughts, and experiences of the author; none of this content has been paid for by any advertiser. The MultipleSclerosis.net team does not recommend or endorse any products or treatments discussed herein. Learn more about how we maintain editorial integrity
here
.

Community Poll
I have the hardest time with my MS during the following season: