What Happens When We Stop DMTs?
Last updated: November 2021
We've talked about this before – the idea that perhaps the disease modifying treatment (DMT) I'm taking is no longer packing a punch and it is not doing much of anything for my MS. Even though it feels like I am progressing physically, my MRI is stable with no new lesions. It has been a while since I have had a relapse… I pause and often wonder if that is because of the DMT I take or is it truly because my MS has slowed? That could be the million dollar question, literally, because of the costs of my treatments.
I am constantly questioning myself whether my DMT is effective and how would I ever know unless I tried to stop for a while. Would the risk be worth it? I also weigh the cost of treatment – I just saw the latest billing statement to my insurance company and they are now being charged over $20,000 a month for my infusion. Yes, I know they don't actually pay that much but it is still a staggering number to consider. Am I worth all of that use of medical care dollars for a treatment that may not be working for me?
So little is known about this subject because it has not been looked at in depth; the closer look has been missing, especially for that time period as we age and when we might be slipping from Relapsing Remitting status to Secondary Progressive MS. We all know about that elusive spot on the charts that the majority of us are supposedly destined for, and I can't help but wonder if it would be safe to stop treatment then.
At the European Committee for Treatment and Research in MS (ECTRIMS) 2015 annual meeting, this discussion was brought into the public eye through research presented by Dr. Ilya Kister, New York University School of Medicine. His study is titled "Are stable MS patients who stop their disease-modifying therapy (DMT) at increased risk for relapses and disability progression compared to patients who continue on DMTs?"1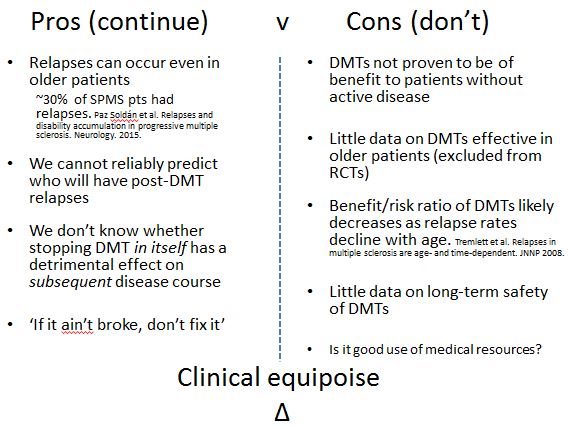 This study looked at the records of people who are on the therapies known as the first-line DMTs (interferons and Copaxone), and who continue to be stable over long periods of time. They did not include people who were being treated on other DMTs such as the newer oral drugs or Tysabri.
Dr. Kister kindly gave me permission to share the PowerPoint slides used in his presentation to better explain the results with you. The first slide I want to share is the one where he weight the pros and cons of being on a DMT if you are stable and without a relapse for a long period of time. This is particularly of interest to me because these are the same points I go over and over in my head -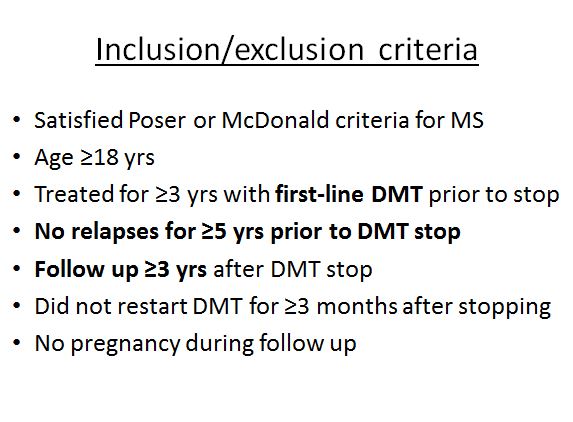 In their study, there were two groups – the researchers called them the stayers and the stoppers. The stayers were people who continued on their DMTs even though they had been stable for a long period of time. The stoppers were the people who decided to discontinue DMTs for a variety of reasons. All of these patients and their self-reported data were found through the International MS patient registry and matched according to a specific research criteria. This is the criteria that was used for inclusion/exclusion in the study -
As you see, this was a group of people who had been followed for a long period of time and had been off their DMT for an additional length of time (at least three years).
So what did they find in this study? There was no significant difference in relapse rates between stoppers and stayers and that to me was great news. If there is no difference, I might feel a bit more confident in becoming a stopper.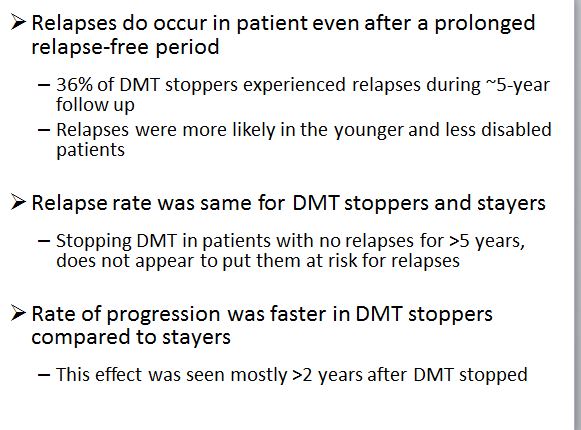 BUT WAIT... We can't forget that relapses and disability progression are often not the same and the bad news is the stoppers had greater disability progression than the stayers. The rate of disability progression was higher in the stoppers group - meaning we might not have a relapse after going off our DMT but there's a better chance our disability will get worse.
For those of us who like to see the hard proof in the numbers, this is what Dr. Kister and the group found for the stoppers: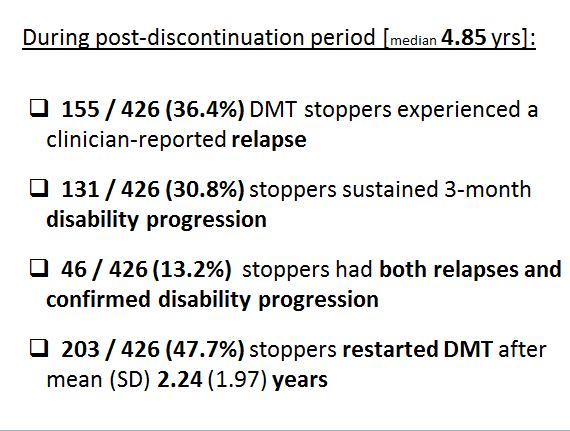 This look at the risks of stopping DMTs gives other researchers questions to consider and a new study has just been funded by PCORI, the Patient Centered Outcomes Research Institute, to take a direct look at discontinuing DMTs.2 This will be a randomized trial and if you see a site near you and are interested in helping with the research, I encourage you to get in touch with their MS center for more details.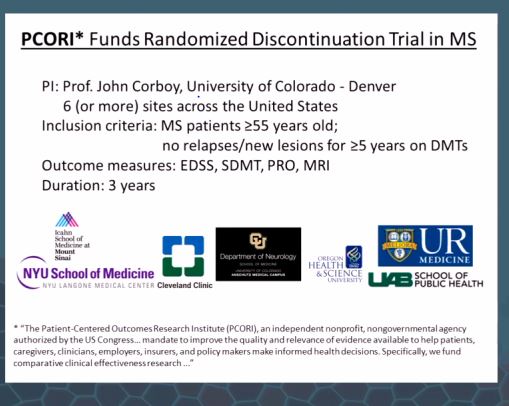 Even though it will be several years before this PCORI funded study is completed, at least the question of stopping DMTs is being looked at further in a critical way. It is a question that many of us have asked and we may finally have answers to make our own informed decision. In the meantime, the evidence compiled by Dr. Kister shows me I may be better off staying with my DMT a while longer.
Wishing you well,
Laura
This article represents the opinions, thoughts, and experiences of the author; none of this content has been paid for by any advertiser. The MultipleSclerosis.net team does not recommend or endorse any products or treatments discussed herein. Learn more about how we maintain editorial integrity
here
.

Community Poll
Do you want a chance to win an illustration of your personal story?