World MS Day: What's One Thing You Wish People Knew About MS?
Last updated: July 2019
May 30, 2019, marks World MS Day, an opportunity for the global community to come together, share stories, and increase awareness about what living with MS is really like. In order to better capture the intricacies of living with MS, this year we asked our advocates what's the one thing they wish people knew about MS. Their honest, heartfelt responses reveal the depths of daily life with MS. Keep reading to see what they had to say.
World MS Day Magnet Giveaway - Now Closed
We are also doing a GIVEAWAY! We are giving away this magnet below with custom artwork from our very own advocate Brooke. This magnet was inspired by her invisible illness comic that you all loved so much, we decided to make it into a magnet! Scroll down to the bottom of the page for entry details.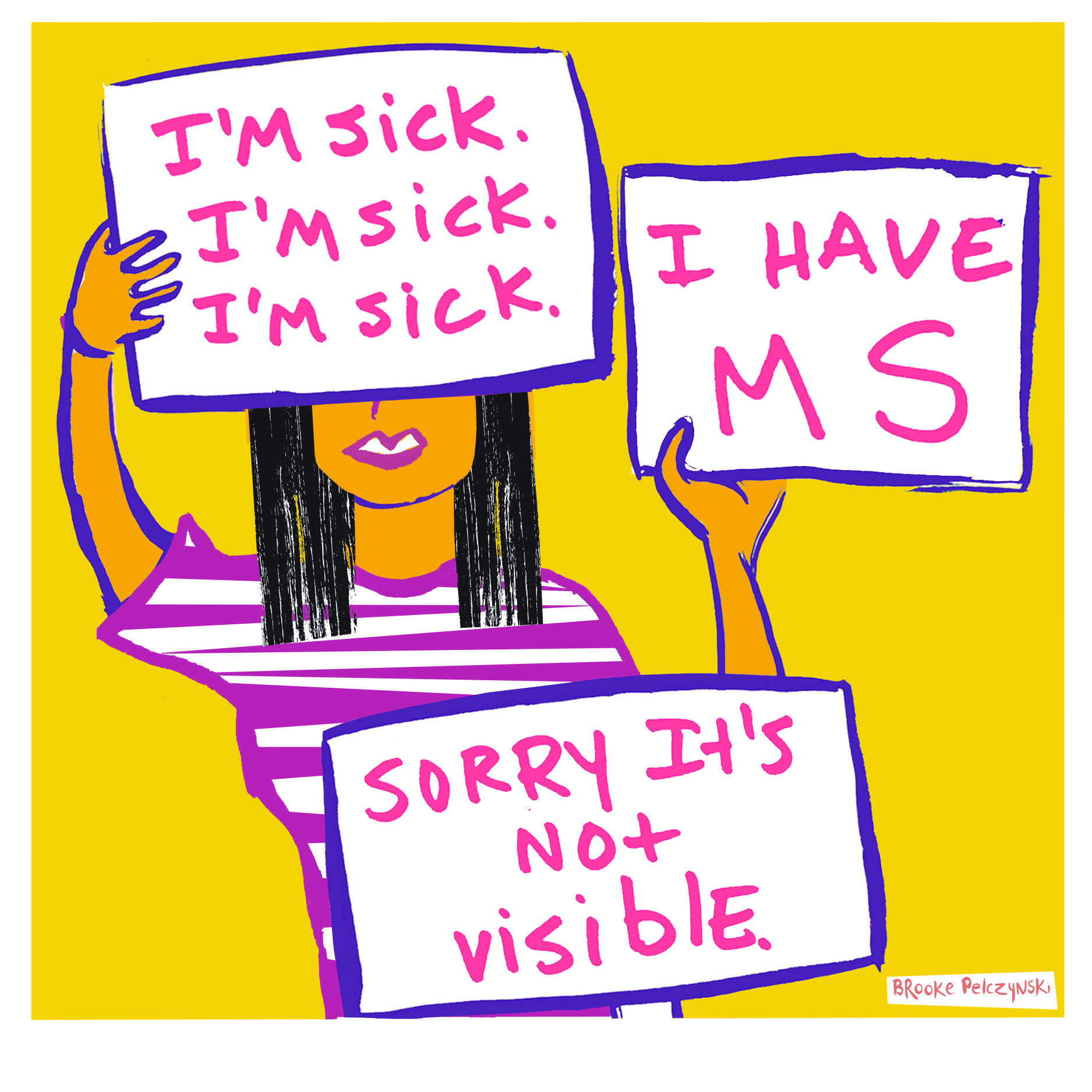 What's one thing you wish people knew about MS?
We asked our advocates, "What's one thing you wish people knew about MS?" Here's what they had to say:
The invisible nature of MS
Most MS symptoms are invisible to others, so please keep an open mind.
I wish people knew what was behind my smile, that they knew how hard I work to look this normal. It takes a tremendous amount of work to hide the struggles that are underneath.
Everyone's MS battle is different, but nobody's is easy. There will be many periods of peaks and valleys with this disease & some days your biggest accomplishment might be an emotional, spiritual or mental triumph that only you can feel, not a physical one that can be seen.
Symptoms are chronic, debilitating, and so much more intense than others understand
I wish people understood that my fatigue is not the same as when they are tired. It's not even close.
I wish people understood that I'm not actually angry, I'm just in pain. Living with pain is hard, it's something that affects every part of my life.
I didn't do anything wrong
I wish people knew that we don't have MS because of some bad habit or poor lifestyle choice.
It's more than just a disease
MS, it's not just a disease, it's an industry! As pharmaceutical companies reap billions in profits on MS treatments, MS patients shouldn't stand for the status quo - it's time to DEMAND that research dollars be focused on finding a cure, not simply more treatments!
It's different for everyone
That multiple sclerosis affects everyone differently and may affect the same person in different ways throughout the course of their journey. Living with MS means facing a world of unpredictable challenges daily and learning to live life one day at a time.
I wish people knew that everyone with MS deals with their own difficult symptoms. Each person with MS may look different, but in the end we all have one common goal–a world free of MS.
An MS diagnosis isn't a death sentence
Even though it might feel like it, an MS diagnosis isn't actually the end of the world. It's the start of the rest of your life and if you can avoid looking back and playing the "if only" game, it might make you a better, more contented person (it certainly did for me).
No matter how alone you feel, there are millions of us with MS who understand. Seek out your own MS tribe and don't try to do this solo – we really are stronger together. #WeHaveMS
One thing that I wish people knew about MS is that though it is, or can be, the thief of functionality, it can also gift the wonderful art of finding appreciation in life in spite of such an affliction - if you let it.
The reality is: you are stronger than your MS. Don't give the disease more credit than it deserves. We are proof positive that your life can flourish even after your diagnosis.
I wish people knew that MS isn't a death sentence - but it is a life sentence. Emphasis on LIFE! There's a lot of it to be lived after diagnosis.
World MS Day Magnet Giveaway
We are SO excited to be giving away the custom magnet at the top of the page designed by our advocate and artist Brooke. Check out the comic that inspired this piece, and enter to win below.
The giveaway will be held for one day only on May 30, 2019, from 12:00 am to 11:59 pm eastern time. Twenty (20) winners will be randomly selected to win and notified via email. The winners have 48 hours to claim their prize before an alternate winner is selected. Please read our terms and conditions here. Best of luck to all entrants!!
Enter to win
For a chance to win our World MS Day Magnet Giveaway:
Scroll down to the email submission box, enter your email address, and click or tap the Subscribe button. It's that easy!
For one BONUS entry, share in the comments below what's one thing you wish people knew about MS?
This giveaway is now closed. Thanks for entering!
This article represents the opinions, thoughts, and experiences of the author; none of this content has been paid for by any advertiser. The MultipleSclerosis.net team does not recommend or endorse any products or treatments discussed herein. Learn more about how we maintain editorial integrity
here
.

Community Poll
Does anyone experience worsening symptoms with cooler or cold weather more so than warm or hot weather?