You Think We're Alone?
It's easy to be cynical and think the worst about making progress in understanding MS, making our lives better while we live with this disease, and finding a cure. I just spent several days at the 30thAnnual Consortium for MS Centers meeting, and have a renewed appreciation of all that is being done for me and everyone else affected by multiple sclerosis.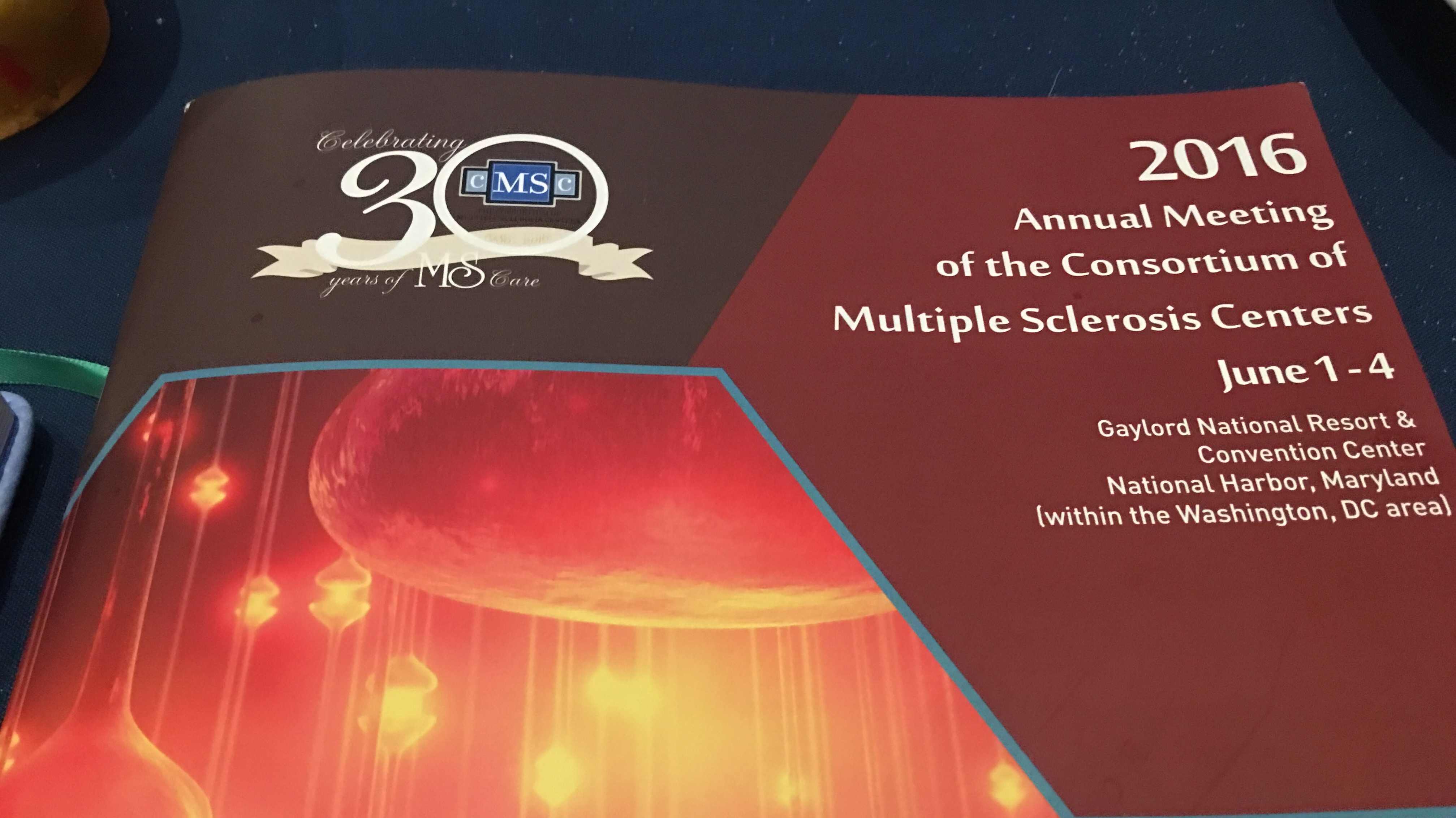 This meeting is not particularly about research (that happens at other MS conferences), but education for the clinicians who treat us… which includes a wide range of specialists beyond neurologists. Present were MS nurses, physical, occupational and speech therapists, psychiatrists, and more. It is also an opportunity for the MS advocacy organizations to gather and coordinate their efforts and network with each other. The pharmaceutical industry is also well represented and there is extensive press coverage of this meeting.
Healthcare providers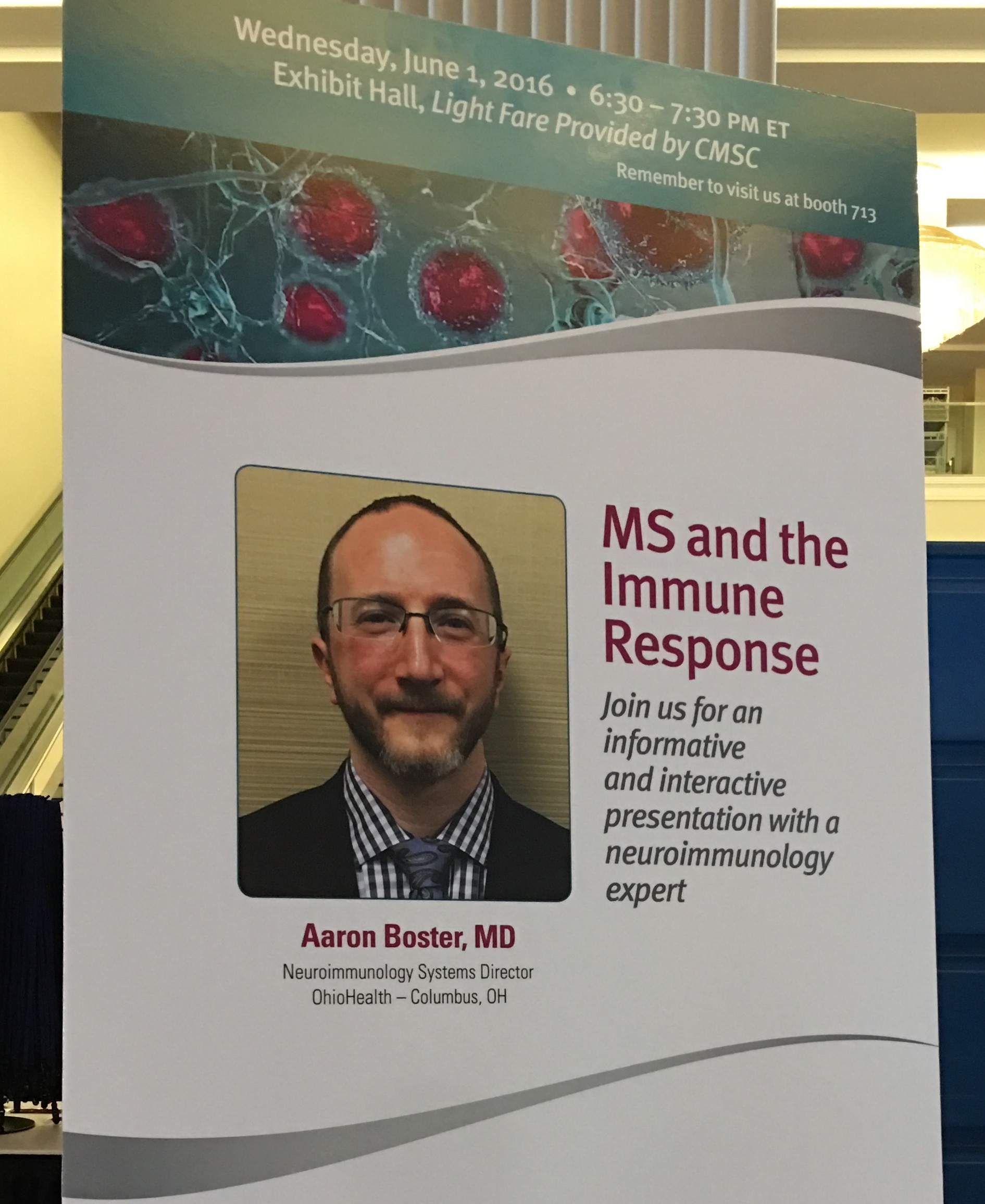 Aaron Boster, MD. and my own neurologist
MS is personal and when I returned home I thought more about what I had just experienced. Over 2,000 health care professionals attended this meeting to learn more about how to take care of me and you. The meetings began at 7 am and ran 12 hours and more, filling the days. The presentation rooms at 7 am were full – everyone was there to learn better ways to treat people with MS. None of us had to be there – we all chose to learn more. It gives me a renewed appreciated for the dedication my MS team and everyone else who cares for us puts forward.
I heard a number of speakers including my own neurologist, all of whom actually have experience treating people with MS in their own practices, voice aloud the frustrations that we all express –What is the treatment that halts MS? What do we know about the escalating cost of MS treatment? How do we help people affected with MS remain independent? The program was full of sessions that speak to these questions and much more. It's reassuring to me to know that our concerns are the same – these people understand our needs and are collaborating on ways to answer these questions.
There was also a poster session with an opportunity to share updates on any research the person may be conducting and it was an honor to include our poster on iConquerMS™ alongside so many other inspiring projects.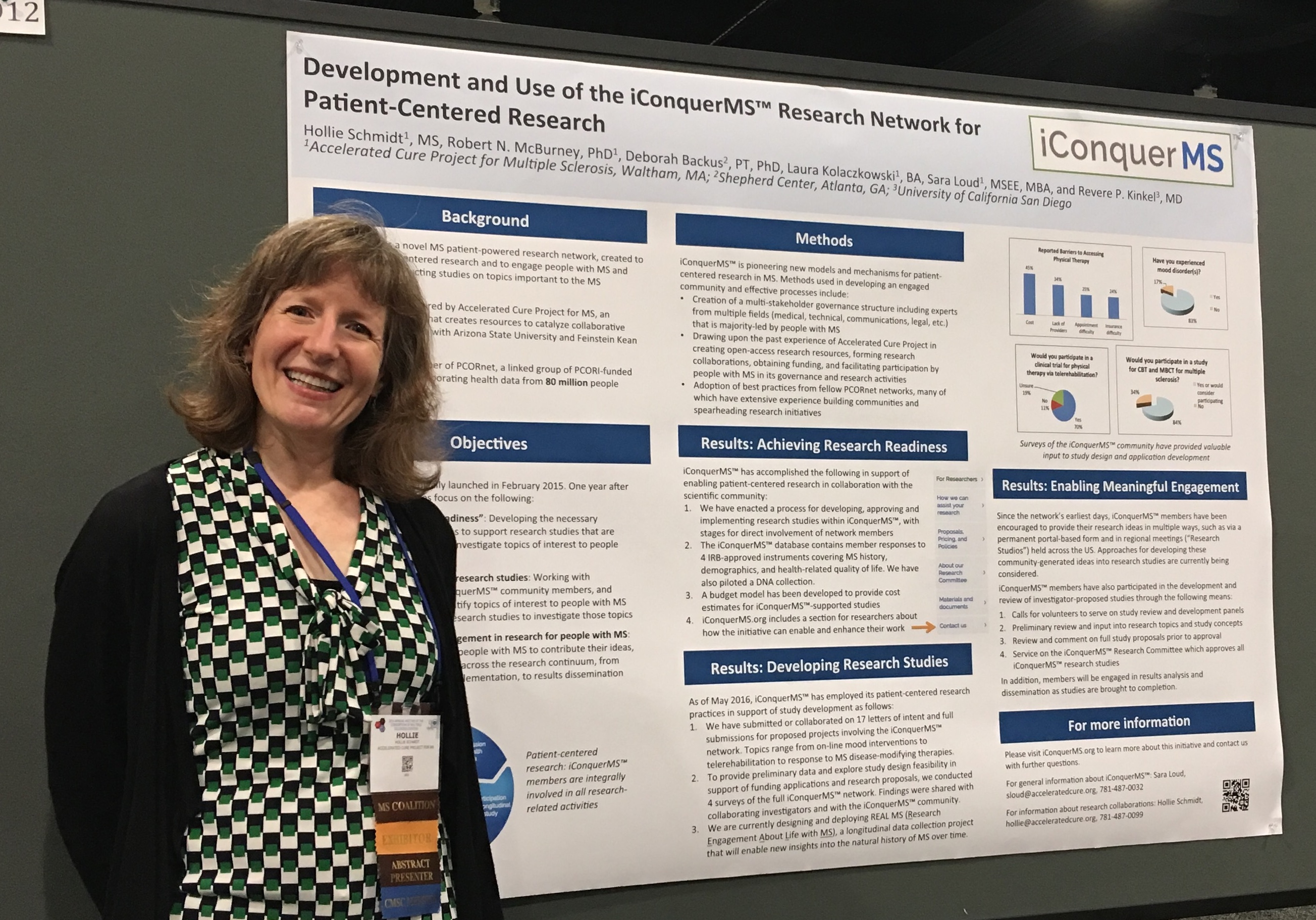 Hollie Schmidt, MS, co-investigator for iConquerMS
Advocacy Organizations
The MS Coalition is a little known organization, which should have greater visibility. Their membership list is lengthy, but includes advocacy organizations such as Multiple Sclerosis Association of America and the Accelerated Cure Project. MS Coalition members are the people who work in non-profit organizations that we have come to expect much from in representing our interests and providing services that would otherwise be out of our reach.
"The primary objectives of the MSC are to educate, advocate, collaborate, and improve the efficiency of services for individuals with MS and those who are close to them. With so much on the horizon in terms of MS research, treatments, advocacy, and symptom management, the MSC provides critical momentum to work together to enhance these exciting MS initiatives and to ensure this collective support continues."
It was inspiring to sit at dinner and hear presentations from each of the MS Coaltion members on their present and future plans. From the smallest group to the largest, they have our interests at heart and are dedicated to making our lives better.
Industry and others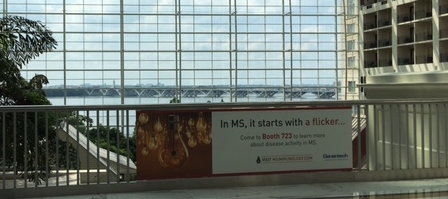 One of the many exhibit hall promotions
The CMSC exhibit hall is like those found at every trade show, and there were representatives from all of the MS drug manufacturers present. Each and every pharmaceutical rep I spoke with was respectful of my questions and my interest in their products. If there were one negative to the meeting, it would be the amount of money spent in exhibits for the drug companies, but their registration fees subsidize the lowered costs for other groups such as Accelerated Cure Project and iConquerMS™ to have a presence and opportunity to share our message.
There were many other noteworthy organizations present in the exhibit hall as well, and I am especially moved by the ones founded by people living with MS. MS Views and News, started by Stuart Schlossman, was there as they always cover these conferences. New to me but not to the MS world is the MS Cure Fund, a non-profit started by Susan Strachan, that offers unbranded programs that can be presented by experts across the country.  The CMSC meeting allows all of these nonprofit groups the opportunity to make themselves known to health care providers as another resource in the community.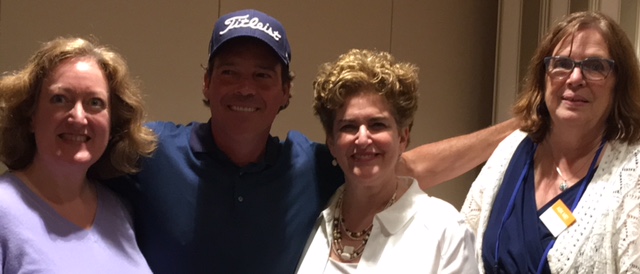 Writers Lisa Emrich, Cathy Chester and Laura Kolaczkowski, with country artist & fellow MS patient Clay Walker
Press Coverage
The press covers a wide range of publications, and the commercial ones were present with their large staffs and resources – multiple sclerosis is an important topic in healthcare news. Beyond what is the usual press though, is the group of people which I proudly associate myself with – patient experts who write about multiple sclerosis from our perspective. The MS experts from MultipleSclerosis.net were well represented by Stephanie Buxhoeveden, Cathy Chester and Lisa Emrich and myself, and much of what we heard and experienced will end up here and on the other sites we write for. There is a strong bond between us because of the desire to find out more for you and share that information through our writings.
Together We're Better
MS is known to be an isolating disease – so many people feel like they are in this alone. My experiences at CMSC remind me otherwise and I want you to know we are not a forgotten group. From the health care providers, industry, non-profit organizations and all of us who write about MS, there is a dedication to making life better for everyone affected by multiple sclerosis. I thought you should know from what I experienced at CMSC 2016 – we are definitely not in this alone.
Wishing you well,
Laura
This article represents the opinions, thoughts, and experiences of the author; none of this content has been paid for by any advertiser. The MultipleSclerosis.net team does not recommend or endorse any products or treatments discussed herein. Learn more about how we maintain editorial integrity
here
.

Community Poll
Do you live with any comorbidities aside from MS?