2018 MS Research Update and More from MSAA
The Multiple Sclerosis Association of America released several new publications this spring, including the latest edition of the MS Research Update!
Each year, the MS Research Update provides a comprehensive overview of the study results on many of the approved and experimental disease-modifying therapies for multiple sclerosis. In addition to medications, the update also highlights new directions in research – including vitamins and electrolytes, stem cells, biomarkers, genetic studies, gut microbiota, and diet.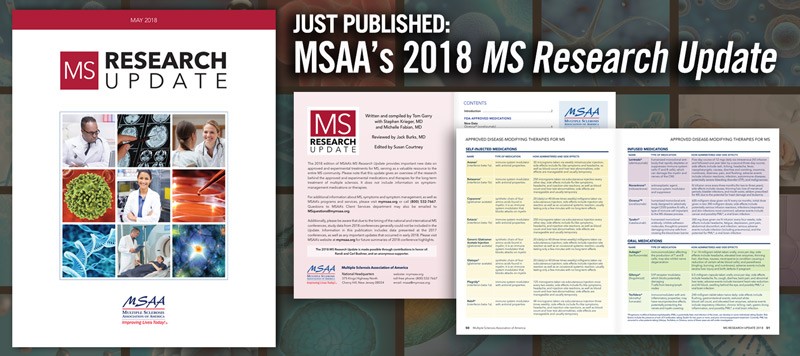 This edition of the MS Research Update offers data available as of early 2018, including late-breaking news from the FDA on certain medications. It also features a helpful chart of the approved disease-modifying therapies – providing a quick and easy way to compare details on administration, dose and side effects. (Please note: due to the timing of the national and international MS conferences, study data from 2018 conferences generally could not be included in this MS Research Update.)
The results and trials presented in this year's update showcase the exciting advances happening in the world of MS research. We hope that this update serves as a valuable and easy-to-understand resource for you and your family to help navigate new MS information.
The MS Research Update can be viewed in three different formats – to read, download, or order your copy, please visit https://mymsaa.org/publications/msresearch-update-2018.
Other new publications
In addition to the publication of the MS Research Update, MSAA's Winter/Spring edition of The Motivator is also available! Featuring the cover story, "Finding Direction When Newly Diagnosed," this article provides helpful information for people new to the MS community, as well as for those who are not newly diagnosed.
We have also released the second edition of our popular booklet, About MS, which provides an introduction to the development and treatment of MS, along with useful information that touches on many aspects of the disease, including the history, types, and potential causes of MS; details on MS symptoms and symptom management; and helpful wellness tips.
Stay tuned for more MSAA publications to be released soon, including a summary of the recent American Academy of Neurology (AAN) and Consortium of MS Centers (CMSC) conferences, as well as a booklet on employment and MS.
Learn more about other MSAA publications - visit mymsaa.org/publications
This article represents the opinions, thoughts, and experiences of the author; none of this content has been paid for by any advertiser. The MultipleSclerosis.net team does not recommend or endorse any products or treatments discussed herein. Learn more about how we maintain editorial integrity
here
.

Community Poll
How well do people around you understand MS?