2021 MSAA Art Showcase – Calling All Artists
Each year, the Multiple Sclerosis Association of America celebrates the work of artists affected by MS with the annual MSAA Art Showcase. MSAA is now accepting submissions for the 2021 Showcase through December 14, 2020.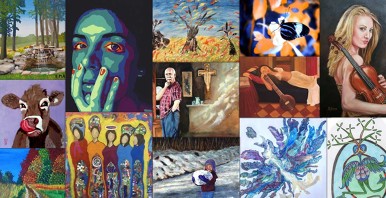 Submit your best work!
Participants are able to submit up to three (3) pieces of artwork for this year's Showcase. Eligible submissions include paintings, drawings, digital artwork, and photography. Please note that sculpture, pottery, fabric, and other types of three-dimensional artwork cannot be accepted.
Eligibility to participate:
To enter, you must have a diagnosis of multiple sclerosis and provide a copy of a doctor's verification of your diagnosis.
Participants must be 18 years of age or older as of the date of entry and must be a legal resident of the United States.
All entrants must submit a signed Release Form.
Please be sure to read through all of the Showcase rules and the release form on MSAA's website before submitting your work.
Eligible submissions will be featured on MSAA's website beginning in March 2021 in recognition of MS Awareness Month. Each month, we will highlight one artist and his or her work. You can view submissions from any previous Art Showcase, by visiting our online gallery.
This article represents the opinions, thoughts, and experiences of the author; none of this content has been paid for by any advertiser. The MultipleSclerosis.net team does not recommend or endorse any products or treatments discussed herein. Learn more about how we maintain editorial integrity
here
.

Community Poll
For trips, which means of travel do you prefer and why?