Armchair Activism: World MS Day  
How often do you wish you could do more to help raise awareness about Multiple Sclerosis and be an MS Activist but believe you don't have the time, energy or resources?  This is a simple  opportunity and I hope you will join me in some armchair activism  for  World MS Day that you can do from the comfort of your home at your computer. It's coming soon – May 28 – and is the perfect time to highlight this day and the needs of our MS community worldwide.
The Multiple Sclerosis International Federation (MSIF), the coordinator of World MS Day, and all of the MS societies around the globe, including our own NMSS,  participate and support this event. This year's theme for World MS Day is ACCESS and the ongoing efforts to get The Convention on the Rights of Persons with Disabilities ("Disabilities Treaty") ratified worldwide. World MS Day is using the tagline 'one day' as the wish for the Disabilities Treaty.
The Disabilities Treaty covers many of the basic things we Americans take for granted, thanks to the US leading the way with adopting the Americans with Disabilities Act (ADA) in 1990. At its core is recognizing that people with disabilities should be included in society and not shunned through discrimination and lack of access. We often take for granted that there are accessible public restrooms, accessible transportation, accessible buildings with ramps and handrails, accessible public sidewalks with curb cut outs everywhere in the world, but reality isn't that way. We also might think that people with disabilities have the opportunity to work and support themselves without discrimination and again we would be wrong.
Even though the United States is a leader in the world with the ADA, our own Congress has not yet ratified the Disabilities Treaty. Stop and think about that for a moment – our government can't get a consensus vote to say that all of us worldwide should be afforded the basic human rights because of our MS, even though it has the support of former presidents, statesmen and American businesses. The treaty was initiated and signed by President George W. Bush and has been waiting for approval. The disability treaty is NOT just about Multiple Sclerosis – it is about every disability and basic human rights. It changes no American laws, but urges other countries to adopt standards similar to the ADA. The last time this treaty appeared for a vote, there were 38 Senators who voted against it, causing it to miss the necessary number of votes by a count of five. Sadly a Senator from my home state of Ohio is among that list.
[caption id="attachment_4300" align="alignnone" width="516"]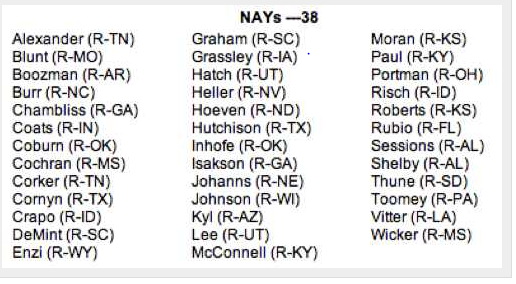 The 38 Senators who voted against the Disabilities Treaty[/caption]
The US State Department says  the Disabilities Treaty will:
Open the world for the millions of disabled Americans wanting to serve, study, work, and travel abroad
Promote American businesses, and
Reinforce American leadership on disabilities rights
For World MS Day, the MSIF asks that we stop and think about what access means to us, and to also speak up for the worldwide MS community by supporting the Disabilities Treaty. As part of this effort, the National Multiple Sclerosis Society (NMSS) has a letter writing/phone calling/social media campaign to push for passage of this treaty here in the US and I invite you to join the effort.
Want to talk with your Senator about support? You can call the Capital switchboard at (202) 224-3121 to be connected to your Senator. Don't be put off if you have to speak with a member of their staff- they will take notes and relay your comments to the Senator.
Do you have a Twitter account or use hashtags in other social media? Include #Access, #WorldMSDay and #DisabilitiesTreaty in your tweets leading up to May 28. You can tweet to most senators and don't forget to give shout-outs to those senators who have already endorsed the Disabilities Treaty. I know I will be sending these two messages-
@SherrodBrown thanks for endorsing #DisabilitiesTreaty - #Access is a basic human right. #WorldMSDay @lkay54  #NMSS @MS_HealthUnion
and
@SenatorPortman we need your endorsement of #DisabilitiesTreaty - #Access should be a #HumanRight & bipartisan policy #WorldMSDay  @lkay54  @MS_HealthUnion
You can write a letter to the editor of your newspaper asking for their readers to also support the Disabilities Treaty and recognize World MS Day.  The more voices we have saying the US should endorse the treaty, the more likely it is we can get the Senate moving in the right direction.  Use GOOGLE to search for the format and how you can send your letter to the editor of your paper – most of them will take an electronic submission and you don't even have to use a stamp to get your message out.
Here is the text I used in my letters and you are welcome to copy it directly and submit it to your own newspapers if you don't want to write your own thoughts or are short on time-  you would want to send a letter today so it is in the editor's files in plenty of time to be published around May 28.
World MS Day is May 28th, and honors the 2.3 million people worldwide, and their families, who live with this chronic disease. Organized by The Multiple Sclerosis International Federation, World MS Day highlights the issue of access and The Convention on the Rights of Persons with Disabilities ("Disabilities Treaty").
MS symptoms are unpredictable, vary widely and commonly include overwhelming fatigue, visual disturbances, altered sensation and difficulties with mobility.  There is no known cure for MS. For people with mobility concerns, access can include walking on an even street with a well-placed curb cut, transportation to the grocery or doctor, or being able to get out of their own home through modifications, such as a ramp.
Americans have been fortunate to receive protections of these rights through The Americans with Disabilities Act; this is not the case in all countries.  The Disabilities Treaty is meant to protect the rights and dignity of persons with disabilities and promotes access, inclusion and non-discrimination as a human right; it has been passed by 130 countries, but not the United States.
World MS Day's tag line is "One Day," and passing the Disability Treaty is the first step toward making global access a reality. Join us in making "One Day" today and contact your U.S. Senators and urge them to join the bipartisan ranks and ratify this treaty which addresses not just MS but all people with disabilities, including veterans.
Please let  us know if you send a letter, tweet or phone call by completing our quick survey or adding a comment here on your own MS Activism.  I hope you join me and the other MS Activists around the world and share the mission of World MS Day.
Wishing you well,
Laura

Community Poll
How are you advocating for MS? Select all that you are doing for World MS Day
This article represents the opinions, thoughts, and experiences of the author; none of this content has been paid for by any advertiser. The MultipleSclerosis.net team does not recommend or endorse any products or treatments discussed herein. Learn more about how we maintain editorial integrity
here
.

Community Poll
Have you ever heard someone say the following: