Health Disparities in the MS Community – A Webinar Series from MSAA
The Multiple Sclerosis Association of America (MSAA) invites you to join us for the latest webinar in our Health Disparities in the MS Community series.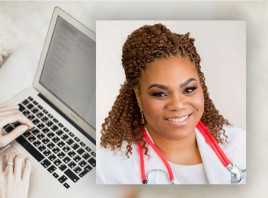 Featuring MS expert neurologist Mitzi Joi Williams, MD (above), "The African American Experience & Multiple Sclerosis" will be live on Tuesday, June 30, 2020 from 8:00 PM – 9:00 PM EST. This webinar will provide the latest news and research in MS related to the African American patient population, as well as information on emerging therapies, and strategies for MS symptom management.
Other webinars on health disparities
In addition to the upcoming webinar, Dr. Williams presented the first webinar in our Health Disparities series. "Understanding the COVID-19 Impact on MS in People of Color" was presented on May 14, 2020. The effects of COVID-19 in the United States have disproportionately impacted the health of racial and ethnic minority populations, especially within the African American and Hispanic communities. This webinar explores the scope of COVID-19 health disparities among vulnerable populations; social, economic, and health inequities that increase the risk of COVID-19; and strategies to reduce risk and optimize health outcomes for vulnerable populations. The program also features an extended Q & A session that addresses issues of MS treatment management, safely accessing medical care in the community, and possible COVID-19 treatments and vaccines.
To register for the upcoming webinar, "The African American Experience and Multiple Sclerosis" with Dr. Williams, visit this link.
This article represents the opinions, thoughts, and experiences of the author; none of this content has been paid for by any advertiser. The MultipleSclerosis.net team does not recommend or endorse any products or treatments discussed herein. Learn more about how we maintain editorial integrity
here
.

Community Poll
How well do people around you understand MS?