My MS Manager Mobile Phone App Recognized at MS Conference
MSAA's free mobile phone application, My MS Manager™, was highlighted at the recent Consortium of MS Centers (CMSC) annual conference as part of a well-attended seminar on comprehensive care and symptom management in MS.
Available for Android and iOS devices, the My MS Manager app allows users to track and manage their MS medications and symptoms, journal information, share data with physicians, and more. My MS Manager™ was developed in conjunction with @Point of Care, an app developer of innovative digital tools that connect clinicians, patients, and caregivers.
During the segment on shared decision making at the CMSC conference, MS expert neurologist Dr. James Bowen discussed the results of a survey that demonstrated the impact of the MSAA app. Data for the survey was collected and analyzed from 9,910 patients and 12,234 clinicians. Results of the survey showed the My MS Manager app helps improve patient-clinician communication regarding MS, facilitates discussions about fatigue (due to the app's fatigue assessment scale) and provides patients with the sense that their clinician is more invested in their MS management. Building on this success, MSAA and @POC plan to add updated features and symptom-management scales to the app in the near future. Stay tuned!
To download MSAA's free My MS Manager app for your device,  visit mymsaa.org/mobile.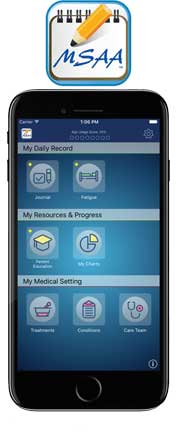 This article represents the opinions, thoughts, and experiences of the author; none of this content has been paid for by any advertiser. The MultipleSclerosis.net team does not recommend or endorse any products or treatments discussed herein. Learn more about how we maintain editorial integrity
here
.

Community Poll
I have the hardest time with my MS during the following season: