MSAA Recognizes 50 Years of Supporting the Multiple Sclerosis Community
Have you heard? This year, the Multiple Sclerosis Association of America (MSAA) is recognizing 50 years of supporting the MS community! As an organization, it's our mission to make sure we continue to provide free resources and support to people with multiple sclerosis and their families. As a part of our continued service to the MS community, we would like to share several initiatives and events dedicated to commemorating this important milestone!
New MSAA logo
To begin, MSAA is proud to unveil our new MSAA logo! The new logo features a warm and welcoming icon – designed to appear as an abstract of people gathering – with the goal of conveying support and communication… hope and inspiration… positive energy and connection. The new logo can be viewed throughout MSAA's website, social media pages, and more! You can also see a version of it appear as our new profile picture right here on MultipleSclerosis.net. Additionally, MSAA has also unveiled a special 50th Anniversary edition of the new logo, which will be used to mark any activities related to special 50th Anniversary events.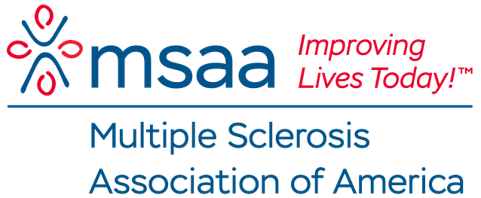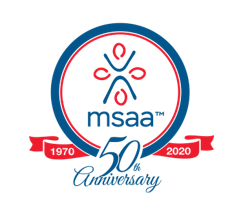 Brand new homepage design
MSAA is also pleased to announce the redesign of our website homepage! The redesigned homepage is both colorful and easy-to-navigate with new links to quickly connect people to important MS information.
50 photos in 50 weeks
MSAA has launched a social media campaign to recognize our 50th Anniversary and is planning to post 50 photos of the MS community in 50 weeks. We encourage everyone to share a photo on social media along with a caption that explains why you support the MS community. Social media users should tag MSAA using #MSAA50 - who knows, you may be featured on MSAA's social media pages!
Word clouds
Thanks to the support of the MS community, MSAA was able to gather feedback in two 50-word "word clouds" that are being featured in print and online promotions throughout 2020. The first word cloud completes the statement, "I find MSAA to be..." and the second word cloud completes the statement, "I find the key to thriving despite my MS is..." Both word clouds can be viewed on MSAA's 50th Anniversary webpage.
50th Anniversary Improving Lives Benefit
MSAA invites supporters to join us for our 50th Anniversary Improving Lives Benefit, which will be held on Saturday, April 4, 2020 in Jersey City, New Jersey. The evening will include a cocktail reception, dinner, and special concert by legendary rock supergroup, The Hit Men, along with a program presentation honoring the accomplishments of MSAA champions in the MS community, while raising funds to support our free, vital programs and services.
This article represents the opinions, thoughts, and experiences of the author; none of this content has been paid for by any advertiser. The MultipleSclerosis.net team does not recommend or endorse any products or treatments discussed herein. Learn more about how we maintain editorial integrity
here
.

Community Poll
Do you ever experience MS bloat?