MSAA's New Magazine for the MS Community Now Available Digitally
The Motivator is MSAA's award-winning magazine available for everyone in the MS community - whether you are living with MS, a care partner or family member of someone with MS, or a medical professional practicing in the world of MS. Distributed twice per year, this online and printed publication addresses the physical, emotional, and social issues that arise with MS, and provides information and support to many individuals affected.
NEW! Digital edition of The Motivator:
For the first time EVER, in addition to the print version, we are pleased to announce that The Motivator is also now available as an interactive digital edition!

Cover Story:
Cognitive Issues with MS: Research, Strategies, and Support
… A common symptom of MS, cognitive issues may impact many areas of one's life, including employment, relationships, adherence to medications, and other activities of daily living. This article details current research into cognition and MS, while providing strategies and support for reducing the effects of this often-challenging symptom.
Read the full story
**********************************
Program Notes:
… Updates on MSAA's programs are featured, including the MRI Access Fund, details on how to request cooling accessories to relieve heat sensitivity, and more.
Read the full story
**********************************
Stories to Inspire:
… Following a severe relapse, Tina was left with loss of vision in one eye, dizziness, and balance problems. She had no idea that seeing-eye dogs are also trained to help with mobility and balance. With her service dog by her side, Tina is ready to conquer the world!
Read the full story
**********************************
Read the latest issue of The Motivator magazine from MSAA!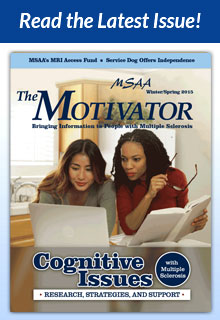 This article represents the opinions, thoughts, and experiences of the author; none of this content has been paid for by any advertiser. The MultipleSclerosis.net team does not recommend or endorse any products or treatments discussed herein. Learn more about how we maintain editorial integrity
here
.

Community Poll
How well do people around you understand MS?