Submit Your Best Artwork to the Multiple Sclerosis Association of America
Calling all artists living with MS – the Multiple Sclerosis Association of America's Annual MS Ability and Four Seasons Art Showcase is now open for submissions!
From now until December 15, 2017, MSAA will be accepting submissions of paintings (in oil, watercolor, or acrylic), pastels, drawings (in pencil and ink), and digital artwork for the chance to be featured in the 2018 Art Showcase, which will premiere in March.
Each year, MSAA's Art Showcase celebrates the beautiful artwork created by people living with MS. Artists like Susan Russo, who participated in MSAA's 2017 MS Ability Art Showcase view painting as an escape from the stress that MS can cause. "I'm not perfect. I have rough days, I cry, I get angry," said Susan. "But then, I pick up a paint brush and I start to create whatever I am feeling. I get lost in a beautiful world of lines and shades and colors. The creation of something visually beautiful helps me to refocus on the fact that I am so much more than my MS."
[caption id="attachment_32155" align="alignnone" width="300"]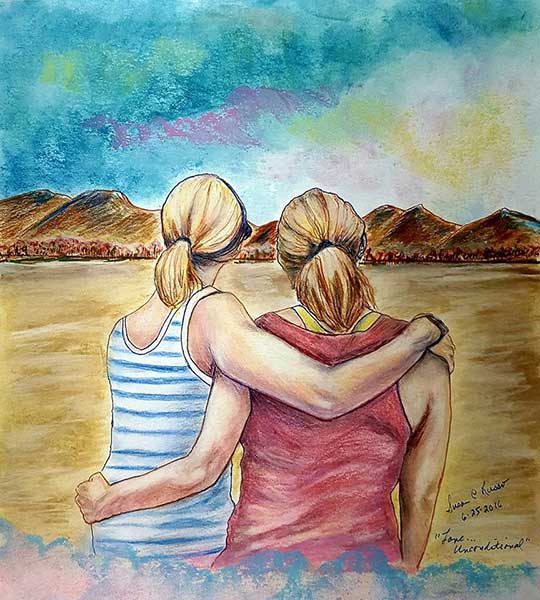 Love Unconditional by Susan Russo[/caption]
Karen Bloom, another artist featured in MSAA's 2017 Four Seasons Art Showcase feels similarly that art helps her to overcome the challenges of MS. "I was diagnosed with MS in 2008 and was a paraplegic within a year," said Karen. "Because my legs were affected so drastically, I expected the same of my arms/hands and sold my piano and gave away all of my oil painting supplies and most of the artwork I loved. I received a service dog a year ago and began venturing back out into the world – and taking risks, including trying painting again. It turns out I should not have given up on my artwork for over six years. My hands are still mine!"
[caption id="attachment_32156" align="alignnone" width="300"]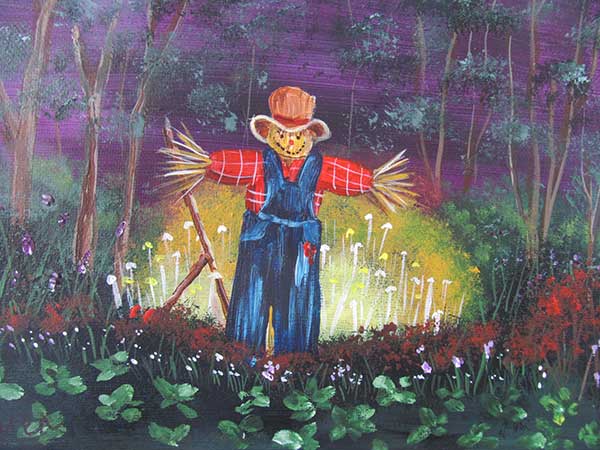 Scarecrow in Cabbage Patch by Karen Bloom[/caption]
Please note that artwork will only be accepted from individuals living with MS. Submitted pieces must be two-dimensional – sculptures, pottery, fabric, and other types of three-dimensional work cannot be accepted to the showcase. Please visit support.mymsaa.org/artshowcase for more information on MSAA's submission rules and guidelines.
This article represents the opinions, thoughts, and experiences of the author; none of this content has been paid for by any advertiser. The MultipleSclerosis.net team does not recommend or endorse any products or treatments discussed herein. Learn more about how we maintain editorial integrity
here
.

Community Poll
I have the hardest time with my MS during the following season: